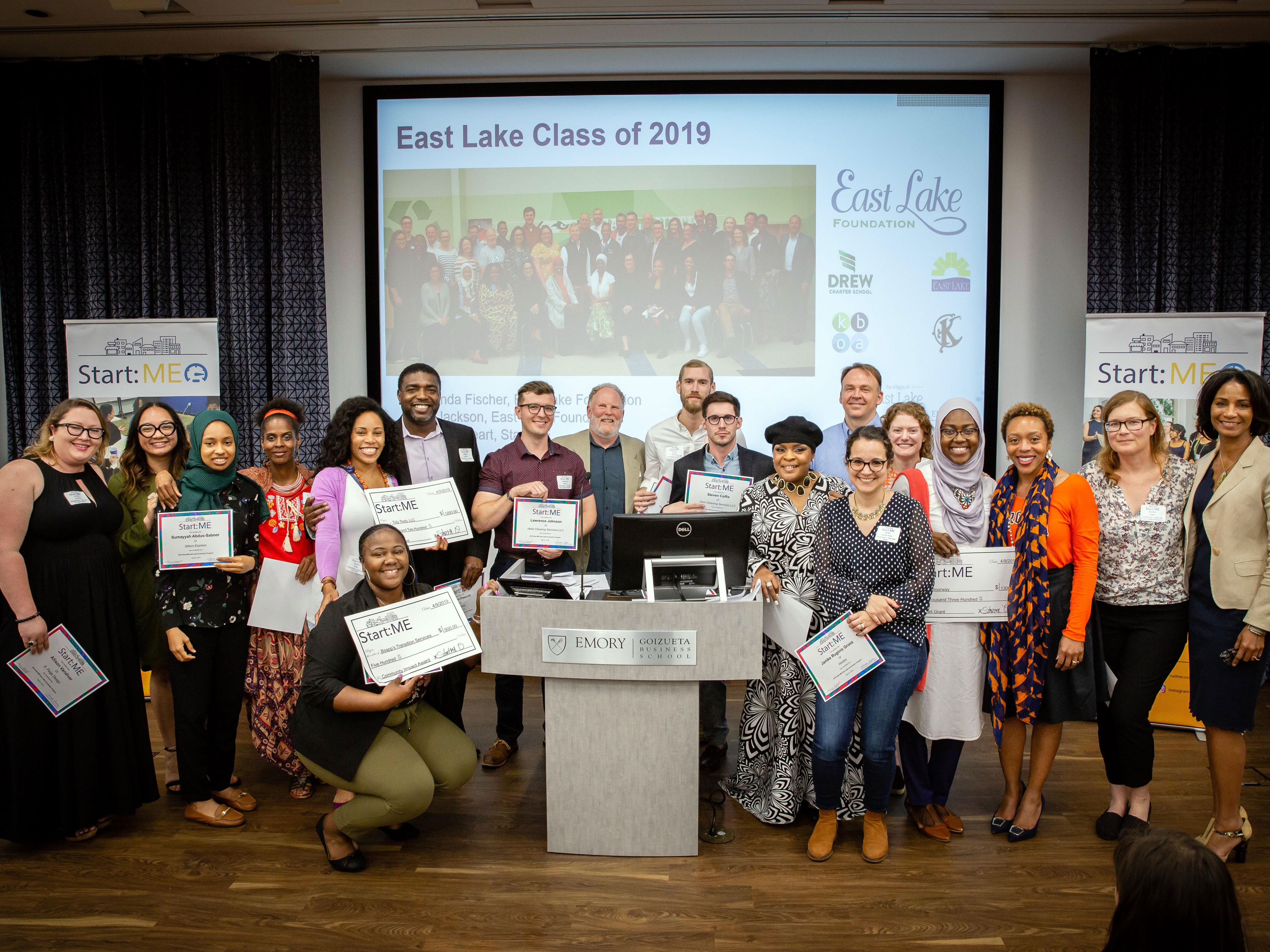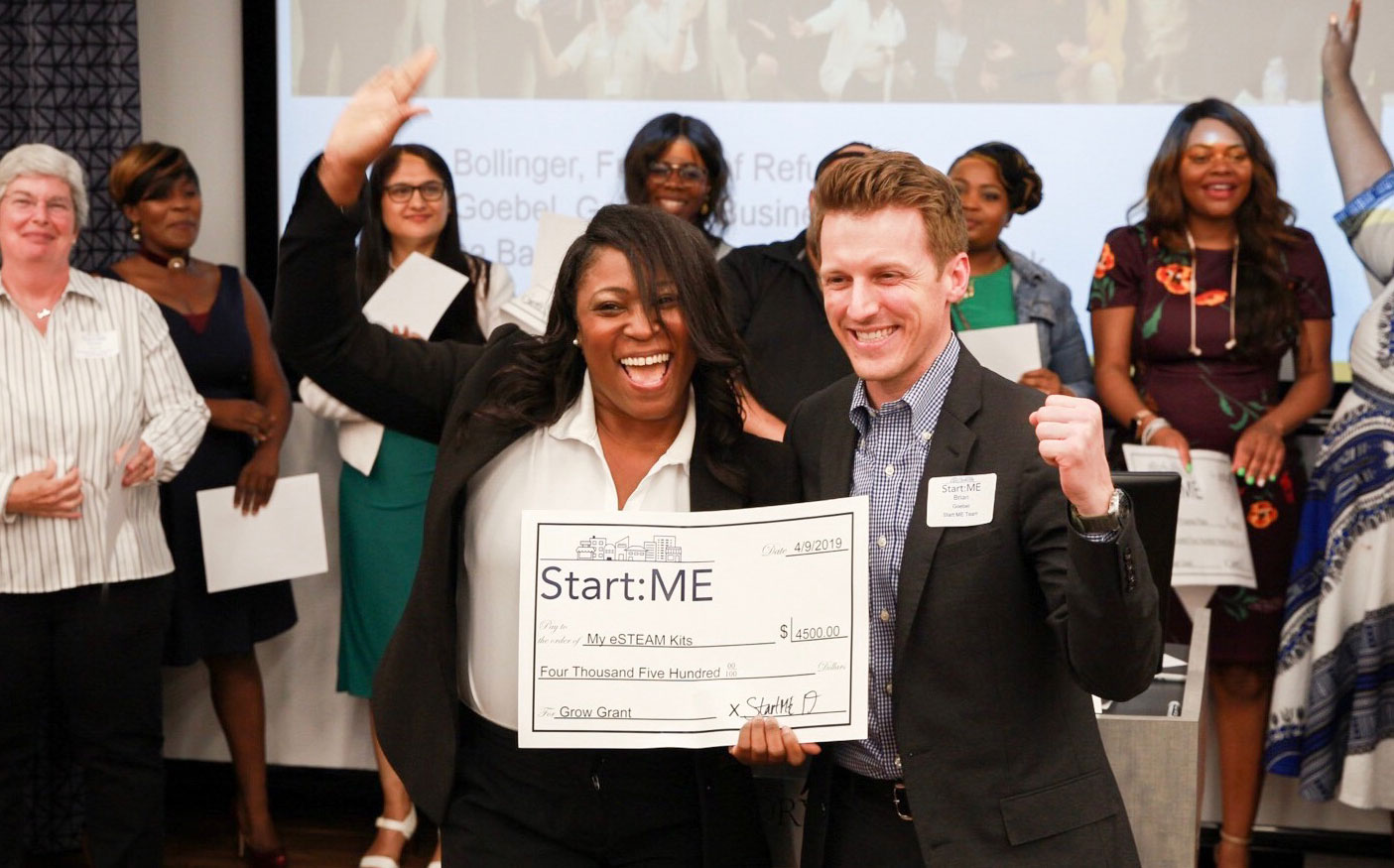 FOR IMMEDIATE RELEASE
CONTACTS
Brian Goebel, Start:ME Program Director
bgoebel@emory.edu
Hannah McCord
Catherine Woodling, East Lake Foundation
cwoodling@eastlakefoundation.org
Pamela Stringfield, Focused Community Strategies
pamela@fcsministries.org
Kim Speece, Leff & Associates
kim@leffassociates.com}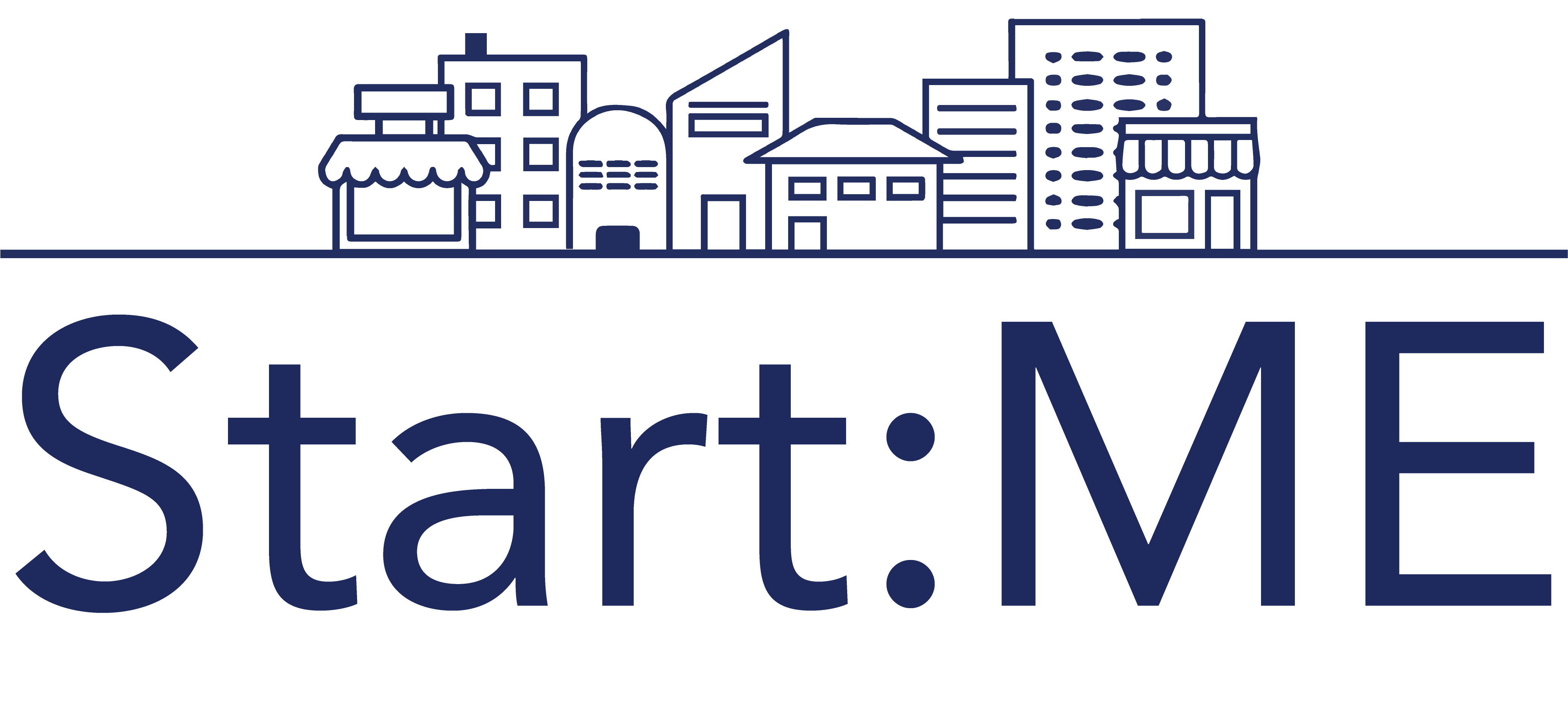 September 16, 2019 – The Start:ME Accelerator is currently recruiting promising entrepreneurs in and around Clarkston, East Lake, and Southside Atlanta for its 2020 programs. Fifteen to eighteen entrepreneurs from each community will be chosen to participate. Deadline for applications is October 20th, 2019.
Start:ME is a free, intensive 14-session accelerator program for promising local small businesses. The program runs from January to April and operates within communities, drawing talented entrepreneurs that live, work, and/or provide valuable products and services to the community. Each community offers peer-selected grant pools of $10,000 to invest in promising businesses looking to start or scale up.
During the 14 sessions and well beyond, Start:ME connects those entrepreneurs to the knowledge, networks, and capital needed to build and develop sustainable businesses. The program works across all business stages and industries – mechanics, artists/makers, professional services, bakers/caterers, farmers, tutors, and more – and focuses on entrepreneurs with promise and dedication.
The program's goal is to help entrepreneurs achieve business success and build neighborhood vitality.
Harina Bitow, CY Love (Clarkston '18) – "Start:ME has been the blessing that keeps on giving. It was through Start:ME and the encouragement of the mentors, staff, and fellow entrepreneurs that I realized the feasibility of what often felt like a pipe dream. Start:ME is one of those programs that truly over delivers and surpasses expectations and it was the turning point for my business. All in for life, that's the Start:ME way!"
Kevin Rodgers – SHWAXX Laboratories LLC (East Lake '18) – "Start:ME has helped me refine the SHWAXX BRAND business model and now our products are generally available to hair industry licensed professionals in the form of micro-distributorships. Thank you Start:ME for giving me the tools to continue to grow our business."
Musa Abdus-Saboor – Saboor Construction LLC (Southside Atlanta '18) – "For me, I truly appreciated being surrounded by believers of dreams, and people who give of their time and energy to help see you accomplish that dream!"
Start:ME has supported more than 200 local businesses that account for 338 jobs and 30 brick and mortar locations. The program has peer-selected 57 ventures to receive startup capital.
Learn more at an upcoming information session:
Clarkston Sessions: 
Wednesday, September 25th at 10:00 a.m. at New American Pathways
2300 Henderson MIll Rd. Ste. 100, Atlanta, GA 30345
Saturday, October 12th at 10:00 a.m. at Clarkston Community Center
3701 College Ave., Clarkston, GA 30021
Wednesday, October 16th at 6:00 p.m. at Clarkston Women's Club
3913 Church Street, Clarkston, GA 30021
East Lake Sessions:
Tuesday, October 10th at 6:00 p.m. at Whitefoord Early Learning Academy
35 Whitefoord Ave SE, Atlanta, GA 30317
Wednesday, October 16th at 6:00 p.m. at Villages of East Lake
460 East Lake Blvd. SE, Atlanta, GA 30317
Saturday, October 19th at 10:00 a.m. at My Coffee Shop
2462 Memorial Dr. SE, Atlanta, GA 30317
Southside Sessions:
Tuesday, October 8th at 6:00 p.m. at Thomasville Heights Elementary
1820 Henry Thomas Dr. SE, Atlanta, GA 30315
Tuesday, October 15th at 6:00 p.m. at the Villages at Carver YMCA
1600 Pryor Rd. SW, Atlanta, GA 30315
For additional details and to RSVP please visit www.startmeatl.org/info-sessions.
Start:ME also engages 80+ volunteer mentors with significant professional business and/or entrepreneurial experience to provide critical support for entrepreneurs participating in the program. Start:ME welcomes applications from business professionals interested in a skills-based volunteer role.
Visit startmeatl.org for more information.
About Social Enterprise @ Goizueta
Social Enterprise @ Goizueta (SE@G), a research center within Emory University's Goizueta Business School, works to make markets work for more people, in more places, in more ways. Faculty, staff and students work with for-profit, non-profit, and hybrid organizations to inject business thinking into communities through research, fieldwork, and teaching/student activities.
About Start:ME Clarkston
Social Enterprise @ Goizueta (SE@G) works with Friends of Refugees and local partners the City of Clarkston, Clarkston Community Center, Georgia Piedmont Technical College , Global Growers, International Rescue Committee, New American Pathways, Refuge Coffee Co., and Refugee Women's Network to support entrepreneurs in Clarkston, GA since 2013. The Clarkston program has graduated 99 ventures since 2013.
About Start:ME East Lake
Social Enterprise @ Goizueta (SE@G) works with the East Lake Foundation and local partners Columbia Residential, Drew Charter School, East Lake Neighborhood Community Association (ELNCA), Villages of East Lake, Kirkwood Business Owners' Association, Kirkwood Neighbors' Organization (KNO), and Toomer Elementary School/Whitefoord Early Learning Academy to support entrepreneurs in the East Lake area, including Edgewood and Kirkwood. The East Lake program has graduated 77 ventures since 2015.
About Start:ME Southside
Social Enterprise @ Goizueta (SE@G) works with Focused Community Strategies and Purpose Built Schools Atlanta, along with local partners Atlanta Volunteer Lawyers Foundation, Capitol View Neighborhood Association, Carver STEAM Academy, The Villages at Carver, The Villages at Carver YMCA to support entrepreneurs in Southside Atlanta. The Southside program has graduated 32 ventures since 2018.
###