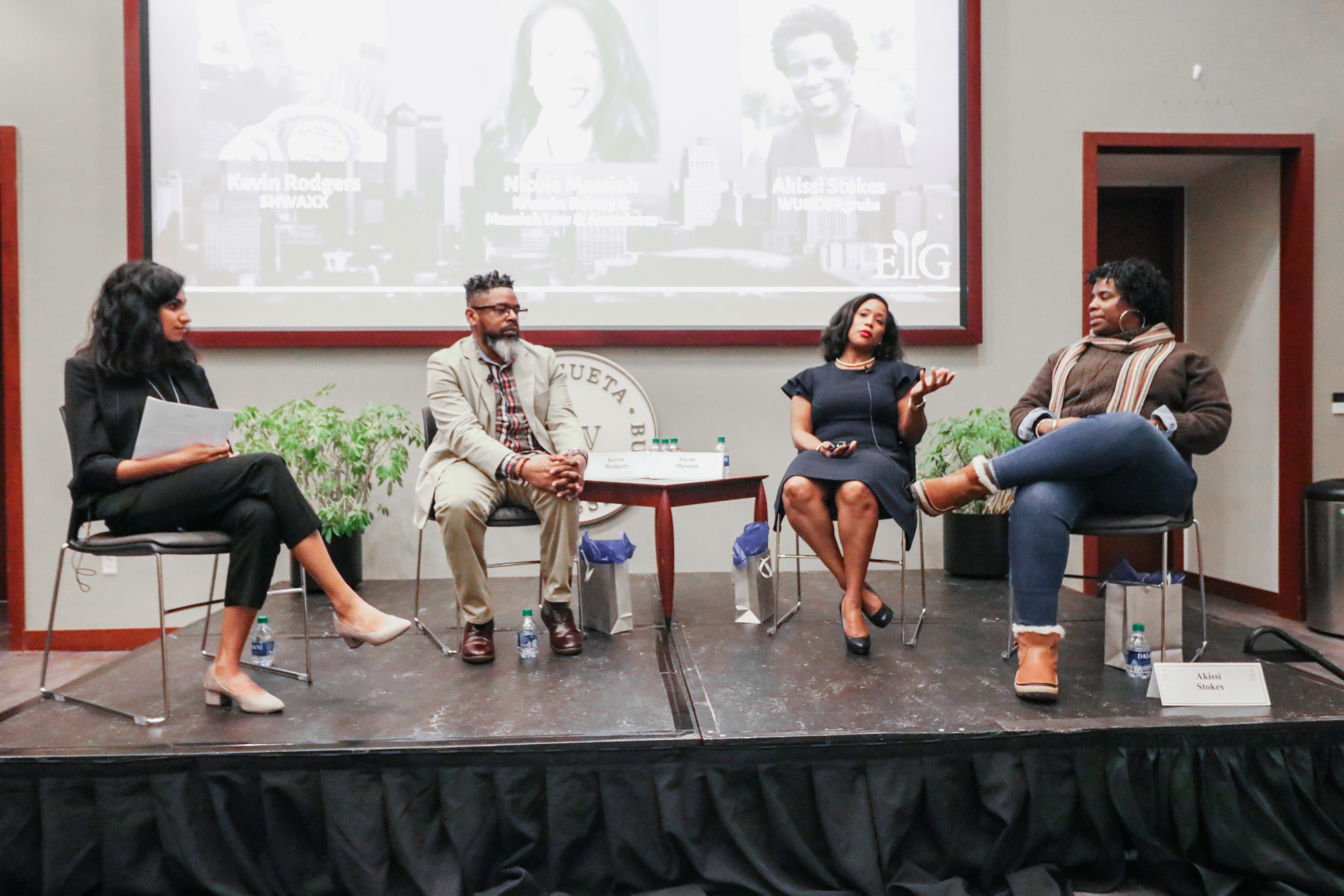 "Most people think of entrepreneurs as risk-takers. I was taught that you have gifts, you have talent, so you invest in those," said Kevin Rodgers, founder of SHWAXX Laboratories speaking at a panel event on impact investing in entrepreneurs at Goizueta Business School on Wednesday, November 13.
The student-run Emory Impact Investing Group (EIIG) hosted the event. EIIG, Emory's only undergraduate impact investing group, provides microloans to local entrepreneurs who lack access to capital, in an effort to help close the micro-business gap by increasing the number of successful small businesses in high-poverty areas. EIIG provides entrepreneurs with access to early-stage financing, consulting by business students, and networks necessary for the sustainable growth of a business.
Along with Rogers, whose company sells hair care products designed for people of color, two other entrepreneurs were featured on the panel: Akissi Stokes 92Ox/94C, founder of WUNDERgrubs, a bakery that sells snacks (cookies, granola bars, protein powder) enriched with protein-rich mealworms so they are more nutritious than traditional versions of those foods, and Nicole Massiah, founder of Massiah Law & Associates, a legal services company. Also on the panel were representatives from Start:ME and CREATE, two Atlanta-based startup accelerators that EIIG works with to identify and assist promising entrepreneurs.
The panelists discussed the challenges and experiences of entrepreneurship, and how impact investing can facilitate the growth of small businesses in local communities. Almost 48% of the American workforce is employed by small businesses, accounting for approximately 44% of the American GDP. Unfortunately, there are far fewer microbusinesses in low-income areas, compared with high-income areas. The difference can be attributed to the income gap and inequality in the U.S., a finding corroborated by the research conducted by Goizueta's own Peter Roberts. Roberts is professor of Organization and Management as well as the founding academic director of Social Enterprise @ Goizueta.
Brian Goebel, managing director at Start:ME, discussed how Roberts' research explains the disparity in the presence of microbusinesses between high and low-income neighborhoods. "[There is] no difference in talent; there are amazing entrepreneurs in both low-income and high-income communities. But there is a difference in the ecosystem of support, and on average there are 26% fewer businesses in an underserved, lower-income neighborhood," said Goebel.
A greater barrier than financial inequalities, however, is the lack of availability of networks that can help a business succeed. Systems that provide  advice and support are crucial to entrepreneurs' success. Start:ME was founded on the principle of "[bringing] knowledge networks and capital together" to reduce the microbusiness gap in Atlanta, the city with the highest level of income inequality in the U.S.
Jonathan Tescher, Program Manager at CREATE, said that these entrepreneurs face a lot of "common challenges, obstacles, and fears." CREATE strives to help entrepreneurs overcome these issues by providing knowledge and training. "Most people we work with have no prior business experience," he said.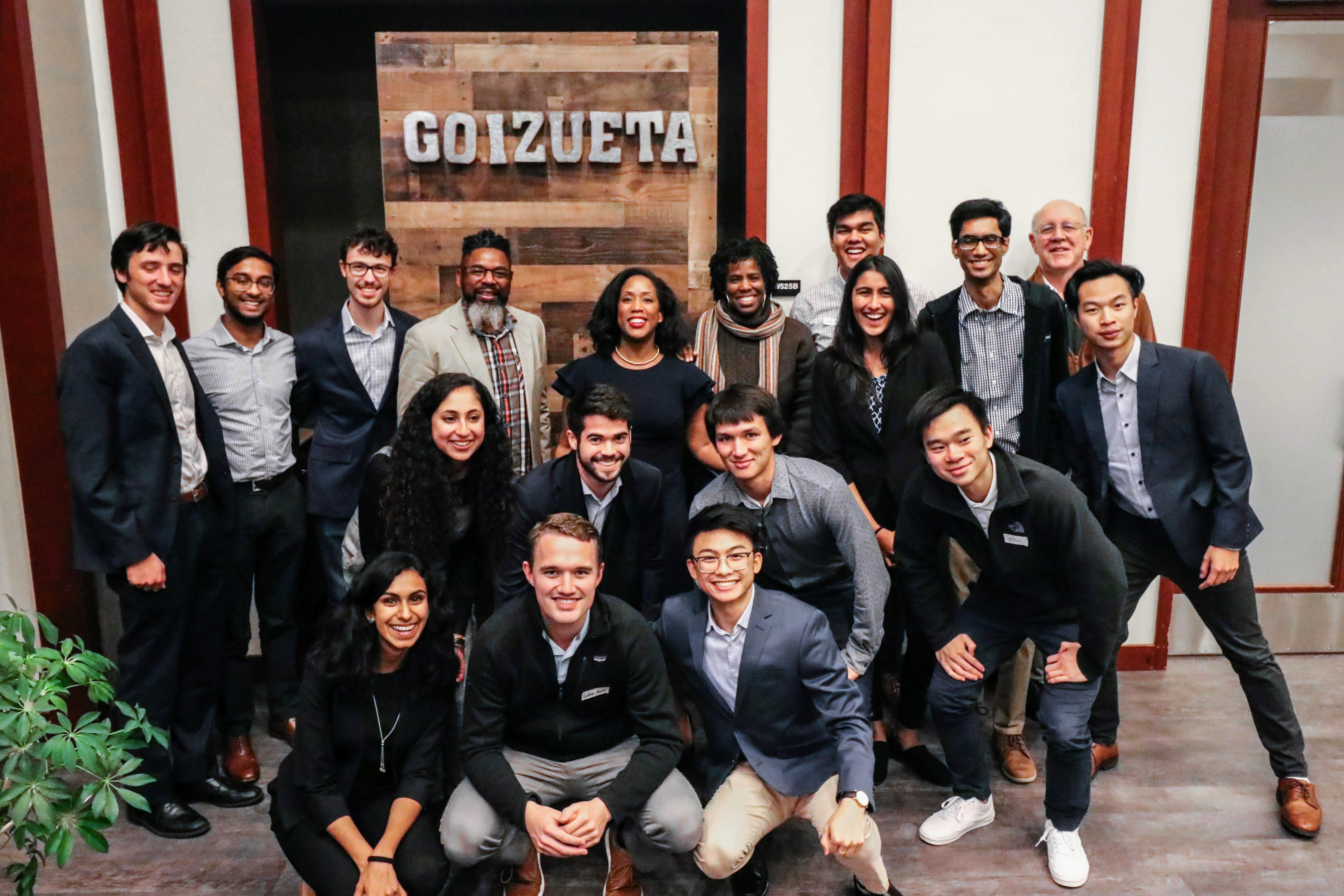 EIIG was established to help entrepreneurs overcome those challenges. It provides entrepreneurs with low-interest microloans that range between $5,000 and $10,000. To receive these loans, entrepreneurs undergo a rigorous evaluation process conducted by students and faculty advisors. Perhaps more critical than the capital, however, are the services that EIIG provides to the entrepreneurs, including consulting services over the span of the three-year loan repayment period. EIIG members know that simply possessing the resources is not enough – it is essential for entrepreneurs to be able to effectively use the capital and resources at hand for the benefit of the business.
When asked about dealing with the challenges and fears of starting a new business from scratch, Massiah said the key is "trusting your gut, and spending time with yourself and realizing whether this is the right thing for you to do." Massiah explained that one must have a deep passion for a business to be able to pursue the highly demanding and often frustrating avenues of success, or it may be difficult to find the motivation to continue.
When describing his motivation for starting SHWAXX, Rodgers said the most important part of his business, for him personally, was to serve the community around him, and focus on the "impact" part of "impact investing." He aims to reciprocate the support shown to him by society by providing his community with products that cater to their needs. Thus, improving his products based on customer feedback became one of the central pillars of his business model.
Moderator Priyanka Desai 20BBA asked the panel whether they had any advice for budding entrepreneurs at Goizueta and across the country. "Keep yourself true to what you said the company was going to be," Stokes said, adding, "Planning is very important; utilizing the pool of resources, be it capital, people, or having a business plan or marketing strategy, you need to have a plan to refer back to."
Impact investing holds the potential to change thousands of lives. These entrepreneurs demonstrate the dedication and passion they have for their initiatives, and the potential for growth when provided the necessary resources and capital. For more details about EIIG and these entrepreneurs, visit EIIG's website, and to watch the full panel, visit the EIIG Facebook page.