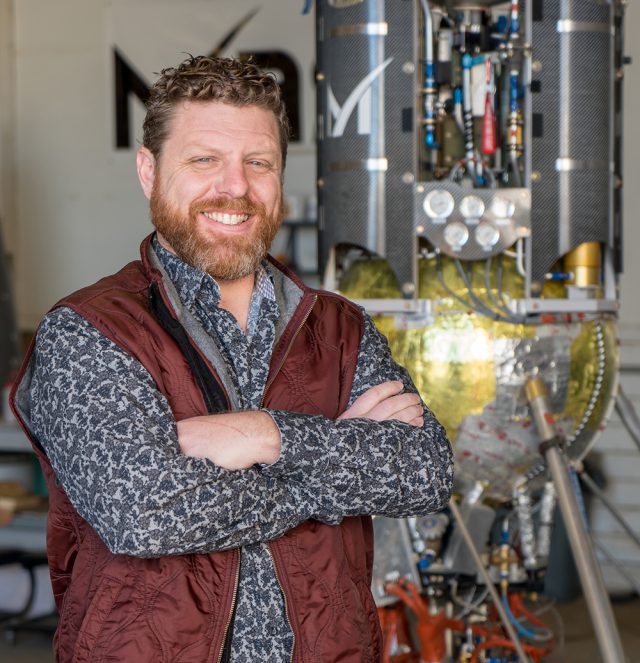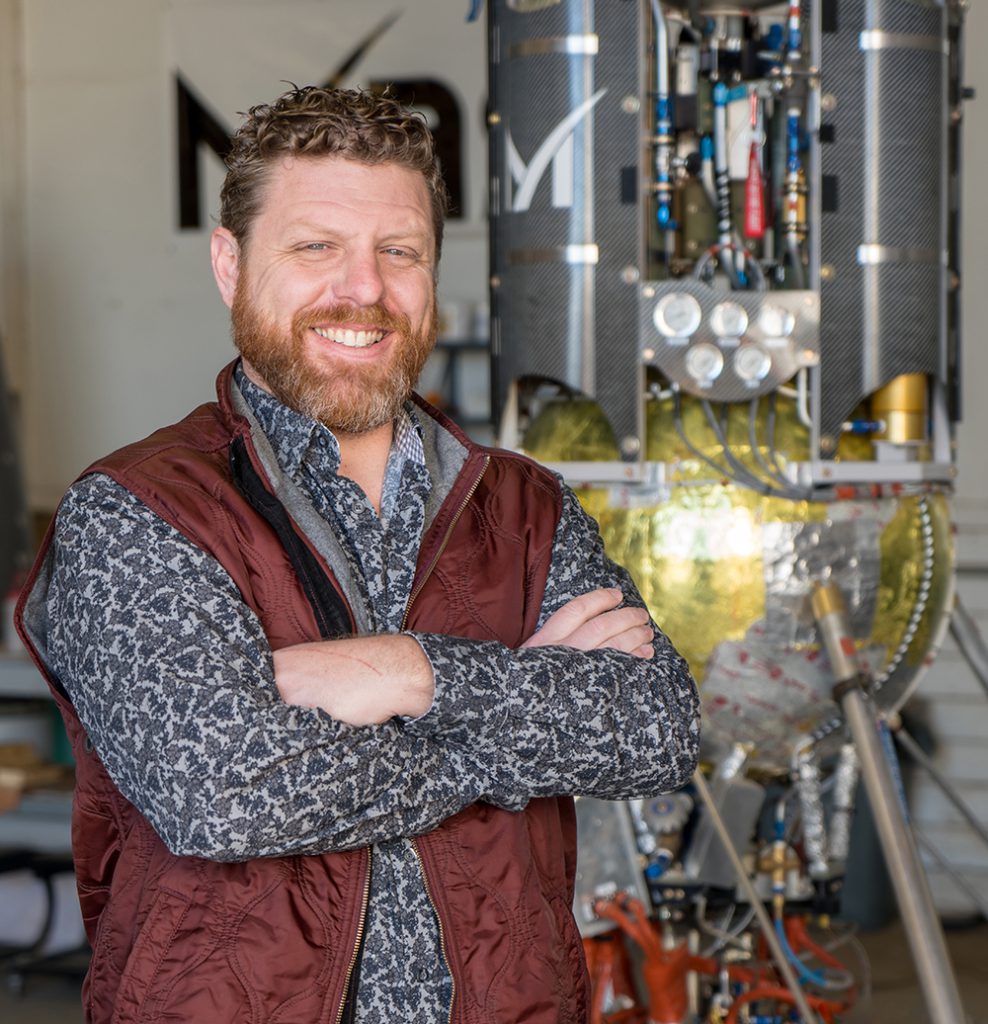 Ten years ago, Sean Mahoney 06MBA started his journey to the moon by way of Masten Space Systems, a company that had just won first place in the Lunar Lander Challenge X Prize, a NASA Centennial Challenge.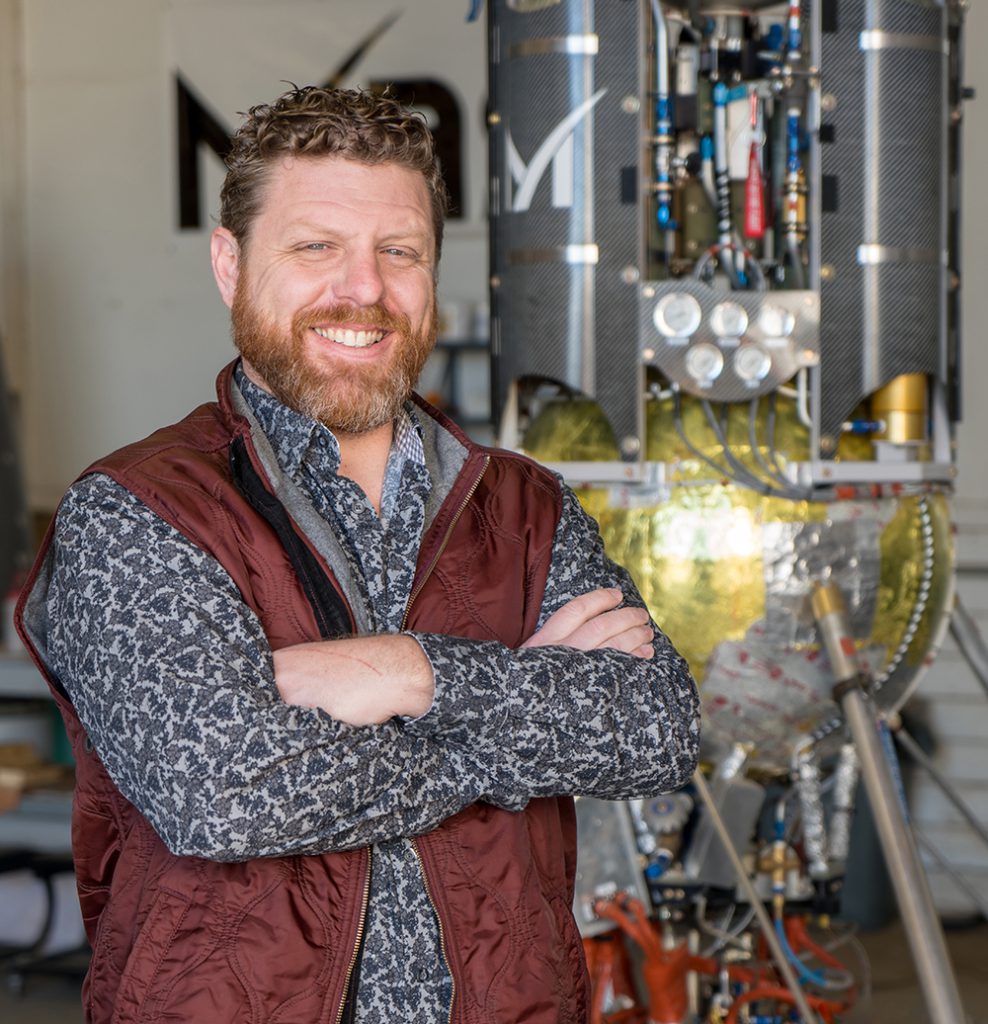 Since joining, Mahoney has been on a mission to create a business out of that award. It was an unprecedented challenge with an array of competing factors. "It took a lot to navigate that decade," said Mahoney. "One way we succeeded until the market was right was to utilize other applications of the technology—creating actualized value in the form of space-testing provisions."
Masten offers responsive, reliable platforms for other companies to test and demonstrate their newest space technologies—something that places them front and center with every other space company in the market. Mahoney, ever the entrepreneur, has seized this opportunity to transform competitors into collaborators, which has helped fuel innovation and advancements at a rapid rate.
Mahoney is an optimistic pragmatist. "You have to be able to stomach the risks, the failures and the defeats," he said. "It can be difficult, but if you can do it, the rewards are worth the risks."
And he's encountered defeats, from the failure of his own start-up to launch a product to market in 2009 to the literal crash of a rocket in 2011. "I've faced more cash crunches and payroll hiccups than I can count."
After finishing his MBA, Mahoney quickly realized he needed a career fueled with constant change, and he found exactly that. Facing challenges in the market, in technology shifts and even in the often-explosive world of space politics has kept Mahoney's keen abilities well oiled. "Moon landing isn't just a goal, it's the first step in creating our next chapter—and will undoubtedly help shape the path of the future. In terms of business, space will be another market for us sooner than later."
As for his personal life, Mahoney splits his time between Atlanta; the team facility in Mojave, California; Washington, D.C.; and wherever the customers or conference of the week may be. Supporting his crazy entrepreneurial space efforts is his wife, Mandy Mahoney 06L. Each other's biggest supporters, Mahoney insists his wife's leadership work in Atlanta and beyond is as impactful as any journey could be —even one to the moon. The couple met in graduate school, married in 2009 and in 2014 had their son, Paul.
Mahoney's lessons-learned at Goizueta often reappear in his daily work like school-day mantras: "Point estimates are for suckers." That one, he said, is uttered multiple times a week, as the Masten team is obligated to put point estimates on proposals and reports. And beyond the mantras, it's the collective knowledge that gets leveraged, he said. "The decision sciences and managerial accounting skills are put to use every day, while the entrepreneurship and leadership skills are tested in the crucible of real-world application. I'm glad I have the background I do." — Jennifer Corbett