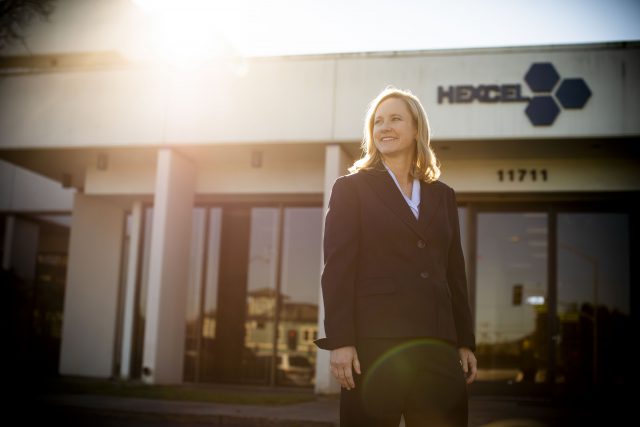 The Jetsons have nothing on Colleen Pritchett 02MBA.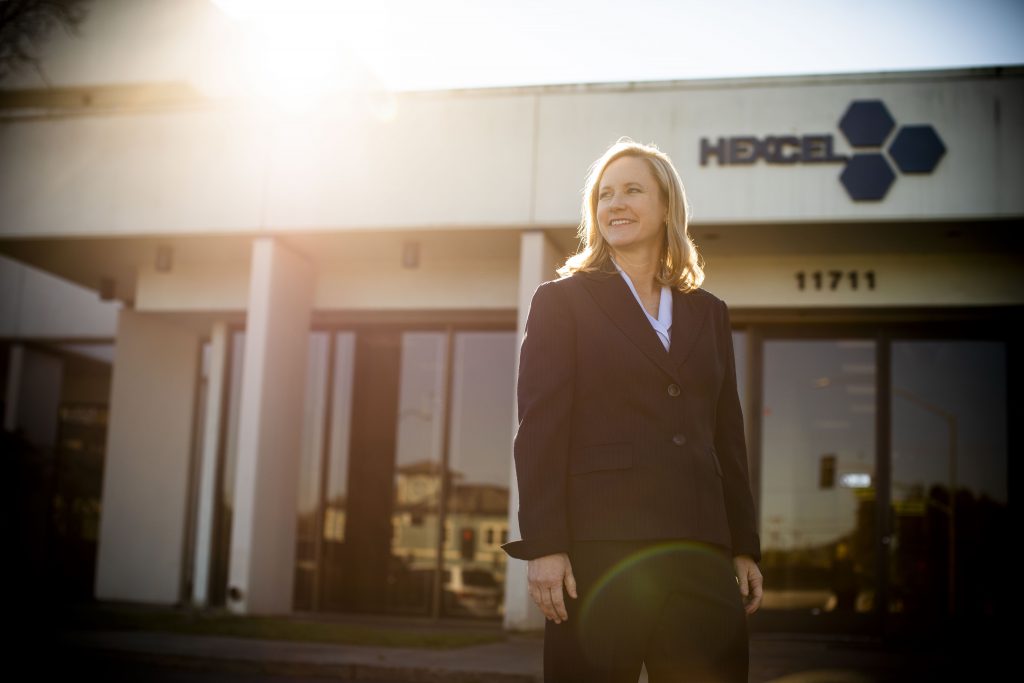 Pritchett, who lives in the San Francisco Bay area, became president of Aerospace, Americas for Hexcel in 2018, an advanced composite materials company that makes products for the aerospace and industrial markets. "Our materials go on all the commercial airline planes, helicopters, fighter jets, drones and launchers for satellites going into space," she said. "The intent is to make them lighter and more fuel efficient."
And then there are the cool, futuristic applications, such as "flying cars."
"As cities around the world get more congested, vertical options, including urban air mobility systems such as air taxis, are being developed to take people or cargo from point A to point B," Pritchett said. "Our Hexcel composite materials will be at the heart of urban air mobility to provide energy-efficient, reliable and cost-competitive transportation vehicles. My daughters are pretty excited about it. As my 11-year-old asks, 'When can I get one?'"
At Hexcel, Pritchett runs a significant portion of the global company. "The definition of leadership for me is all about service and courage," she said. "A leader needs to have the courage to take risks, to lead the team and to run the business. A great leader formulates and communicates a compelling vision of the future in a way that helps other people mobilize toward it."
Her own approach, said Pritchett, is to be transparent and compassionate: "How you have treated people in the past will either pay off or be a detriment. You can't fake caring, or your employees will know it. They will trust that you're working for their benefit if you've built that trust. They want the straight news."
Pritchett's philosophy was honed during the 22 years she spent at DuPont before joining Hexcel. At DuPont, she worked in a variety of leadership roles running global businesses in the U.S. and while based in Asia such as the Electronics and Communications Microcircuit Materials business based in Taiwan, and leading the Asia Pacific Performance Polymers business based in Shanghai, China. She has a bachelor's degree in chemical engineering from Pennsylvania State University.
Even in the midst of a busy travel schedule, Pritchett makes time to stop by Goizueta. Earlier this year, she met with school staff and Dean Erika James. Pritchett remembers her time at Goizueta fondly and still stays in contact with classmates.
As the company she leads continues to push boundaries and create new inroads, so too, does Pritchett. She is a big advocate for women in business and is quick to dispel the myth that women in leadership can't also have a successful home life.
"Some people think women can't have a family and continue to pursue big roles and big responsibilities, based on a false assumption that their spouse is not willing to help at home and make sacrifices in support of their wife's career," she said. "I know a lot of ambitious women whose spouses do support them. My husband, Len Pritchett 08MEMBA, has been a tremendous support to me and our daughters as we have moved all over the world."
Indeed, when it comes time for family, Pritchett is firm in putting boundaries in place. And, wherever they find themselves in the world, Pritchett's family has a passion for adventures. "We loved living internationally, and we have continued to explore no matter where we live, spending time hiking, snow skiing, camping, enjoying nature and being outside." — Mary Loftus