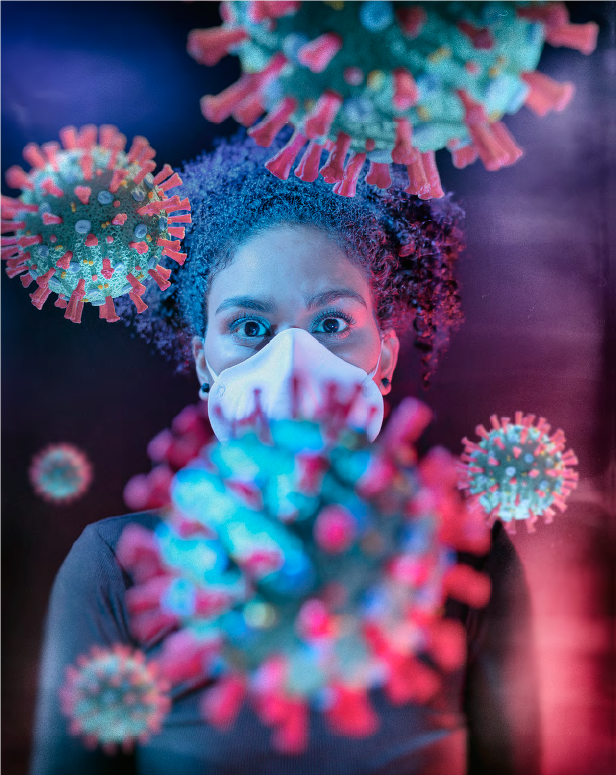 The fallout from COVID-19 is affecting every aspect of society, from public health to businesses to community and family life. In these difficult and uncertain times, people from all walks of life are coming together to take action to counteract the impact of the virus, including Goizueta alumni at leading organizations across the globe.
"The COVID-19 pandemic continues to challenge the business status quo like never before," said Amelia Schaffner, director of entrepreneurship at Goizueta. "Entrepreneurial resilience in the face of adversity, relentless problem hacking and pivoting to new needs are critical components for companies to not only endure a major economic shift such as this, but also emerge stronger once the pandemic subsides."
While the United States continues the rolling process of reopening businesses and defining a "new normal," the pandemic is far from over. "The international community is working together like never before to produce a coronavirus vaccine," said Elissa Prichep 08MBA, project lead for precision medicine at the World Economic Forum. In her recent article on the forum's website, she stated, "If a vaccine is developed in the timeline predicted, then people will have a preventative option should COVID-19 recirculate next year. Protection from the virus will save lives and help society return to functioning as normal."
Prichep noted, "This timeline feels excruciatingly long as the coronavirus pandemic continues to ravage the world around us. But it deserves some context. New technologies combined with international cooperation to fight infectious diseases are enabling faster responses to new disease outbreaks, shaving several years from traditional vaccine development timelines."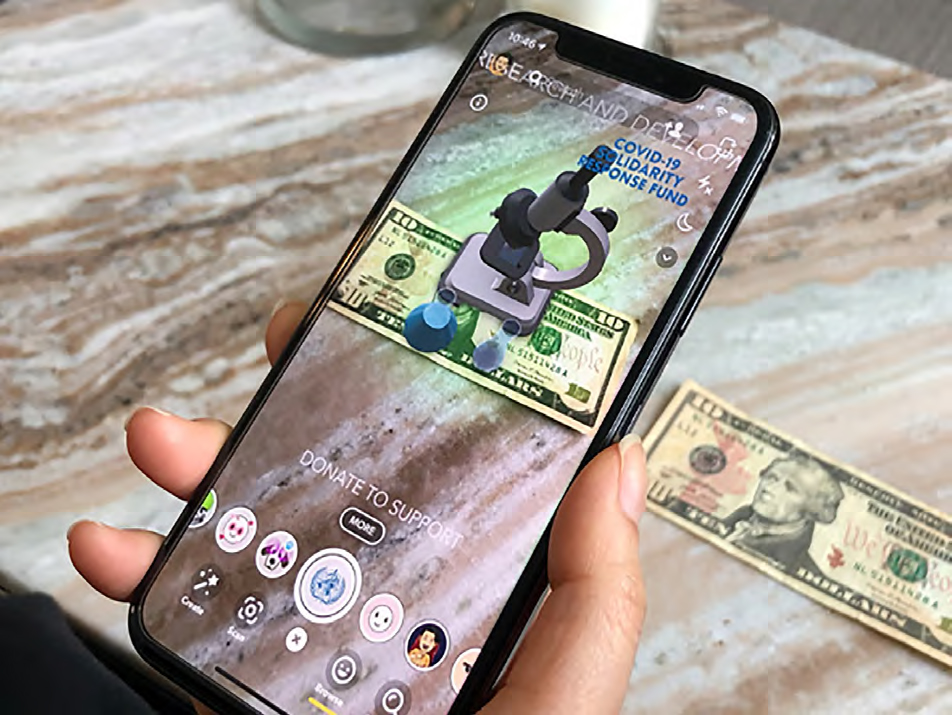 Funding global efforts like vaccine development is a key priority. Jeff Miller 10MBA is senior director of global creative strategy for Snapchat. "Now, people are leaning into the platform, connecting with close friends and family when they can't be face-to-face," he said. For World Health Day on April 7, his team created an innovative way to fund the United Nations COVID-19 Solidarity Response Fund for the World Health Organization. "We're encouraging Snapchatters around the world to take action in response to the pandemic
by showing them that every dollar can make a difference. Their loose bills can make real change. We launched the first-ever global donation augmented reality (AR) marker experience on Snapchat to raise funds for hospitals, medical supplies and research and development," Miller said of the campaign developed in under two weeks in 11 languages across 33 countries. For this ongoing initiative, "With marker technology, Snapchatters can hold bank notes in front of their cameras to trigger AR visualizations of the causes that the fund supports."
Emergency room doctor Angela Fusaro 01C 17WEMBA cofounded Physician 360, which now operates in 50 states providing convenient, cost-effective and diagnostically accurate care for common medical illnesses such as anemia, urinary tract infection, strep throat and flu. When the coronavirus pandemic took hold, the infrastructure of Physician 360's direct-to-consumer model was already in place to handle increased demand for virtual medical care. At the onset of the pandemic, the company built a resource database of testing sites for patients who were at risk and needed access to confirmatory testing. Now, an individual who may have been exposed to coronavirus can purchase a consultation through the smart phone app or the website. Working alongside local pharmacies, board-certified physicians will then guide eligible candidates through the process in their state for coronavirus testing if screening indicates they may have the virus. Physician 360 is working to expand the scope of its low-cost and convenient testing capabilities, including COVID-19 antibody testing. "Seeing the overcomplexity and excessive cost in the health system, I want to be part of the solution to these inefficiencies and not just work within a broken system," Fusaro said. In these medically challenging times, "For people who can't wait for a doctor's appointment, or don't want to be exposed to others' germs, telemedicine is an innovative solution."
"Healthcare professionals, scholars and public agencies are creating enormous amounts of data on COVID-19, but it's highly fragmented," said Eric Crane 09BBA, chief operating officer and cofounder of Flatfile, which helps companies import and manage data. That's why his team accelerated the launch of their latest venture, CSV.org, last week in collaboration with scientists from Massachusetts Institute of Technology (MIT) and University of California, Los Angeles (UCLA) as well as technologists at Google and Airtable. Crane explained, "With CSV.org, we're doing what we do best: aggregating, healing and normalizing data. Only instead of doing this for companies, our goal is to make all public data easily accessible." The site offers a curated and normalized set of thousands of global metrics free of charge, with an initial focus on COVID-19 data. "We aren't scientists or journalists, but we can do our part to make those experts' jobs easier," he added.
Changing conditions demand swift response from businesses
Factory shutdowns and consumer hoarding may have temporarily impacted the natural flow of our nation's supply and demand, but businesses are keenly aware of changing customer needs. Arming frontline healthcare workers and patients has taken
top priority across the world as the virus continues to spread. Personal Protective Equipment (PPE) to minimize hazardous and potentially illness-causing exposure is in limited supply, yet Goizueta alumni and the companies they work for are stepping in to quickly change that reality.
INVISTA, a division of Koch Industries, is known for its innovations in the nylon, spandex, polyester and specialty materials industries. Renita Jones Anderson 02EMBA, marketing director, and Daryl Lipscomb 10WEMBA, global sales director, shared news about the company's responsiveness to COVID-19. "INVISTA's Kingston, Ontario, manufacturing plant has been able to respond quickly by providing nylon 6,6 fiber for medical isolation gowns in the United States and Canada without a change in our equipment," Lipscomb noted. "As a key supplier of this fiber to the global airbag industry for nearly 50 years, we are grateful that our products are going into these gowns and helping to protect people in a different way."
In response to economic challenges faced by the retail sector, Vice President of STAINMASTER Brook Brown 10WEMBA explained, "STAINMASTER brand has quickly developed a simple 3-step process supporting local businesses, allowing them access to corporate-level tools that provide them a way to sell flooring virtually," she said. "Supported by customer leads driven by the national brand, local retailers are being allowed to keep their storefronts (virtually) open at a time when many other businesses are being forced to shut down."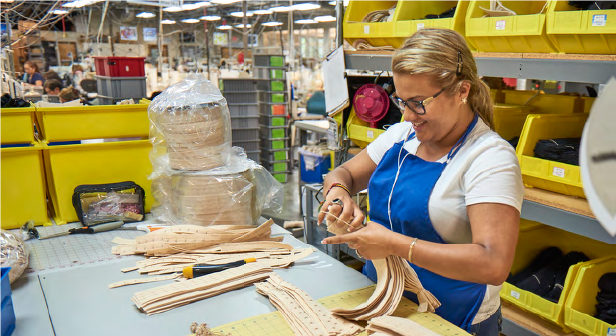 Preparing individuals on the front lines to safely protect themselves against COVID-19 has evoked tremendous response across businesses. Linda Burhance 95EMBA, vice president of product development for United States Class I medical device manufacturer The Marena Group, designed a reusable antibacterial non-surgical PPE mask. These masks meet the criteria of the FDA guidance for a Class I medical device to be used by the general public and by healthcare professionals in a healthcare setting under the Emergency Use Authorization Act. The one-size-fits-all devices can be washed without losing effectiveness and can be worn over N95 respirators or on their own. "Many personal protective devices (PPDs) can cause some facial bruising or irritation," Burhance said. Marena's proprietary TriFlex fabric has been used in healthcare settings for many years and contains an active silver ingredient with antibacterial properties that is familiar to those in the medical field. "I designed a mask to be breathable and soft against the skin yet still protect the face, nose and mouth against respiratory droplets, germ particles and splashes."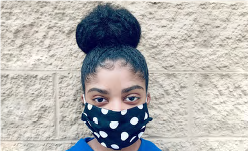 Also rising to the challenge is Doris Mukangu 17MPH, founder of the Amani Women Center in Clarkston, Georgia, which empowers and provides support to refugees. As an Emory-trained public health professional and now a nonprofit leader, Mukangu specializes in prevention. "I understand very well the importance of taking all preventive measures when it comes to a pandemic like COVID-19. We are currently supplying sewn masks not just to healthcare workers in hospitals like Emory and the Clarkston Community Health Center but also to police forces, public work departments, post office workers and many businesses," said Mukangu, a graduate of Goizueta's Start:ME accelerator, a 14-session training program for small business owners. "Masks are also available through the website not only to frontline workers but to the general public as well."
In addition, the Amani Women Center provides timely information from the Georgia Department of Health to the refugee community. Using social media platforms in languages area refugees can understand, "We have become a trusted voice to provide credible and digestible information from the Georgia Department of Public Health (DPH) and Centers for Disease Control and Prevention (CDC) to a community that has linguistic and literacy challenges." She added, "Refugees are resilient, and they want to give back to a country that has been so welcoming to them." Our country, struggling with coronavirus on many fronts, "is the country they now call home."
Editor's Note: Have you or your company responded to the COVID-19 pandemic or helped to mitigate its impact? Please use the hashtag #EmoryTogether when you share your stories and images and mention us on Twitter, LinkedIn, Facebook and Instagram. We will periodically share stories on EmoryBusiness.com and social media posts on the myriad ways our alumni are involved in this effort.