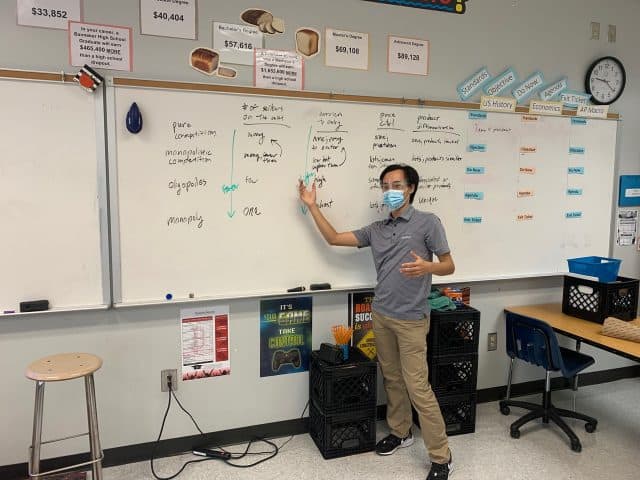 Business plays a big role in social change, says Ian Wang 21BBA. As a young, sock-selling entrepreneur, he paid attention to business dynamics, but his interest piqued when he interned at the Southern Environmental Law Center. Ever since, he's made social change his mission. Right out of Goizueta, however, he's chosen to contribute to changing the world through education as a high school teacher at Banneker High School, a Title 1 school in Atlanta, Georgia.
"Purpose drives my work," Wang says.
"Purpose has given me a sense of agency that's carried me through my first month and a half of teaching. The biggest wage I've earned is satisfaction in the idea that I'm a support system for my students."
Wang spent two years at Oxford College of Emory University before continuing to Goizueta Business School on a scholarship from the Emory Scholars Program. He graduated with a BBA with concentrations in strategy and management consulting along with information systems and operations management.
Marrying Social Enterprise and Social Change

While at Emory, Wang considered a question that would set the tone for his future work: how can we marry social enterprise and social change in a career? Inspired by the work of The Roberto C. Goizueta Business & Society Institute, Wang set a goal to make social impact in careers less abstract for his fellow undergraduates. To help spread this thinking to his fellow students, Wang became the BBA liaison of Net Impact between the institute and undergraduates.
Wang was recruited by Teach for America, an organization confronting educational inequity by placing skilled teachers in low-income communities. Wang was offered the role at Banneker High School teaching AP macroeconomics, economics, and U.S. history.
To Wang, Banneker was too good to pass up — teaching is something Wang has wanted to do since high school when he would give demonstrations dissecting cow eyes — in the city he now considers home.
"Teach for America is a great opportunity," Wang said. "The community is amazing: like-minded people who want to make a change. Teaching at a Title I school is a tangible way to do that. There's always going to be that consulting offer on the table, but this is the one shot I have to teach."
For the recent graduate, youth has been his biggest asset in connecting to his students. He's found that things as simple as playing basketball with his students or using memes in his presentations has made him relatable.
"Teaching is more than preparing a curriculum. It's bonding with your students," Wang says. "It's showing that you care in ways beyond a student's academic performance. How are they going to approach life after high school, build their credit score, make big purchases? I want to help them answer the biggest questions facing them and provide them with the tools to approach adulthood with confidence."
Food Insecurity, Access to Education, Affordable Housing, and Their Collective Impact
Not only is Wang adjusting to teaching, but his students are slowly relearning how to interact in the classroom. Their shared struggles of virtual learning have created a sense of togetherness. A large part of effective learning is making content digestible, for which Wang credits skills he developed in the business communications class taught by Molly Epstein, professor in the practice of organization and management.
Teaching at a Title I school has allowed Wang to put faces to large, complex, and interrelated issues facing our society, such as food insecurity, access to education, and affordable housing, which has made him think back to his scholarship and service summer program with the Emory Scholars. "This experience really cemented my will to go to business school," he recalls.
"Business & Society was the most influential class I took because it got me thinking about the intersection of business and society and how to approach social issues in a structured manner," Wang says. "We're going to be some of the most influential people in society as heads of business or nonprofits, tasked with making big decisions and being held accountable for them. Finding outcomes that are good for customers, employees, and businesses to fix some of these problems is what we need more of."
Wang sees himself going into consulting or corporate strategy after his time in the classroom. Regardless of his role, Wang remains committed to working towards social change.
The Roberto C. Goizueta Business & Society Institute develops next generation principled business leaders equipped with systems thinking and problem solving skills through coursework and hands-on experiences including global travel modules, consulting projects, mentorship, fellowships, and more. Learn more about how businesses can create long-term value while addressing the social and environmental challenges of our time.