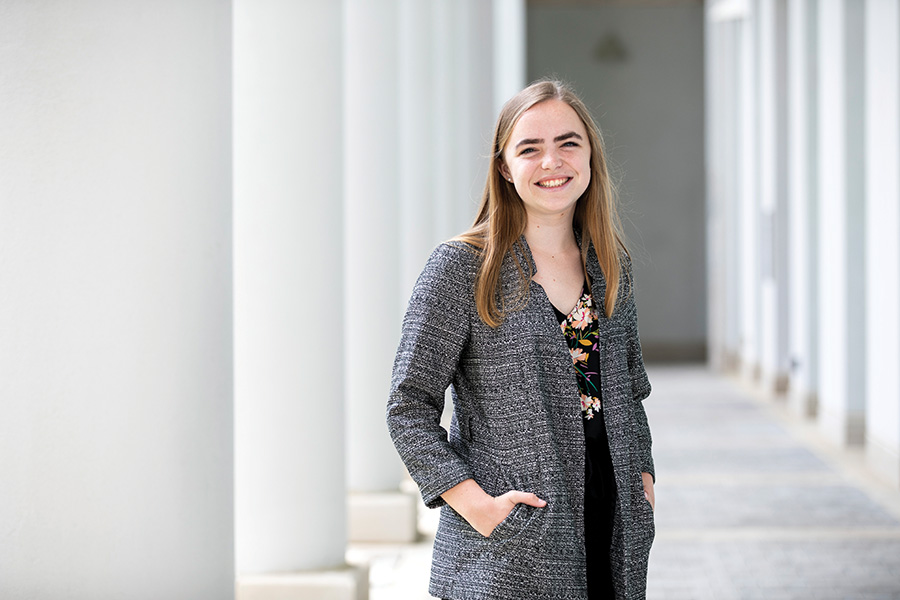 The summer before Lori Steffel 21BBA arrived at Emory, she made a deal with herself. Unlike her jam-packed high school schedule, Steffel decided she'd throttle back a bit. She'd pay attention to her schoolwork, of course, but on weekends the plan was to "sleep in and go to brunch," she said. Steffel tried but grew bored. "I was kind of miserable," she said. The monotony of studying and sleeping in inspired her to get involved.
In April, Steffel was elected Student Government Association (SGA) president, she is also a member of the professional business fraternity Alpha Kappa Psi, an Emory tour guide, a coach for the Career Management Center, a Wonderful Wednesday moderator and a teacher's assistant for Goizueta professor Allison Burdette. This summer she's interning in the leverage finance group at SunTrust, now Truist. "I don't hide the fact that I prefer to be busy," she said.
When Steffel campaigned to be SGA president in early March, the true fallout from COVID-19 had yet to come. Then came the death of George Floyd, a black man, at the hands of a white police officer in Minneapolis. Things that had been top of her mind earlier in the year quickly went by the wayside. "Being SGA president is all about meeting the moment," said Steffel.
According to Steffel, faculty, administrators and students have met that moment. "We were in person, on campus, and then we weren't. Usually, a physical checkout leads to a mental checkout. Not this year. Students are engaged from their computers," Steffel said. "One thing that is encouraging for me at a time where there is so much despair is that I've never seen the student body at Emory this engaged and this active." Last summer, in a simpler time, Steffel became a certified bartender. She also learned to rock climb, something she did in pursuit of a dream of hers: to compete on American Ninja Warrior, an obstacle course competition series airing on NBC and Telemundo. "That's on the bucket list for sure," she said.
Steffel spent her childhood in Glenview, a suburb of Chicago, and thought she'd go to college close to home. Then Emory landed on her radar. Sparking her interest was the weather — Steffel describes herself as a "seasonal mood person" — and also the chance to gain a new perspective. She couldn't be happier with her choice. "It's been challenging in the best way," she said. "Even living in Atlanta, it's so diverse, and there's so much life and energy. It's been eye-opening."