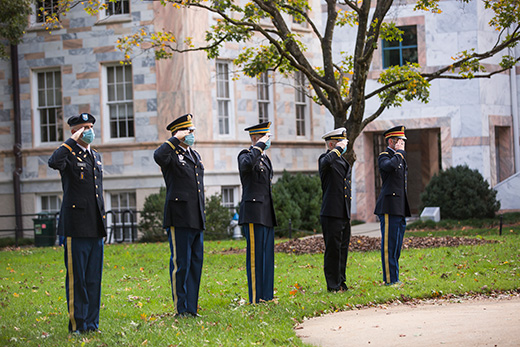 Emory's 12th annual Veterans Day commemoration had to be held online, but members of the university community still came together to honor veterans' service and sacrifice during a program Nov. 11.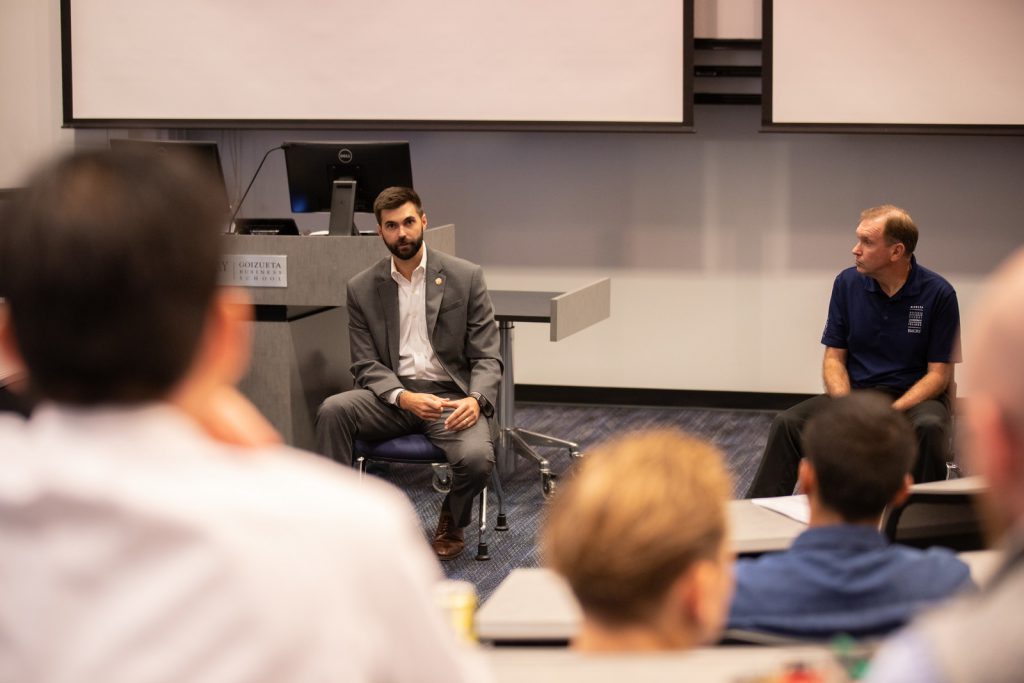 President Gregory L. Fenves opened the event by thanking all who have served in the U.S. military, past and present. He shared that his father is an Army veteran and gave credit to his father for much of what he has come to know of veterans himself – including their courage, commitment, character and patriotism.
After his military service, Fenves' father attended college on the GI Bill and went on to a long career as an engineering professor. "That benefit changed his life and my family forever," Fenves said.
"Emory understands the value of the GI Bill to our veterans, and our work continues to make sure this is an institution where veterans are known, and where they are welcomed and validated," he explained.
Following Fenves' remarks, viewers watched video from a ceremony previously recorded on Emory's Quadrangle with student-veterans Capt. Grant Tucek (Army), Capt. Thomas Egge (Army), Lt. Matthew Mastriforte (Navy) and 1st Lt. Brennan Mancil (Army) as the national anthem played.
Lt. Gen. (Ret.) P. K. (Ken) Keen, associate dean of leadership development and a faculty member of Emory's Goizueta Business School, then reflected on the history of Veterans Day. He invited participants to observe a moment of silence to mark when the armistice ending World War I took effect "at the eleventh hour of the eleventh day of the eleventh month" in 1918.
Lessons from Emory and the military
In lieu of the keynote address traditionally given during Emory's Veterans Day ceremony, four alumni service members shared their perspectives on leading through crisis. Jeff Rosensweig, Goizueta Business School associate professor of finance and founding faculty sponsor for the Emory Veterans Association, moderated the discussion.
Rosensweig shared how some students at Goizueta approached him more than 20 years ago about a veterans organization. "We formed a Veterans Association so that students who were veterans would be able to work together and inform the student body about the value of being veterans," he said. "To have veterans in our classes is a great opportunity for Emory – I think the students are very eager to learn from our veterans."
The veteran panelists included:
Jon Keen 11 MBA, interim chief operating officer for the City of Atlanta
Carlissa Carson 08 L, Lt. Col., Air Force Reserve (Air National Guard), and manager of the Emory Law Volunteer Clinic for Veterans
Raye Perez 20 MBA, senior manager of strategic initiatives, 75th Ranger Regiment
Felicia Warren 99 Ox 01 C 08 MPH, Lt. Cmdr., U.S. Public Health Service, and team lead for the Operational Policy and Training Team at the Centers for Disease Control and Prevention, Center for Global Health
All four said lessons learned during their times at Emory and in the military prepared them to cope with challenges, particularly in light of the COVID-19 pandemic.
"The military gave me the confidence to deal with a crisis and lead from a place of optimism even in very stressful situations," Keen said. "My time at Emory strengthened my confidence in leading in varied circumstances and put quite a few new tools in my toolkit that were very important to adapting the city's operations, like clarity in communication – something we certainly got a lot of practice in."
Warren was deployed to the CDC's Newark, N.J., quarantine station in early February as part of the country's first line of defense to mitigate the importation and spread of COVID-19.
"As a public health professional, seeing this pandemic unfold while you're deployed to help prevent that very pandemic was incredibly challenging," she said. "I credit my training as a public health service officer in equipping me with a lot of those skills necessary to combat public health threats, but also my foundational knowledge from Oxford and Emory College and then my public health training at Rollins School of Public Health. It has uniquely equipped and prepared me throughout my career."
Perez added, "In the military we use the words 'limitations breed creativity.' At the same time, chaos will expose priorities. The way the military prepared me was really about mindset. I have always appreciated that you make a choice on how you enter a system. Emory helped me focus on actually creating value in that – the ability to systematically inspire people and motivate them to find problems and … develop the solution."
Building successful leaders
Diverse leaders from all walks of life are developed through the military. When Rosensweig asked about the most important leadership lesson panelists learned during their military service, Carson was quick to pinpoint empathy.
"The most important leadership trait – human trait – is empathy, the ability to understand the emotions and needs of others," she said. "Putting yourself in their shoes, especially while leading during a crisis, is important to establishing trust. Empathy is a hallmark of effective leadership."
"One of my most important takeaways from the military is the power of perspective," Carson continued. "Without proper perspective sometimes we can magnify mistakes made, minimize our ability to add value or perhaps lose sight of a desired end state. With the proper perspective you can remain calm and collected. I believe this ultimately leads to better decision making, particularly in times of crisis."
Keen added that setting expectations is another important takeaway. "The military is so successful in developing leaders because they provide very extensive, very deliberate training and they expect leaders to always continue to be growing and learning," he said. "Each individual has the choice to take advantage of resources to continue to train and grow. They expect you to seize those opportunities. They expect people to step into challenging situations and lead."
Moving forward
Rosensweig closed the discussion by asking panelists how civilians can apply those lessons from the military to their own lives and their suggestions for civilians who want to show their support for veterans.
"Create systems and environments that continue to challenge the individual," Perez said. "Look for continued purpose in life."
"Take the time to listen to their stories and understand where they came from and the sacrifices they made," Warren added. "It's a small but very tangible thing to do for veterans."
Emory will continue serving veterans as students, alumni, faculty and staff, as well as through resources like the Emory Healthcare Veterans Program, which marked its fifth anniversary on Veterans Day by announcing the expansion of its virtual telemedicine services to include 13 states across the country. Since launching in 2015, the program has treated more than 2,300 warriors with a variety of mental health concerns, including post-traumatic stress disorder or PTSD, traumatic brain injury, military sexual trauma, depression and anxiety.
"Serving military veterans speaks to the heart of our mission to educate and serve humanity," Fenves said. "I want to say thank you to today's panel participants who truly exemplify what it means to lead a service-driven life. And thank you to all of our veterans not only for their service, but for setting an example and embodying the character and commitment we all hope to attain in our own lives."
View the webinar here: Leading through Crisis: Veterans Day Webinar Panel Discussion