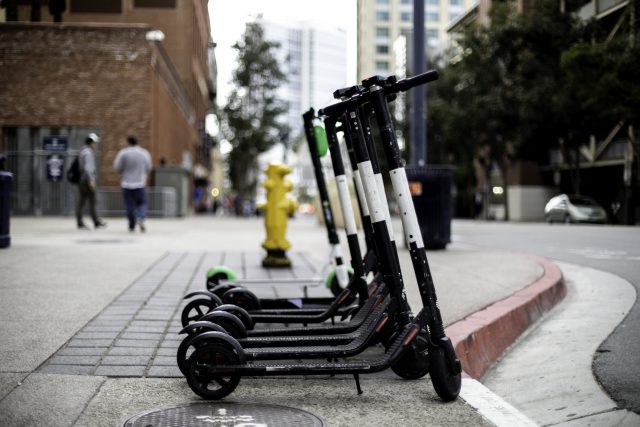 ATLANTA, March 11, 2021 – New research examining the economic impact of micromobility on local economies found shared e-scooter systems created an estimated $13.8 million in additional sales across 370 food and beverage companies in four cities over six months in 2019, as compared to four similar cities over the same time period without e-scooter programs.
The study compared consumer purchase patterns in four cities that allowed operation of shared e-scooter systems – Atlanta, Austin, San Francisco, and Washington, D.C. – to similar cities that did not at the time – Boston, Houston, Phoenix, and Seattle. The study used extensive econometric methods to uncover purchasing that was caused by e-scooter rides, which would not have occurred otherwise.
"The post-COVID economic recovery remains slow, but this research shows we shouldn't ignore the positive impact of micromobility on small businesses," said Dan McCarthy, senior author of the study and assistant professor of marketing at Emory University's Goizueta Business School. "This is especially relevant for the food and beverage sector, a significant source of jobs, which is suffering sales declines larger than most other sectors of the economy." 
Kyeongbin Kim, first author of the study and Marketing PhD student at Goizueta Business School adds, "Markets with more favorable policies towards shared e-scooter systems could be giving themselves a potential boost towards economic recovery as e-scooter programs generate additional sales tax revenues and jobs that aren't otherwise realized in markets that don't allow shared e-scooters." 
The study uncovered e-scooter usage generated significant positive economic spillovers for the food and beverage industry purchasing in a similar way that consumers make impulse purchases at grocery stores – its effects are larger for businesses where the consumption happens more quickly, and businesses selling at lower prices.
Across the cities studied with e-scooter programs, total sales in the food and beverage category increased by an estimated 0.6 percent on average, or approximately $921 in incremental spending per available e-scooter for the food and beverage companies over the six-month period studied in the analysis.
"Since these companies represent approximately 15 percent of the overall food and beverage market in these cities, the actual impact could be much larger," said McCarthy. "If, for instance, subsequent research confirmed a similar level of uptick across all food and beverage companies in these markets driven by micromobility, the overall full-year economic impact could be close to $200 million."
"This study illustrates the importance of research in informing cities' policy decisions related to shared e-scooters, where a common approach has been prohibitive regulations which limit fleet sizes and charge burdensome permit fees to operators, in turn limiting the potential for growth and positive outcomes," said Josh Johnson, Public Policy Manager at Spin. "Our hope is that this research changes the narrative and instead shows the positive impact e-scooter share can have by supporting cities' transportation systems and local economies."      
About Goizueta Business School at Emory University  
Business education has been an integral part of Emory University's identity since 1919. That kind of longevity and significance does not come without a culture built around success and service. Emory University's Goizueta Business School offers a unique, community-oriented environment paired with the academic prestige of a major research institution. Goizueta trains business leaders of today and tomorrow with an Undergraduate degree program, a suite of MBA programs (Full-Time One-Year MBA, Full-Time Two-Year MBA, Evening MBA, and Executive MBA), a Master of Science in Business Analytics, a Doctoral degree, and a portfolio of non-degree Emory Executive Education courses. Together, the Goizueta community strives to solve the world's most pressing business problems. The school is named for the late Roberto C. Goizueta, former Chairman and CEO of The Coca-Cola Company.
About Spin
Headquartered in San Francisco, Spin is one of the leading micromobility companies and a unit of Ford Mobility. Spin has been recognized for launching the first stationless mobility program in the United States and was instrumental in crafting the world's first mobility permit system. As a trusted and reliable partner, Spin currently operates e-scooters in many cities and universities in the U.S. and Europe. Spin consists of a diverse team of experienced professionals from government and private sectors, and the transportation advocacy world, all of whom are committed to fulfilling the company's mission–giving people the freedom to move and bringing people, communities and their urban environment closer together. https://www.spin.app