Every graduating Goizueta student embarks on a unique academic and extra-curricular journey upon entering Emory University. As we celebrate this year's graduates in both the undergraduate and graduate schools, we share the stories that continue to shape our next generation of principled leaders.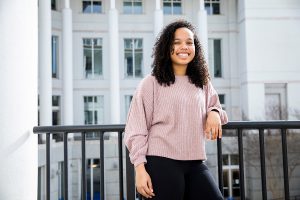 Drew Bullock 21BBA/MPA likes to stay busy. When she's not playing outfielder for Emory's softball team, the North Carolina native can be found working on her dual BBA and Master's in Professional Accounting degrees. "What keeps me motivated is that it's something new every day," Bullock says. "I'm always thinking that tomorrow can be different, and I shouldn't dwell in the past. I learned in sports you can't hang on to the fact you just struck out in the field. It's always about moving onto the next thing."
When Bullock first came to Emory, she knew she wanted to work in healthcare with her ultimate goal of becoming a healthcare lobbyist, heading to Capitol Hill and changing the American healthcare industry. However, after taking a few business school pre-requisites, her love of business quickly grew. In fact, she's already landed a full-time job as a dispute advisory consultant with FTI Consulting post-graduation. "I'm still very much on the path to healthcare," Bullock explains. "I don't know exactly how I'm going to make the transition, but I'm going to make it sometime in life. I think I have the tools to get there, and accounting is a great foundation for me to work into that."
Bullock's busy schedule doesn't stop on the field or in the classroom as she currently works at the Department of Accessibility Services on campus and serves as president of Beta Alpha Psi, the Financial Honor Society, and a pre-BBA Coach. She also works as an intern with the Commission for Racial and Social Justice where the group recently created an official BBA book fund, helping numerous students struggling to purchase textbooks. "I think it is really helpful because I know I've had to use it in the past," she says.

In her spare time, Bullock loves to read and volunteers at PAWS Atlanta Animal Shelter. With a strong love of reality television, she and her sister started a podcast called Raised with Reality, where they discuss some of their favorite shows.
During her time at Emory, Bullock has grown to understand other people and improve her emotional intelligence. "People change and I think that's OK," she says. "You should always keep growing as a person."
As a problem solver, Bullock has embraced the core principles of Goizueta Business School. Diversity, Equity, and Inclusion are central to each of Goizueta's strategic initiatives. Newly launched this year, The Roberto C. Goizueta Business & Society Institute explores vital issues of inequality, climate change, and social impact.
Share your own student and alumni experiences on this year's Commencement Memory Wall.