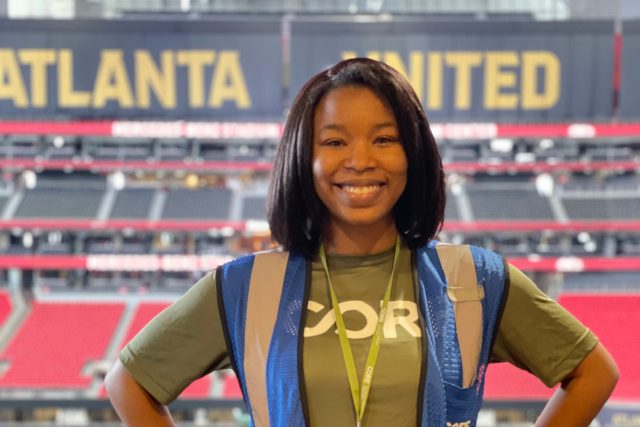 Through experiential learning, graduating Goizueta MBA students gain hands-on knowledge of best practices in the business world before earning their degrees.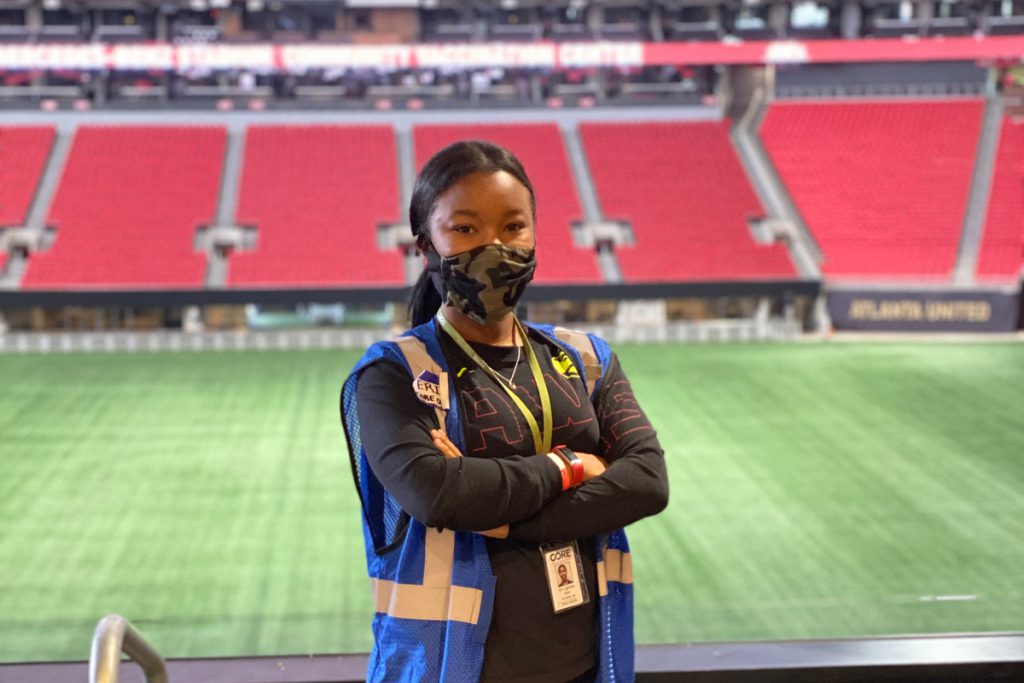 Since mid-March, Social Enterprise Fellow Erin Lightfoot 21MBA has served as a mass vaccination site operations manager at Mercedes-Benz Stadium in downtown Atlanta. The largest mass vaccination site in the southeast, Mercedes-Benz crossed the 250,000-vaccination milestone on April 30th. "It's been a huge, orchestra-like production," Lightfoot explained. "Multiple teams have come together to bring this whole initiative to life."
The site at Mercedes-Benz is a multiagency effort between the state of Georgia, the Fulton County Board of Health, the Federal Emergency Management Agency (FEMA), the Department of Defense, the Arthur M. Blank Family Foundation, and others, including the Community Organized Relief Effort—CORE—the organization that engaged Lightfoot.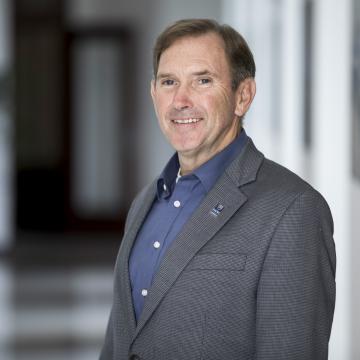 A non-profit organization that works to form strong partnerships with existing community-based organizations, governmental agencies, and the private sector, Lightfoot learned about CORE during Lieutenant General (Ret.) Ken Keen's Leadership Capstone Course.
Keen, senior lecturer in Organization & Management and associate dean for Leadership, is a member of CORE's board of directors. When CORE's CEO asked him to recruit leaders to support CORE's efforts, he presented the opportunity to students in his Leadership Capstone Course. Lightfoot, who prior to entering Goizueta's MBA program worked in various managerial positions with Amazon, was one of the students who expressed interest.
"All the students in the Leadership Capstone Course are well prepared to take on a leadership role," explained Keen. "Erin's unique qualifications as a former operations manager at Amazon made her an ideal candidate." Lightfoot's work experience at Amazon armed her with a solid understanding of standard work routines, labor planning, and morale building, she said.
A Multi-Agency Operation Requires Hands-On Leadership
Most days, the Mercedes-Benz mass vaccination site operates 12 hours a day. Across several floors, six pods act as mini-clinics. Each pod is staffed with at least 20 clinicians who deliver the vaccine (a mix of nurses, doctors, and U.S. Army medics), as well as 20 administrative clerks who fill out guests' vaccination cards and upload their data into the site's database. As a site operations manager for CORE's team, Lightfoot works with approximately 140 administrative staff. She credits the experience with, "helping to develop my leadership capabilities," Lightfoot said. "This is a crisis-style life/death situation for a lot of people," she said. "You have workers who are performing a service. Some of them are really young—19 years old—and we're teaching them about integrity, about excellent customer service, and about putting others before themselves."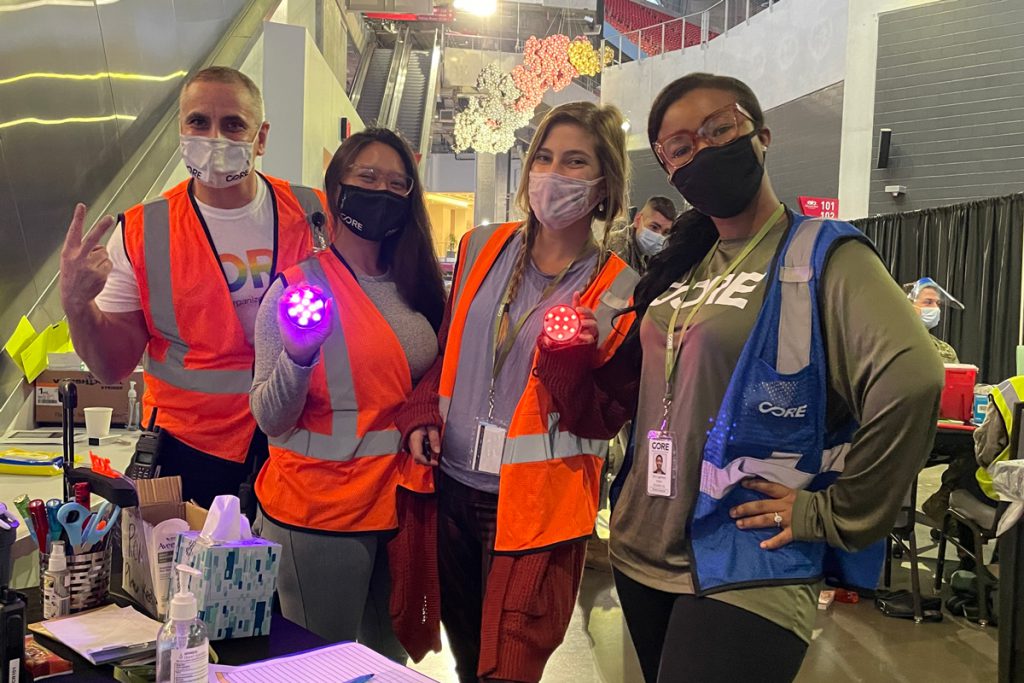 "There is nothing better than getting real-world experience to build upon your leadership skills," explained Keen. "Students can apply what we discuss in their leadership courses and grow their leadership skills real-time. They also have resources at Goizueta to lean on when they meet challenges or difficulties."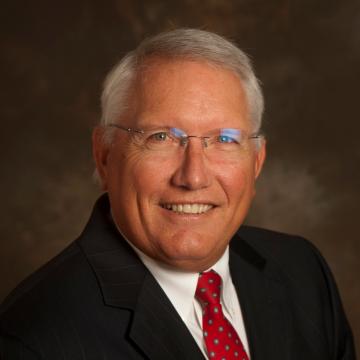 While Lightfoot is not responsible for forecasting "guest volume," she's curious about how it's being done and has taken the opportunity to "ask a lot of questions." She compares what's happening on the ground with what she learned in Associate Professor in the Practice of Information Systems & Operations Management Stephen Stuk's forecasting and predictive analytics class. Given that she also has some staff budgeting responsibilities in her role with CORE, Lightfoot's core MBA classes in financial and managerial accounting have been put to good use as well.
Shifting Demand Dictates Day-to-Day Change
Recently, the Mercedes-Benz site has seen a decrease in vaccine demand. This decrease, according to Nikolay Osadchiy, associate professor of Information Systems & Operations Management, is part of "the shifting bottleneck story," he said. "We have worked on all other bottlenecks—discovery, manufacturing, distribution, last inch delivery, and now the bottleneck is demand itself."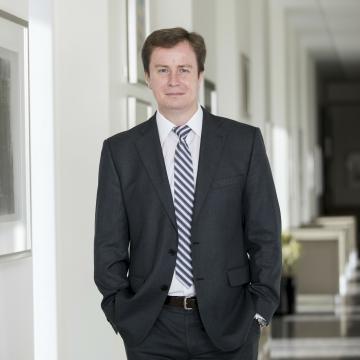 In order to increase demand, marketing and outreach efforts around the vaccine have transitioned from a pull strategy to a push strategy. "We need to meet people where they are," Lightfoot said.
Though she was slightly afraid to take on this leadership role because she was still in school, "I just went for it. It's a once in a lifetime opportunity to serve," said Lightfoot, who will join Accenture in August as a Senior Strategy Consultant. "I'm glad Goizueta is the type of place to support me in doing something like this before I even graduated. It's been very fulfilling."
Goizueta is committed to offering programming that supports the growth of principled leaders who go on to impact the business world and better society. Learn more about the many facets of leadership development at Goizueta.
Social Enterprise Fellows like Lightfoot are leaders at Goizueta and within The Roberto C. Goizueta Business and Society Institute. The Institute recognizes undergraduate and graduate students demonstrating both a deep interest in social enterprise and commitment to Institute's core focus areas. Fellows access hands-on education, exposure and experiences to develop their capabilities as next generation social impact leaders in a variety of careers and industries.