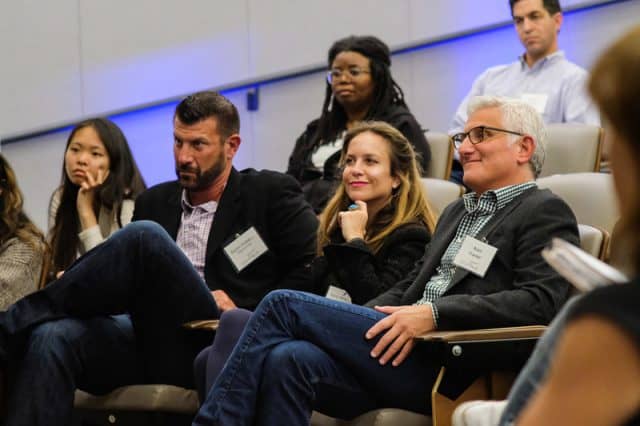 Hundreds of entrepreneurs, faculty, and community members gathered to trade ideas and inspiration during the sixth Emory Entrepreneurship Summit, a high octane in-person event at Goizueta Business School designed to stimulate new business ventures, develop opportunities, and foster professional connections.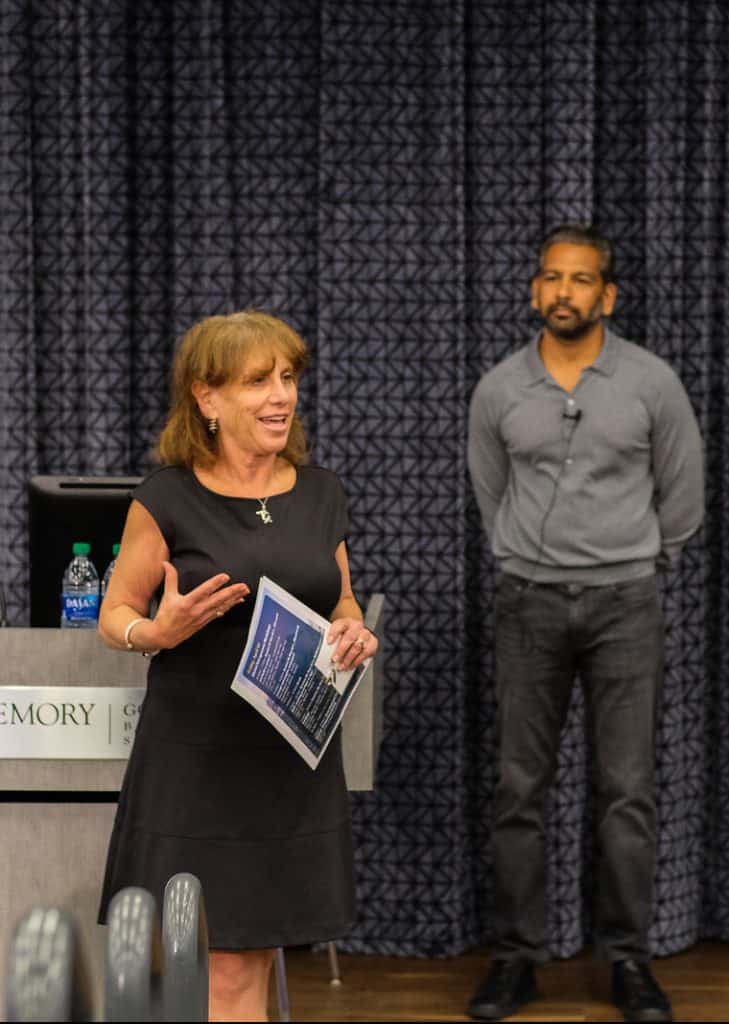 Senior Associate Dean and BBA Program Director Andrea Hershatter created and has nurtured this event since its inception in 2015. "We have now moved the summit under the banner of The Roberto C. Goizueta Center for Entrepreneurship & Innovation," Hershatter notes. "In so doing, we are able to expand our outreach and intellectual resources and reach a broader audience. I'm delighted that the summit will become the Center's annual signature spring event."
This year's program highlights included a keynote founder's address by Vivek Garipalli 00BBA, co-founder and CEO of Clover Health, a health insurance company that provides seniors with affordable high-quality healthcare and physicians with data-driven infrastructure that supports clinical decision making.
To kick off the workshops, Center Academic Director and Asa Griggs Candler Professor of Organization & Management Robert Kazanjian organized a panel discussion about the newly launched Peachtree Minority Venture Fund (PMVF). The fund seeks to change the narrative for underrepresented Black, Latinx, and Native American founders who currently receive less than three percent of U.S. venture capital investment. Featured panelists were Shila Nieves Burney, founding and managing partner of Zane Venture Fund, Andres Garcia, co-founder and CTO of Florence Healthcare, William Leonard, investor at Valor Ventures, and Ariel Lopez, founder and CEO of Knac.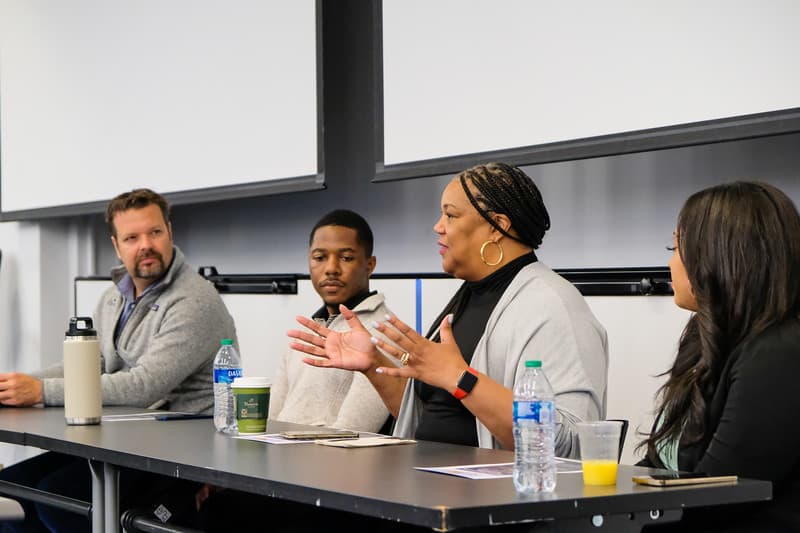 The remaining session workshops were organized to offer participants insights at every stage of venture creation. Founders Dustin Finkel 00BBA, Awakened Foods, Josh Sigel 02BBA, Lasso Ventures, and Caren Kelleher 05BBA, Gold Rush Vinyl, spoke about filling a need and building a venture.
Eden Chen 02BBA, the founder of Pragma, joined with Emory parent Scott Roskind of Noxx Technologies to talk about ways in which technologies underscore venture creation. Other workshop sessions focused on customer acquisition, presented by Jared Belsky 05MBA and Sean Belnick 09BBA, co-founders of Acadia, and aspects of fundraising, led by Gardiner Garrard 99MBA, co-founder and managing partner of TTV Capital, and Kerry Leigh Miller 01BBA, co-founder and general partner of Overton Venture Capital.
"The workshops were highly dynamic and effective," Hershatter points out. "We gave our alumni entrepreneurs the desired learning objectives and asked them to craft the content and appropriate format for their sessions. Our alumni clearly know what future entrepreneurs would find valuable, and they deliver with creativity, invaluable insights, and authenticity."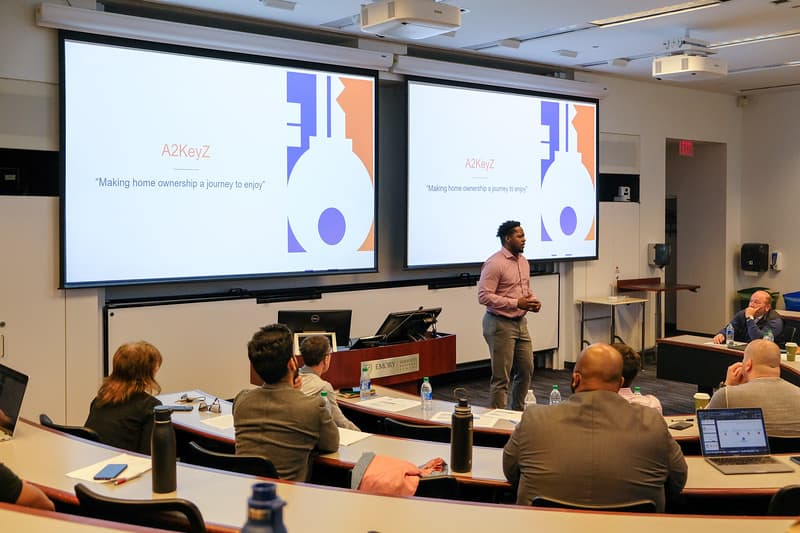 $25K in Cash Prizes Awarded to Winning 'Pitch the Summit' Student Teams
An enticing feature of the event is the Pitch the Summit competition, which offers real-world experience in concept development, pitch formation, and preparation for investor presentations.
Finalist teams competed for business-changing seed-money grants. With a $25K pool of cash prizes on the line for participants, the stakes are high—and meaningful for competition finalists. This year, the top Pitch the Summit prize of $10K lured a wide range of aspiring ventures. Four undergraduate and four graduate ventures advanced to the semi-final round, with two of each type of team advancing to the final round.
The 2022 Pitch the Summit winner of the $10K prize is Andrew Wright-Hall 22MBA with A2keyZ, a real estate technology platform that reduces the time to closure for all stakeholders.
The undergraduate $5K category award winner is Neil Banerjee 22BBA of FTTED, and the undergraduate runner-up for the $2.5K category award is David Gibbons 23BBA of Cubby. The graduate $5K category award winner is Alexander Saladna 23EvMBA with Andalas, and the graduate runner-up for the $2.5K category award is Simran Modi 22L with InvestRE.
Summit finalists got feedback about their ventures directly from seasoned pros. "There is an enormous gap between the process of envisioning a venture and actually launching one. The essential steps around validation, product or service creation, testing, iterating, and putting together all the resources needed to execute can be incredibly daunting," Hershatter says.
"To me, the summit helps build this bridge. What our students learn from our alumni luminaries is the importance of approaching entrepreneurship in a systemic way, driven by best business practices," she concludes. "However, I also believe that they walk away inspired by the success of those who have preceded them and heartened by the knowledge that if they move along an entrepreneurial path, the Emory ecosystem is there to support them all the way."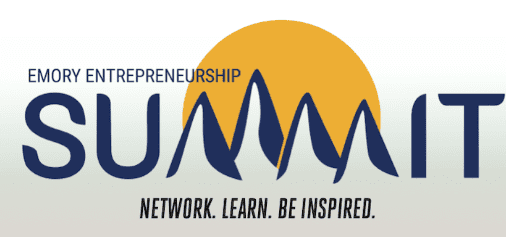 The Emory Entrepreneurship Summit, including all student monetary prizes, was funded by a generous donation from an Emory parent who wishes to remain anonymous. Transformational gifts such as this enable Goizueta to provide experiential learning opportunities and vital professional connections for the next generation of business leaders. Learn more about Goizueta's strategic giving priorities.
View the slideshow of highlight moments: