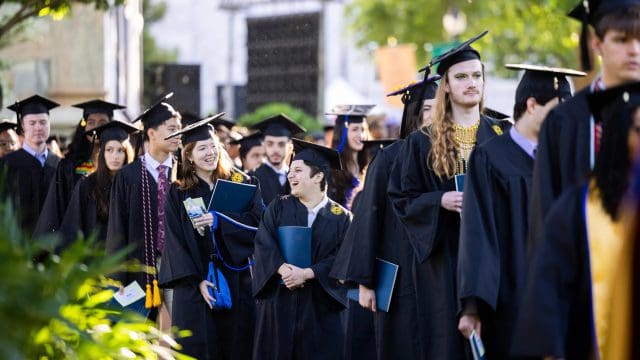 For the first time in three years, Emory University graduates were able to gather on campus for their commencement celebrations.
Over several days, 5,091 degrees were awarded to Emory students at the undergraduate and graduate levels.
In addition to the university's BBA ceremony on Monday, May 9, at the Quadrangle, diploma ceremonies were held for students in the Evening MBA, Executive MBA, One-Year MBA, Two-Year MBA, and Master of Business Analytics programs.
Graduating Students Have Learned to Adapt, Pivot, and Innovate
Interim John H. Harland Dean Karen Sedatole praised the dedication and determination of the 2022 class for persevering under the unique circumstances of the past several years.
During my career, I have celebrated many student achievements and taken part in many graduation ceremonies, but this one is special and significant. Your experience was like no class before you, but you have persevered and grown in so many ways. Over the past four years, we've watched you support each other through triumph and challenge; adapt, pivot, and innovate; push yourself to what you thought were your limits–and then push even further.

Interim John H. Harland Dean Karen Sedatole
Emory University President Gregory L. Fenves commented on the future ahead for graduates: the cures, careers, and companies the now-alumni will create with their shared determination, knowledge, and force of will. "Georgia's own Ray Charles once said, 'Dreams, if they're any good, are always a little crazy.' I think what he's saying is that to other people—those who don't know what you are capable of—your dreams and goals, if they're big enough, might sound too ambitious, too bold, impossible to attain.
But take a look around you. It's clear there's no limit to what you can accomplish.

Emory University President Gregory L. Fenves to graduates
To enhance the digital experience of Commencement, the "memories" section on the Commencement website shared well wishes from friends and family members to campus organizations, including Emory Campus Life, which sent congratulations to the Asian, Pacific Islander, and Desi American graduates. Parents' messages spoke of the pride and joy they felt at celebrating such a major life accomplishment. As Cheyenne Arreola wrote to Nikolas Walls 22BBA, "Congratulations on your graduation. We celebrate how far you've come. We have faith in you and how far you'll go. With love and pride."
Film and Media Leader Tyler Perry Encourages Graduates to "Chart Your Own Course" and "Leave Your Own Footprints"

Although he's a Louisiana native, Tyler Perry has done much for the state of Georgia and the city of Atlanta, especially. Tyler Perry Studios, a massive 300-plus acre compound in south Atlanta has brought over 400 jobs to the area since it was founded in 2006.
"Tyler Perry is a visionary creative force—writing, directing, producing, and performing in plays, films, and TV shows that move, entertain, and inspire," said Fenves. "Equally impressive are his endeavors as a philanthropist, humanitarian, and social justice advocate. Whether funding scholarships for talented students, covering the grocery bills of elderly Atlanta residents or supporting global disaster relief, he is renowned for creating opportunities and giving back to his community."
As the Commencement speaker, Perry told stories about fatherhood and finding professors in his life–in his own unique way. Despite not attending college, Perry considers the wise mentors he's had over the years as his professors. He encouraged graduates to also seek out those who will support them along their own journeys.
"This is your life to live," said Perry. "Don't be afraid to chart your own course or make your own way. Have an incredible work ethic; look for your professors; and leave your own footprints."
In addition to Perry, who received an honorary Doctorate of Letters, two other honorary degrees were awarded. Louise R. Glenn received an honorary Doctorate of Humane Letters, and Sally Q. Yates an honorary Doctorate of Laws. Glenn was a founding trustee of the Wilbur & Hilda Glenn Family Foundation, which established the Glenn Family Breast Center in 2013, the first named center for a specific type of cancer at Emory's Winship Cancer Institute. Yates is a former acting U.S. attorney general and former U.S. deputy attorney general, who played a large part in the Department of Justice's priorities and initiatives during her almost 30-year tenure.
To close the BBA Commencement ceremony for Goizueta undergraduates, Sedatole shared a prediction.
In this room today, I see our newest graduating class, but I also see enormously talented and principled leaders ready to solve the biggest problems of our future. I cannot wait to see where you go next, the ways you will continue to thrive, and how you will leave your mark on the world around us.

Interim John H. Harland Dean Karen Sedatole
For more Emory Commencement stories, updates, photos and videos, and celebration details, visit commencement.emory.edu.