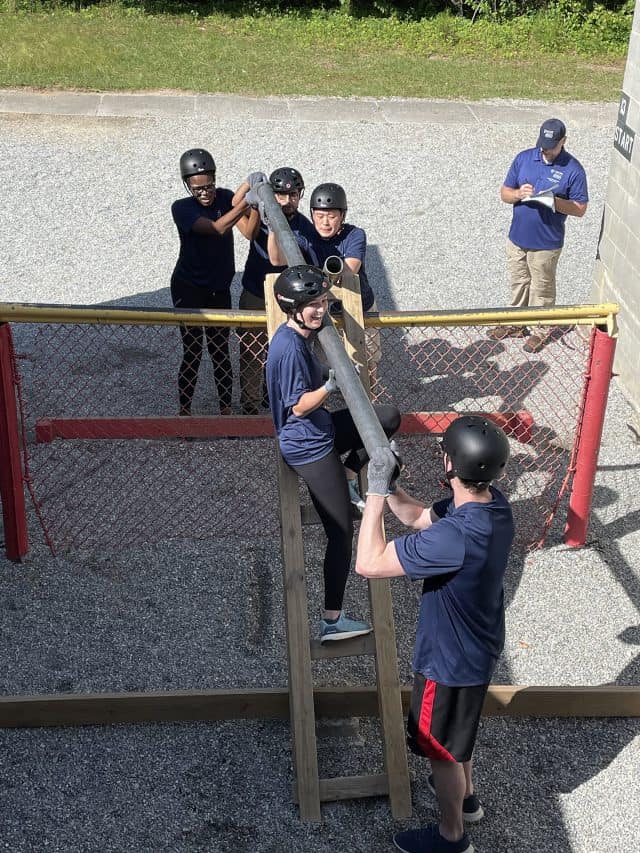 The bus departs Emory University's campus, leaving Goizueta Business School behind. The passengers–a mix of Goizueta graduate students–are nervous, probably wondering what they got themselves into. At 8:45 a.m., the bus arrives at Fort Benning, a U.S. Army base near Columbus, Georgia.
Then begins the most intense icebreaker-turned-leadership exercise they will ever complete.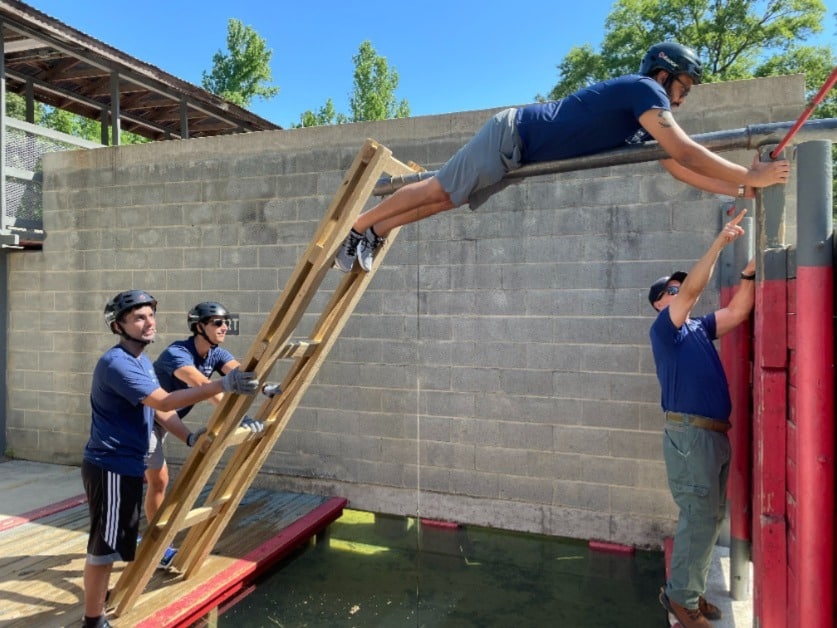 The Leadership Reaction Course is the brainchild of Lieutenant General USA (Ret.) Ken Keen, associate dean for leadership and senior lecturer of Organization & Management.
When he arrived at Goizueta, he was tasked with conducting a benchmarking study of some of the top business schools in the nation to compare their leadership curriculum, including academic and experiential learning, to what Goizueta offered.
"It became quite clear to me immediately that we needed something like the Leadership Reaction Course, which I had experienced and used as a leadership development course during my military career," says Keen. "It's a very much team-based, problem-solving type of event."
Team-Based Problem Solving Challenges Leaders
The course consists of multiple obstacles, which are referred to as lanes. Students are broken into smaller groups, then have approximately 20 minutes to assess the situation and figure out how to get to the other side.
The Leadership Reaction Course has a lengthy history in the military, dating back to the 1950s. It serves as a training experience for new soldiers. The installation at Ft. Benning was designed based on scenarios experienced by combat veterans.
What began as a pilot program in 2013 is now a one-day event required for all graduate programs within Goizueta as part of the orientation experience. The course, the first experiential learning program Keen created at Goizueta, is now open to interested undergraduate students as well.
More than 2,500 Goizueta MBA students have completed the Leadership Reaction Course since 2013.
It fits very well with their onboarding experience into the graduate programs because of the team-building component. You've just started your MBA, for example, with a group of folks you've never met before and who you're going to work with throughout the program. We throw them together and get them to do something memorable, but also challenging from a physical and problem-solving standpoint.

Lieutenant General USA (Ret.) Ken Keen, associate dean for leadership and senior lecturer of Organization & Management
After the Leadership Reaction Course, these groups will work together for their first semester of graduate school.
Shaping Future Leaders Requires Active Coaches
At the Army's Ft. Benning course, coaches for the day include active-duty service members, veterans, and Goizueta alumni who have completed the course and have experience leading and coaching others.
Each one-day event requires about 20 coaches. Some are positioned at particularly challenging lanes to provide students with rules associated with that obstacle. However, the biggest role of the coach is to facilitate learning during and after each lane. Although they can't tell students how to tackle a challenge, they can provide encouragement and motivation.
"Different settings require different leadership styles," explains Ashley Freeman 08C 18EvMBA. "In this timed environment, we try to help students understand the balance between planning and execution because you can't tilt the scale too far in either direction. Either one could compromise your ability to finish the mission."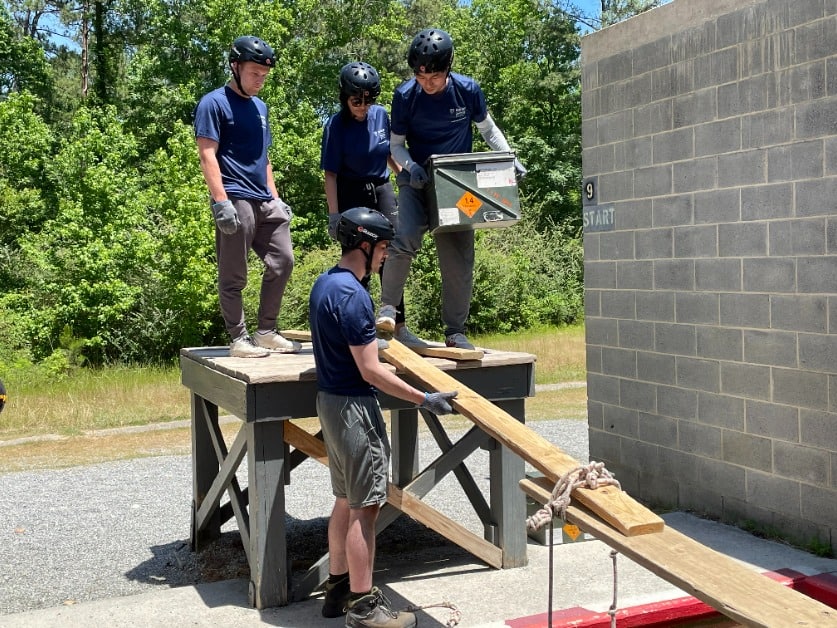 Freeman has coached every single opportunity she's had–totaling 17 times–since she completed the course herself.
One of the things I love most about this course is that it creates so much learning packed into less than a day. You grow as a person and as a team. I've never really experienced anything else like it.

Ashley Freeman 08C 18EvMBA
Students take turns being the "leader" for each obstacle, ensuring that everyone leads the team through at least one lane. Coaches also score students on their leadership skills for that lane. After each lane, the coaches conduct after-action review sessions, providing students with group space to immediately reflect on the experience. This feedback, in addition to a more comprehensive group review session at the end of the day with everyone present, acts as the fodder for an after-session paper students must write to further reflect on their experience.
One of the things that surprised me as a student was that the lessons we learned and skills we implemented on the course, in nearly every case, directly correlated to leadership in business. For example, if there's a lane where you can't see the end, those teach the importance of communication and the position of the leader. Should the leader be the one looking in and communicating back? What if something happens to the leader? In business, this can relate to succession planning and communication in general. Are you communicating a clear vision to the people who are going to be responsible for completing the mission?

Ashley Freeman 08C 18EvMBA
Brandon Cook 23EMBA, a lieutenant colonel in the Army stationed at Ft. Benning, first completed the course almost 20 years ago at the start of his military career. Since then, he's tackled it four or five more times and led young soldiers through it as well. Despite his experience, he was still apprehensive about the Goizueta-version and how people who aren't in the military would react to the course.
"General Keen does a great job of creating an environment where people can focus on growing, getting feedback on the kind of leader they are, and understanding what they can do to improve," says Cook.
It's easy to look at this course as just a military-style event, but there are so many aspects of it that translate to the business world, especially in terms of building incredible trust with a new team and learning to rely on each other when approached with a situation you can't handle on your own. These are experiences many people wouldn't have access to otherwise.

Brandon Cook 23EMBA
Learning to Fail—Fast
Nikki Adams 21EvMBA, a course coach for several years, encourages future participants to embrace the motto of failing fast. This mindset, which is often repeated by the veteran coaches as well as Keen, is one that encourages learning and growing from failure–rather than letting fear of failure dominate the experience.
Go in with a very open mind, and be willing to stretch out of your comfort zone. Plan quickly, and execute with your team. Moments will be uncomfortable and frustrating. These lanes will challenge you mentally and physically.

Nikki Adams 21EvMBA
But regardless of your personal or professional goals, everyone will benefit from the Leadership Reaction Course in one way or another, says Adams.
"Part of working together as a team, whether it's in this event or doing a business project, is knowing each other's strengths and weaknesses," says Keen.
That mindset is what makes an exceptional leader.
Through experiential learning like the Leadership Reaction Course, Goizueta students gain opportunities to test their mettle and build resilience when real-world challenges arise. With a long history of shaping principled leaders who will go on to lead industries and communities around the world, Goizueta continues to develop leadership initiatives designed to engage, inspire, and innovate. Learn more about principled leadership at Goizueta.