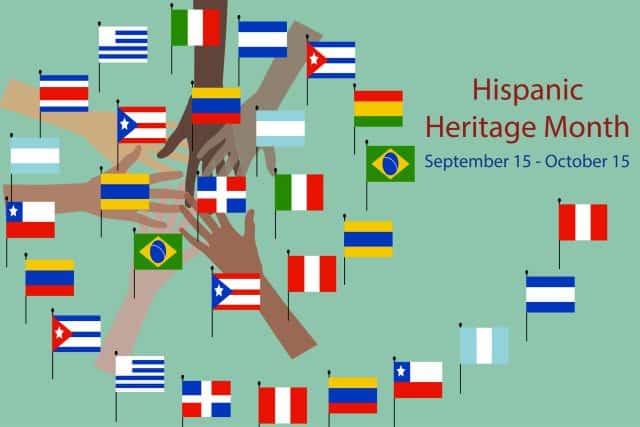 Emory Libraries will mark Hispanic Heritage Month by showcasing its first-ever Latinx pop-up exhibit from Sept. 15 to Oct. 15. "Consciousness Is Power: A Record of Emory Latinx History" is displayed on Level 2 of the Robert W. Woodruff Library.
Arturo Contreras 24BBA, a fourth-year student majoring in Latin American and Caribbean Studies and business, curated the exhibit.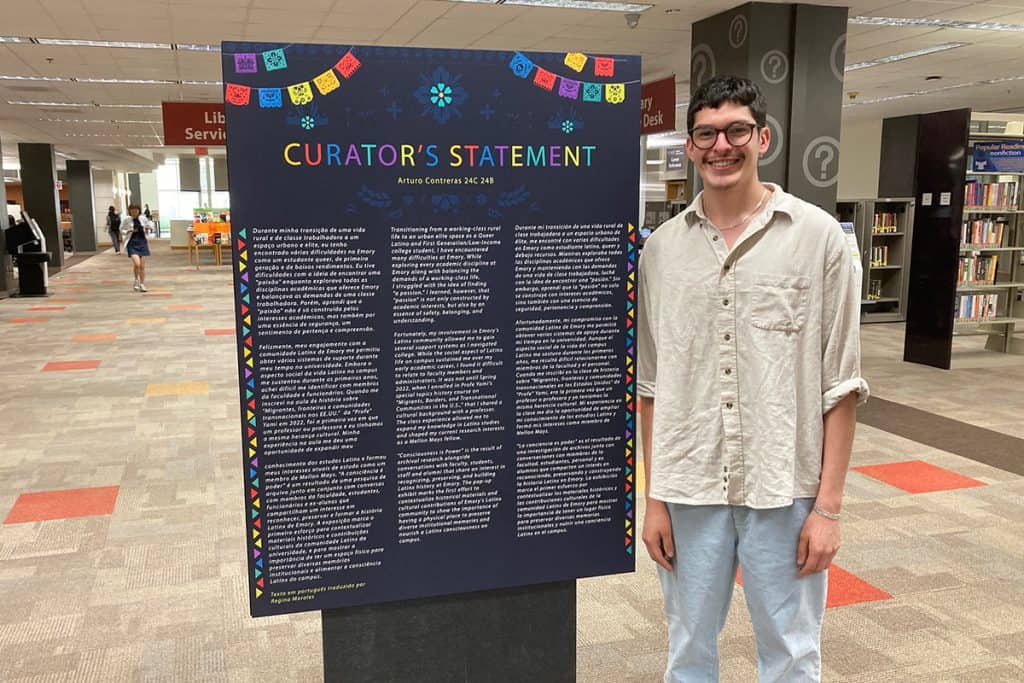 Growing up in a Mexican-immigrant household in small-town Monetta, South Carolina, gave Contreras a view of the rural U.S. South from a unique cultural perspective. It was not until his third year at Emory that he had the tools and frameworks to compose what he experienced into words. He is thankful for the resources Emory's Latinx community—faculty, staff and peers—provided to himself and others.
As a student, Contreras wanted to integrate his community work into his academic life. In spring of 2022, he enrolled in Yamileth "Yami" Rodriguez's special topics history class to expand as a scholar in the field of Latinx studies. Rodriguez, an assistant professor of history at Emory, inspired and supported Contreras in proposing his exhibit project to the Emory Libraries Events and Exhibits team.
"Yami's presence is what Emory needed, especially for students wanting to be involved with their respective communities," Contreras says. "Her field of study and method of facilitating makes the classroom an environment of belonging and safety to explore intellectual curiosity."
As a result, Contreras became a Mellon Mays Undergraduate Fellow. That allowed him to pursue independent research on understanding the place-making of Latinx communities by focusing on the intersection of Latinx studies and museum studies.
"Transitioning from a working-class rural life to an urban elite space as a queer Latino and first generation/low-income college student, I have encountered many difficulties at Emory," Contreras says. "While exploring every academic discipline at Emory along with balancing the demands of a working-class life, I struggled with the idea of finding a passion. I learned, however, that passion is not only constructed by academic interests, but also by an essence of safety, belonging and understanding."
"It was not until spring 2022, when I enrolled in Profe Yami's special topics history course 'Migrants, borders and transnational communities in the U.S.' that I shared a cultural background with a professor," he adds. "The class experience allowed me to expand my knowledge in Latinx studies and shaped my current research interests as a Mellon Mays fellow. 'Consciousness Is Power' is the result of archival research alongside conversations with faculty, students, staff and alumni that share an interest in recognizing, preserving and building Latinx history at Emory."
The pop-up exhibit marks Emory Libraries' first effort to contextualize historical materials by having a physical place on campus to showcase the social, cultural and personal connections that animate Latinx Emory history. The exhibit includes archival documents and print materials that highlight Emory's Latinx-related histories from the late 1980s through the present day.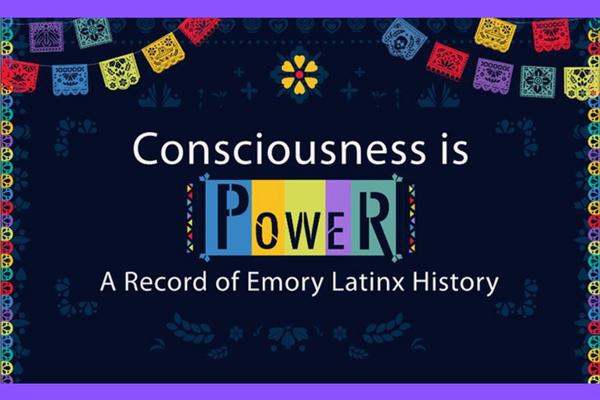 Apostles of Change: Latinx Radical Politics, Religion, and the Fight to Save the Barrio
Wednesday, Sept. 28, at 5 p.m.
Stuart A. Rose Manuscript, Archives, and Rare Book Library
Felipe Hinojosa will speak about his book, "Apostles of Change," which he worked on during his time as a JWJI Faculty Fellow at Emory in 2017-2018. A roundtable discussion between Hinojosa, Arturo Contreras ("Consciousness Is Power" exhibit curator), Jonathan Peraza Campos (educational consultant) and Taína Figueroa (assistant director for the Office of RACE) will follow. Iliana Yamileth Rodriguez, assistant professor of history, will moderate.
The event also will feature Afro-Latinx and Afro-Caribbean dance performances by ALAS de un Mismo Pájaro and Emory Vibez.
Organized by Latinx Studies Initiative at Emory, Emory Libraries, Centro Latinx, and the James Weldon Johnson Institute.