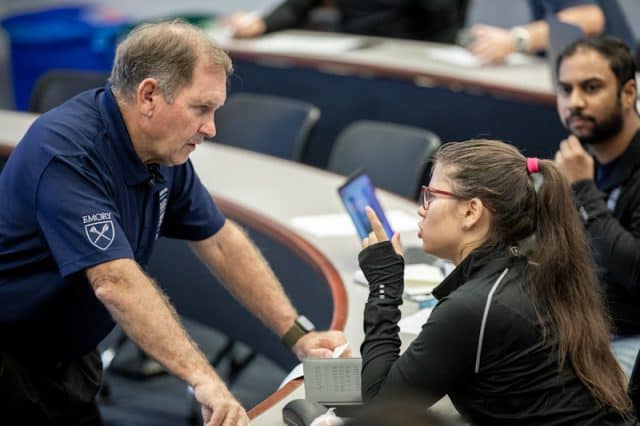 As Goizueta Business School continues our 2O36 campaign with a focus on preparing principled leaders to positively influence business and society, EmoryBusiness checked in with key changemakers in our community to find out why they give and why these gifts matter.
I am consistently gratified that our alumni never say no to sharing their knowledge and paving the way for the students that come after them. The commitment and impact of the Goizueta alumni network is mind-boggling, and I believe it is our greatest asset.

Andrea Hershatter, senior associate dean of undergraduate education
A Look at Alumni: Why We Give
"Goizueta Business School gave me the most mission-critical skills I needed to make a major pivot in my career and my life in general. I know by giving back, I am continuing that same chain reaction for others who want to be the change." –Angela Fusaro MD 01C 17EMBA, CEO of Physician 360
"I am a proud graduate of Goizueta, and my wife and I are excited to give back to the school. Emory and Goizueta have provided us with a platform to learn, grow, and thrive." –Jim Dinkins 92EMBA, CEO of Honey Baked Ham
"When creating the Laurie Manning Scholarship Endowment, in honor of our late friend Laurie Manning 16MBA, we received nothing but support from alumni across many classes and from the Goizueta staff. By donating to this endowment, we are not only able to honor our late friend's memory, but also to give back to Goizueta students." –Brittany Moore 16MBA, senior manager of social and political policy at eBay
"I feel it is my responsibility to give back to the community that poured so much into me. I credit much of my personal and career success to the skills I learned and the people I met during my time at Goizueta. I support financially because I want to be a catalyst in making dreams come true for our future generation just as alums did for me." –Jason Harlow 10BBA 14MBA, senior finance director at Hewlett Packard Enterprise
Through transformational gifts and ongoing support, Goizueta can continue to strengthen our focus on entrepreneurship and innovation, leadership development, data analytics, and the impact of business on society. Perhaps most importantly, we hope you will invest in our students through scholarship giving. This critical funding enables us to attract the best and brightest candidates and build a community full of diverse ideas, perspectives, and lived experiences. Give today!