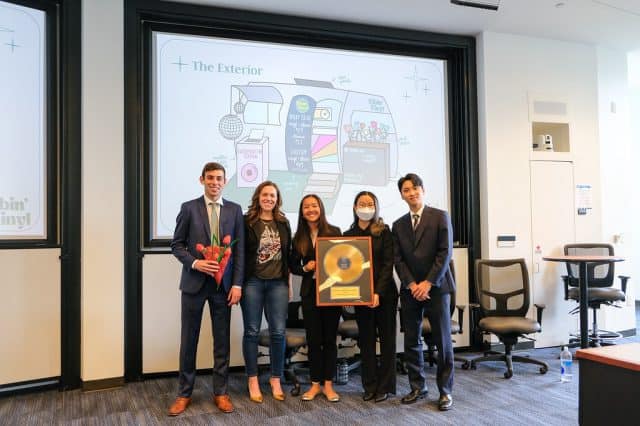 When Gold Rush Vinyl's Founder and CEO Caren Kelleher 05BBA identified Gen Z's surging interest in making mixtapes on vinyl records, she turned to Goizueta BBA students taking part in the popular Business Communication Strategy Case Competition experience. As primarily a B2B manufacturer of vinyl records, Kelleher's company focus has been on pressing albums for musicians, record labels, and brands. "I asked the students to help us think through a product idea and go-to-market strategy we had for a commemorative, non-playing vinyl record that is meant to be displayed," she says. "We called it 'Dream Vinyl,' but the students came back to us with even better brand ideas."
For the Business Communication Strategy Case Competition, Molly Epstein, professor in the practice of organization and management, and Nikki Graves, associate professor in the practice of organization and management, guide students on a transformative semester-long journey of brainstorming real-world business challenges, group problem solving, idea and strategy refinement, and presentation to client executives in a competitive setting. Recent client companies have included Mercedes-Benz, Cricket Wireless, and Urban Tree Cidery.
"The Business Communication Case Competition requires our students to synthesize what they've learned in multiple classes, including accounting, finance, organization and management, and marketing," says Epstein.
Demonstrating core business competencies through effective communication enables our students to both persuade and demonstrate their mastery. Additionally, students apply their research skills, which are integrated into Business Communication through our partnership with the Goizueta Business Librarians.

Molly Epstein, professor in the practice of organization and management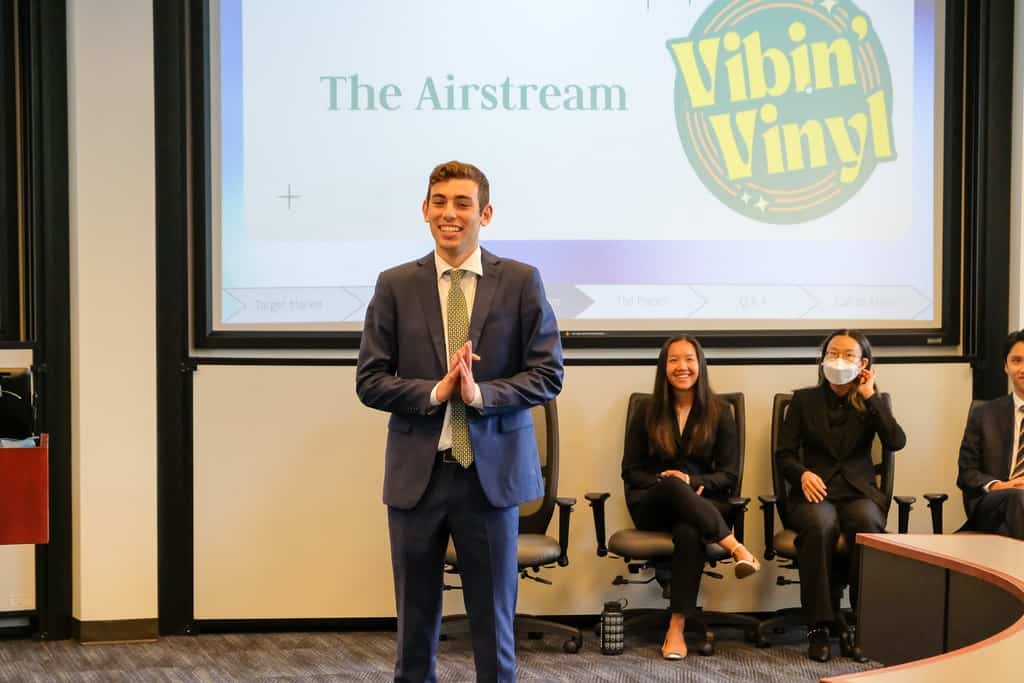 The stakes are real. As the winning team Vibin' Vinyl member Alex Guberman 24BBA notes, "Creating and presenting recommendations to Gold Rush Vinyl's leadership was an really rewarding experience and something that will prove to be extremely useful in my career." He went on to say, "Utilizing a real case study and getting to work with colleagues will serve as amazing practice for the real world."
The winning presentation from Team Vibin' Vinyl "proposed that we should rename the product 'Designyl' which is what it really is: a design of a vinyl record, made by individuals. I was very impressed by the mockups they made, but especially the working prototype of a design tool to allow people to visualize their vinyl before putting it into production," Kelleher says. "I took the presentation back to my team and it inspired a lot of discussion and, ultimately, revamping of our B2B ordering experience."
There are so many wonderful things about this opportunity. First, I love that students have the chance to work on a real-world problem in their first semester in the business school. Second, the future of vinyl is in the hands of Gen Z and our BBAs are actually shaping those possibilities. Third, and most importantly, I cannot think of a better role model than Caren who is brilliant, innovative, and bravely breaking down barriers in a male-derived manufacturing sector.

Andrea Hershatter, senior associate dean and BBA program director
Student Marketing Strategies Rival Those of Consultants
For the Austin-based Gold Rush Vinyl, named in 2020 to Fast Company's Most Innovative Companies list, tapping into the student creativity and innovation was a smart idea. "I've always loved working with students and gained so much from my own experiences working with real companies while I was at Goizueta. Students bring such energy and fresh perspectives to things, especially because they haven't been in the working world long enough yet to prescribe to 'the way it's always been done,'" Kelleher says. "Gold Rush Vinyl had very positive experiences working with MBA students in our hometown of Austin, Texas, so when the opportunity arose to work with the BBA students at my alma mater, I knew it would be a special and valuable experience."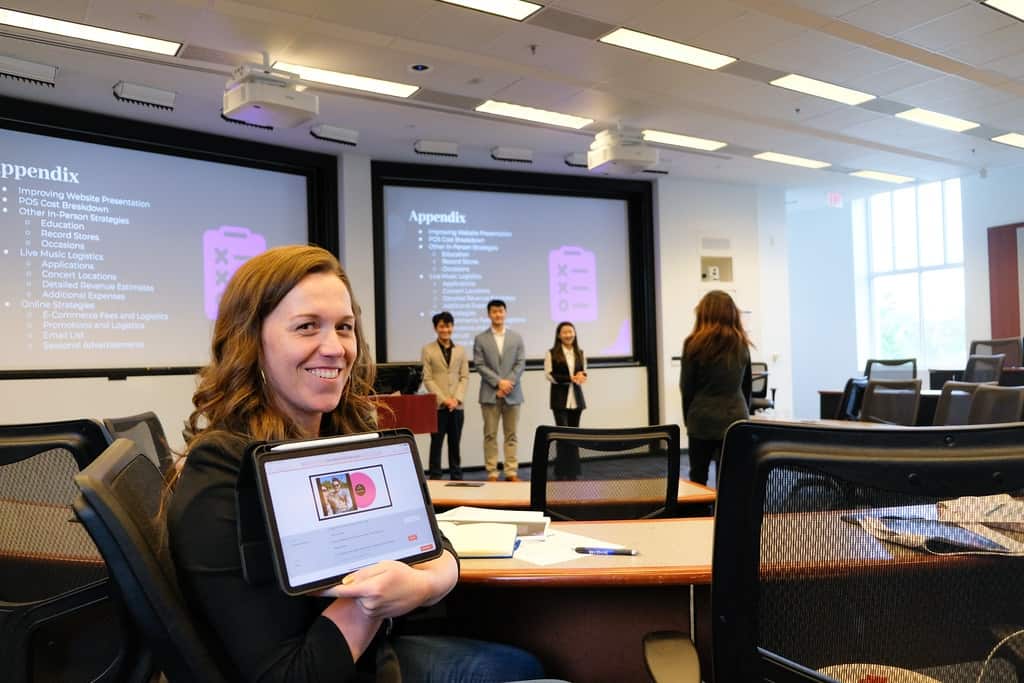 Long fascinated by the consumer side of vinyl, Kelleher noticed an uptick in the number of requests for vinyl mixtapes to commemorate a special occasion, such as a birthday, anniversary, or graduation. While this concept "proves extremely difficult both legally and from a manufacturing perspective," she says, "nearly five percent of the inquiries we were receiving at Gold Rush Vinyl were for this type of mixtape product."
Directing focus onto the go-to-market strategy challenge issued to students for the customized commemorative display vinyl, Kelleher was impressed by their presentations during the final stage of the competition. "I was reminded during the student presentations of just how important the BBA Communications program is and how well prepared these students are for the working world."
The professionalism, polish and confidence the students displayed – in their proposals and presentations – was outstanding and rivaled work I've seen from professional consultants.

Caren Kelleher 05BBA, Founder and CEO of Gold Rush Vinyl
Though the culmination of the presentations persuaded Kelleher that the product was not yet ready for market, she notes, "That's not a bad thing. It's better to find out you need to work on your release before you pour too many resources into it. The students pointed to data that showed Gen Z purchasing habits to be based on impulse and ease of transaction, and our product required a lot of customization decisions that lost us interest from our target audience." Taking this into consideration, "Instead of moving ahead with our 'dream vinyl' product, we focused on how we could create other home decor products that would appeal to this audience, especially on TikTok."
Our BBA students bring structured problem solving and communication skills to address real-world challenges. What problems can we help your organization solve? Email Darius.Woody@emory.edu to learn more.