On April 14th, approximately 700 attendees assembled at Buckhead's Whitley Hotel for the second annual Emory Real Estate Conference. The focus of this year's sold-out event was timely: navigating turbulent real estate markets.
"In economic times like these, the need to come together as a real estate community and as an alumni community has never been more important," said John Schellhase 23EvMBA, president, Goizueta Real Estate Group and one of the event's student organizers. "The fact that the event sold out two weeks prior to the conference shows the need for this type of content."
Organized by an alumni steering committee and Goizueta Real Estate Group, which offers graduate and undergraduate students experiential opportunities to learn more about commercial real estate, the Emory Real Estate Conference attracted real estate executives from across the country, including keynote speakers Dean Adler, CEO and co-founder, Lubert-Adler Partners and Roy March, CEO, Eastdil Secured, who participated in the event's fireside chat.
"In real time, we are witnessing major movements in the financial markets that affect real estate and all asset classes," Gareth James, John H. Harland Dean of Goizueta Business School told conference attendees. "As we continue to examine how this impacts each of our businesses, my duty and the duty of Goizueta is to continue to prepare our students for a future in this dynamic industry."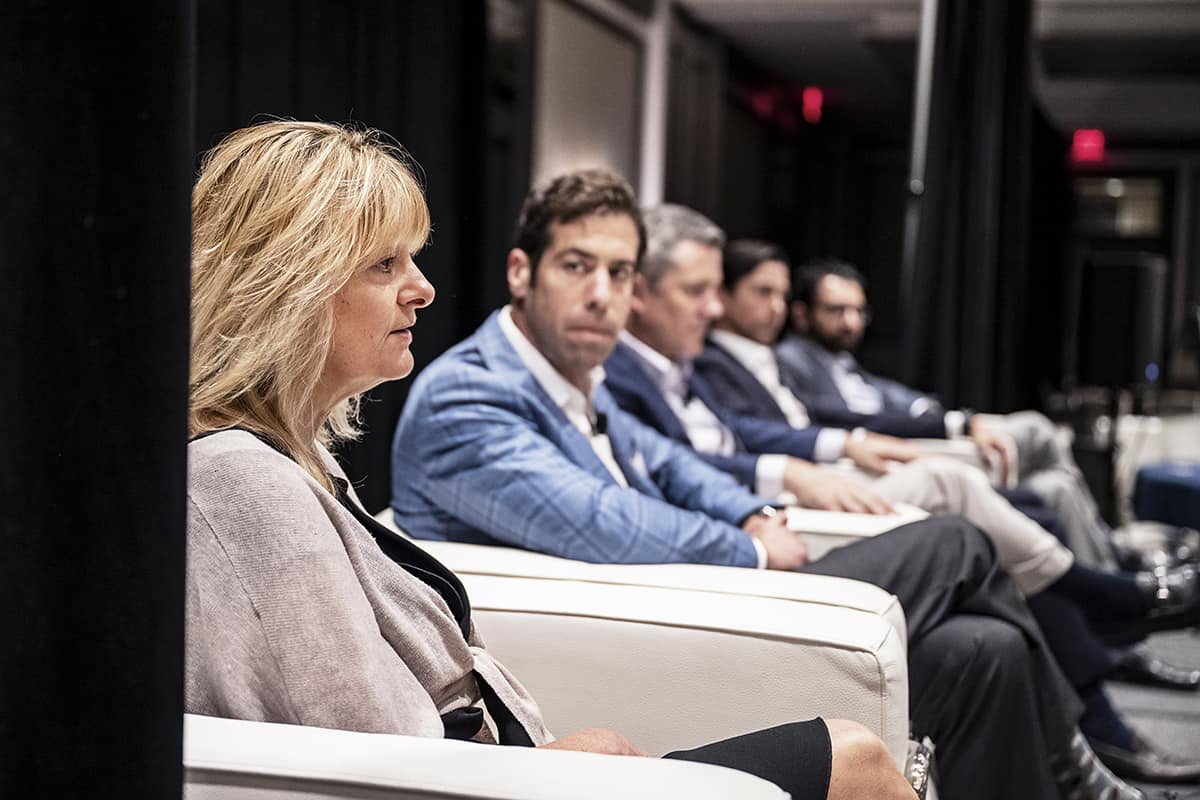 The conference's CEO spotlight featured Jodie McLean, CEO, EDENS, a retail real estate owner, operator and developer. McLean was one of three women featured in the conference's programming. "As we continue to increase our efforts to provide diverse thought and perspectives in an industry that has not been, traditionally, very diverse, we were really excited to have a number of women executives participate this year," noted Schellhase.
The morning's panel discussion, "Investment Sentiment in a Changing Macro Environment," was moderated by Hussein "Moos" Moosajee 07MBA, managing director, Blue Horseshoe Real Estate and an adjunct professor in Goizueta's Real Estate Program. Panelists included Alex Vouvalides 00C, CEO, Equity Office, Brandi Hanback, EVP, Rockefeller Group, Colin Connolly, CEO, Cousins Properties and Matt Schulman, CEO, Ardent Companies.
Following lunch and networking, the afternoon panel discussion, moderated by Adam Sklar 05BBA, co-portfolio manager and co-head of Real Estate, Monarch Alternative Capital, tackled "Capital Markets Insights: Trends and Disruptors." Panelists included Jay Curran, president, Multifamily, Crescent Communities, Jeffrey Beckham, EVP, GID, Kelly Kuykendall 13MBA, deputy CIO, Office, Bridge Investment Group and Michael Regan, managing director, CIM.
The conference would not have been possible without contributions from more than three dozen sponsors, including Lubert-Adler Partners, Eastdil Secured, Cousins Properties, Metzler Real Estate, Peachtree Hotel Group, Portman Holdings, and Greenberg Traurig, LLP.
Although Schellhase will graduate this May, James asked him to continue to co-chair the Emory Real Estate Conference through 2028. Schellhase agreed. "It's a great way to contribute to Emory and the city of Atlanta," he said. Co-chairs of the steering committee included Bernard Clevens 22MBA, principal, Thematic Capital Group, John Hillman 21MBA, partner, FIDES Development, and Russell Hardin 21MBA, VP, Investments, Cousins Properties.
Professor Roy Black, who was instrumental in founding the school's Real Estate Program in 2007, retired last year. As a result, Dean James saw an opportunity to elevate the program during this time of transition. Between significant institutional resources prioritized by Dean James and Emory University President, Gregory L. Fenves, Goizueta is seeking philanthropic partners to create a distinguished professorship to conceptualize a real estate center that advances thought leadership, education and innovation.
With nearly $2.5 million pledged towards a goal of $3 million, Goizueta is well positioned to complete the first round of funding in the coming weeks. Hiring a transformative leader in this space is both a clear need and significant opportunity for Goizueta—and the first step toward establishing the premier real estate program in the southeast.
"As we move forward, we will continue to attract top tier students who will grow into the future real estate leaders of tomorrow—both here in Atlanta and across the nation," said James.
In addition to the annual conference, the Goizueta Real Estate Group hosts monthly events and a speaker's series. Year-round programming now includes a Fall Speaker Series, Winter New York Reception and the marquee April Real Estate Conference. Learn more about the critical work happening in this space and how you can get involved.