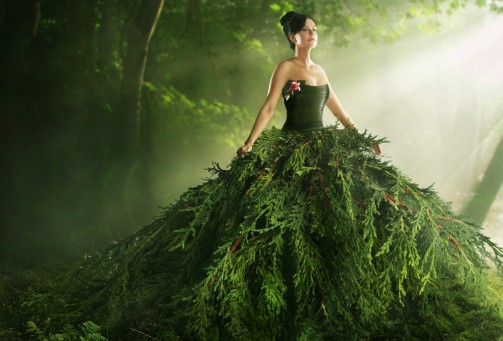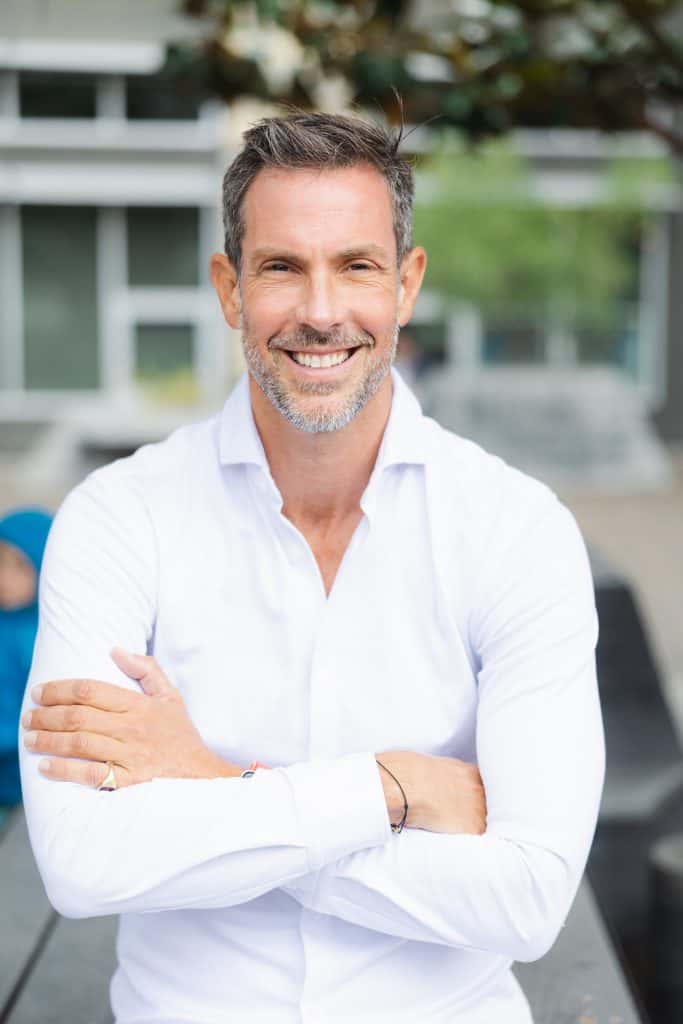 For every sweater, a myriad of complex processes takes place before it is ready to wear. Designer conceptualization, prototype creation, pattern making, material sourcing, sewing, model size fittings, pattern adjusting, cutting, assembly, pressing and finishing, packaging, distribution, shipping, and marketing are just a few of the early steps in that single garment's life cycle before it even reaches retail establishments. Combine that with the manufacturing facilities' and transportation companies' water and power use, waste management, and CO2 production, and the environmental impact for a single sweater produced adds up.
Lewis Perkins 00MBA sees the path forward and shares the vision for a healthier planet. As the inaugural president of Apparel Impact Institute (Aii), Perkins is embracing a crucial role to shift the collective sustainability mindset of the $1.53 trillion global fashion industry. Aii's mission is clear: to identify, fund, scale, and measure the apparel and footwear industry's proven environmental impact solutions.
"In this industry, the vast majority of the negative impacts occur during the actual making of our clothes – from farms to factories, across a vast network of interwoven global supply chains shared by many brands," Perkins shares. "No one company can make the changes that we need alone. The only way to accomplish improvements is for the industry to pool resources and collaborate, implementing a suite of agreed-upon solutions. It takes a central actor to guide this work; this is the role we seek to fill at Aii."
Consider that more than 100 billion garments are made each year, and humanity's appetite for clothing is expected to nearly triple by 2050. Worldwide, 92 million tons of clothing—the equivalent of 15 Great Pyramids—head to landfills annually, and less than 15 percent is recycled.

Lewis Perkins 00MBA, President of Apparel Impact Institute
As an organization, Aii selects, funds, and scales high-impact projects to improve the sustainability outcomes of the apparel and footwear industry dramatically and measurably, convening brands, manufacturers, and industry stakeholders to do so. The effort is paying off in a big way.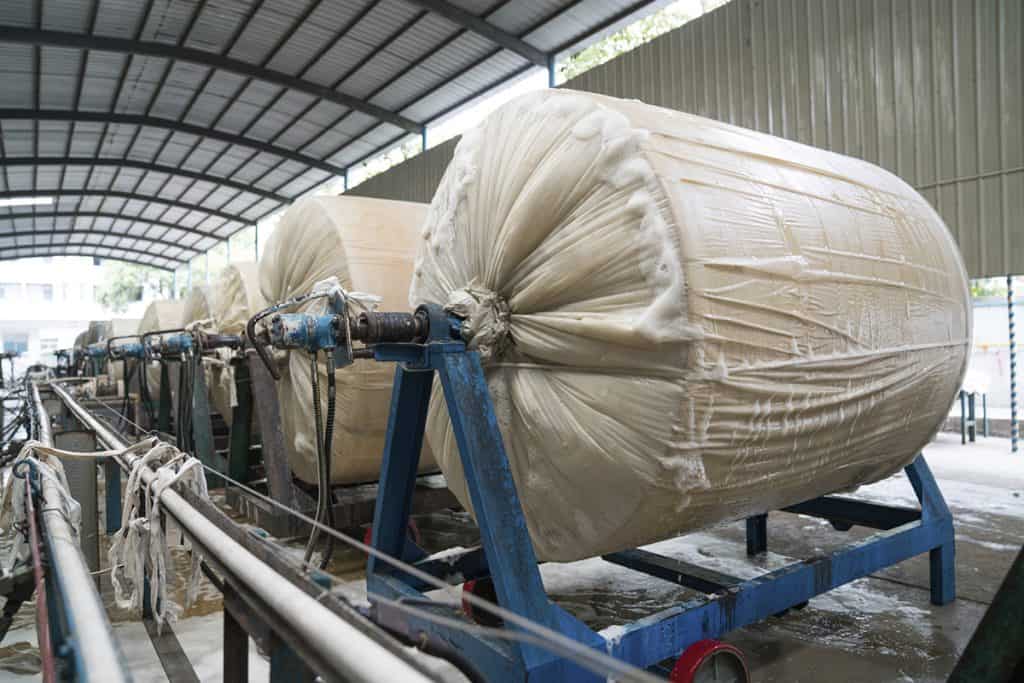 In 2022, 600 facilities around the world (across 28 regions) were active in or completed Aii programs. The expanding popularity of Aii programs can be attributed – in part – to the relative cost effectiveness of partners using the program, $17 per ton compared to non-Aii program costs of $67 per ton. Aii partner projects achieved third-party verified results for fashion giants like Kering, Burberry, Gap, Under Armour, Nike, Ralph Lauren, Levi Strauss, and many other notable brands.
Through seven formal programs that address efficiency, chemistry, renewable energy aggregated procurement, coal phase out, and other carbon emissions reductions, Aii measured actual environmental and financial impact for participating facilities. Greenhouse gas emissions were reduced by 14.6 percent (the same impact as taking 12,000+ cars off the road), and water savings realized was 1,784,920 cubic meters (equal to 700+ Olympic-sized swimming pools). On average, each facility invested $501,141 with an average savings of $299,735 and return on investment within twenty months.
"Who knew that decarbonizing the fashion industry supply chain is a $1 trillion plus opportunity for investors, VC, banks, foundations, and more? Many of the solutions to decarbonize the apparel industry, and thereby reach global, science-based targets to stay under 1.5 C by 2030, are the same solutions needed to scale for food and agriculture, energy efficiency, renewable electricity, and eliminating the use of coal and other fossil fuels in processing materials."

Lewis Perkins 00MBA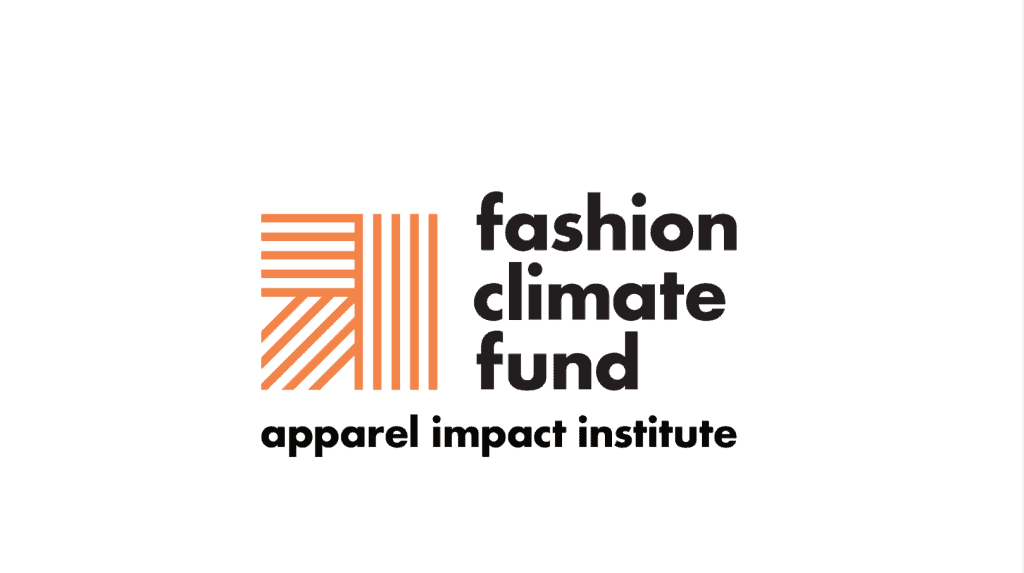 In response, under Perkins' leadership, Aii has launched the $250M Fashion Climate Fund to leverage a first-of-its-kind collaborative funding model between philanthropy and corporate entities and is designed to catalyze climate action by funding and scaling solutions for decarbonization. Financial institutions, family offices, and foundations have all partnered to drive another $1.75B in both debt and equity investments, which can be applied to those programmatic solutions. Partners include Lululemon, H&M Group, PVH, Target, H&M Foundation, Schmidt Family Foundation, HSBC, Bank of the West, and Brookfield Renewables.
No More "Take, Make, Waste": Perkins Advocates for a Circular Economy with Responsible Design and Production
Previously, Lewis served as president of Cradle to Cradle Products Innovation Institute, where he launched the Fashion Positive Initiative for circular materials to help engage designers, manufacturers, brands, and influencers to create materials and products with the circular economy in mind.
"Today, we live in a linear economy of "take, make, waste," where virtually everything that we produce eventually ends up in a landfill. With rapidly diminishing natural resources, we can't sustain this," Perkins explains. "The circular economy refers to a system where materials are recirculated–reused and recycled–to ensure products enter their next best life. In a circular system, what was once considered waste can instead be used as fuel for a future cycle. To achieve this in fashion, we must design for disassembly from the very beginning, so that fabrics, buttons, zippers, and trims can be used again in new products."
To guide efforts, Aii's Clean by Design (CbD) suggests 10 best practices focused on resource efficiency, which is the first step to making environmental improvements. It is ideal for any business ready to take the initiative for positive environmental change. Perkins notes, "When implemented in any production facility, these top practices can deliver almost immediate return on investment – most projects pay for themselves in less than one year."
"The beauty of our work is that it is applied at the facility level. Regardless of size, businesses rely on manufacturers for their products, and therefore dip into the global network of shared suppliers that our programs are designed for," Perkins says. "Small brands can leverage the leadership and resources of the world's largest ones, working side by side to ensure suppliers implement these environmental improvements."
Perkins shares this advice for how industry leaders can respond to the planet's need for greater sustainability efforts. "Transparency is key. If you voice support for sustainability, follow through with tangible action and the data to back up your efforts. It takes collaboration to spark the change needed to achieve science-based targets. No matter your industry, there are partners like Aii who can help allocate your resources that results in real impact."Goizueta's Business & Society Institute addresses complex challenges confronting people and the planet through academic discovery and purposeful action. This fall, new courses include Sustainability Measurement & Reporting by Associate Professor in the Practice of Accounting Usha Rackliffe. Learn more about the Institute's interdisciplinary research, innovative programming, and resources.