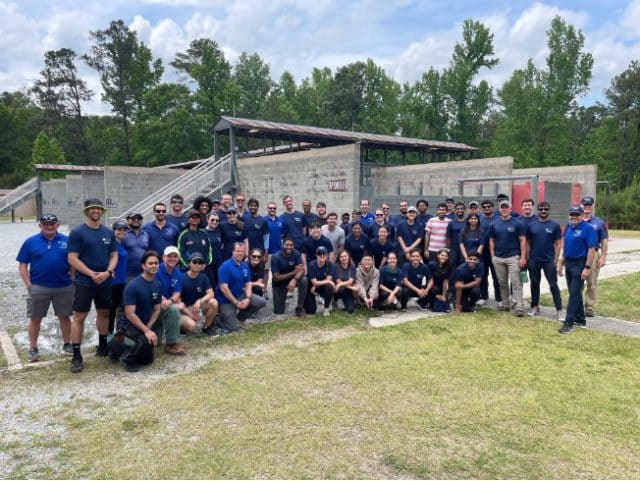 Obstacle courses and business courses may have more in common than you think. Associate Dean for Leadership, Associate Professor of Organization & Management, and Lieutenant General USA (Ret.) Ken Keen leads over 500 Goizueta Business School students through the rigorous Leadership Reaction Course each year, and with more than 3,000 total students having completed the course, the results speak for themselves.
"The Leadership Reaction Course presents Goizueta students with a series of challenges that force them to work as a team to achieve a common, difficult goal," says Keen.
The course invariably takes students out of their comfort zone. Not only is it mentally challenging and physically demanding, but the course places students in positions they may never have been in before.

Ken Keen
The Transformative Power of Teamwork
Keen developed the course nearly a decade ago when benchmarking Goizueta against other leading business schools. Fond memories of team building with his military peers led him to design the Leadership Reaction Course, which is now a required one-day event for all graduate programs within Goizueta. This year, about 70 undergraduate students in the Bachelor of Business Administration leadership development program have also chosen to participate.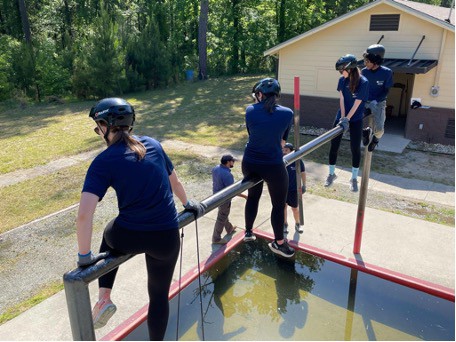 Once they arrive at Fort Moore just outside Columbus, Ga., Keen breaks the participating students into groups of five to six individuals, then tasks each group with completing six lanes, or challenges, out of 15 total. Groups have 25 minutes to complete a lane, then they regroup for a 10-minute debrief before beginning the next challenge. Each group's combination of lanes will be different, but one thing is for sure: they won't be easy.
Current MBA candidate Jake Linton 24MBA, who recently completed the course, says, "My main takeaway from the Leadership Reaction Course was the importance of actively listening to others. Every team member offers a different perspective, and to complete difficult tasks, we must iterate rapidly through alternative solutions if the first attempt stalls."
Coaches: Catalysts for Growth
Each team of students pairs up with a coach for the day. This person provides moral support, manages safety precautions, and leads an after-action review. "Goizueta students are extremely intelligent, but many have only used their intellect in safe environments. Coaches understand what it takes in terms of both physical and mental resilience to successfully navigate the course. It is really beneficial for the students to have someone who can guide them through the personal growth journey and leadership opportunities the experience fosters," says Kat Kaelin, a frequent Leadership Reaction Course coach and Army Veteran.
Jeff Mellinger, another military veteran who met Keen while serving together in the 1st Ranger Battalion, frequently helps manage the course and participate in these debriefs. He reiterates that the role of coaches is to help facilitate personal reflection and group growth, especially when a team fails to complete a lane. Says Frank Pacheco, Retired Army Ranger and coach, "From the moment the whistle blows, we're evaluating everything the students do and don't do. Are they ensuring everyone understands the mission and what success looks like? Are they using their teammates' ideas to help formulate a plan? Are they mitigating the risks involved in the task? We start out in viewer mode, but by the end of the challenge, we have a wealth of feedback to share with the leader and team as a whole."
After-action reviews are particularly important for the lane leader's growth journey. Each student must lead at least one lane, giving them a chance to put their leadership skills to the test. "It makes them responsible for accomplishing the mission," adds Keen.
Some people have never been put in this type of leadership position before, and for many students, it's a challenge, particularly when it comes to managing peer relationships.

Ken Keen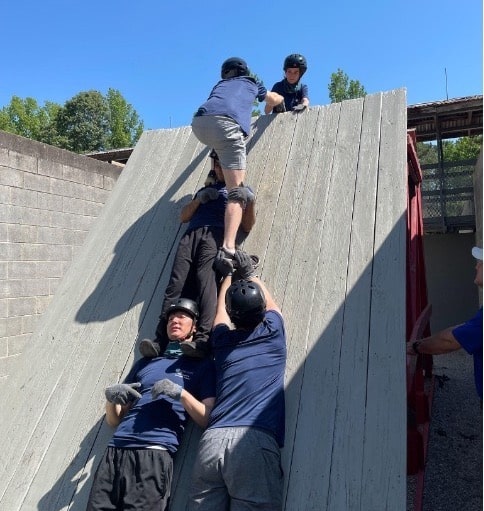 Adds Linton, "As a leader, I cannot know everything. I have to trust my peers and subordinates and truly listen to them, even if I think I already have the answer."
At the end of the day, the measure of student success is whether or not they had fun, learned something new about themselves, and learned how to work better with their team. Bragging rights for the team with the best track record are just icing on the cake.
Says Mellinger, "Students preparing for the LRC should come in with an open mind, be ready to lead when it's their turn, and provide all the assistance they can when they're in a follower position." It doesn't take an MBA to see how this lesson can be applied to school, business, and beyond.
At Goizueta, leadership is more than a mindset. That's why we make cultivating leadership skills central to our MBA programs. Learn more about Goizueta's robust MBA programs and how we're preparing principled leaders through integrated learning, hands-on practice, and immediate feedback.