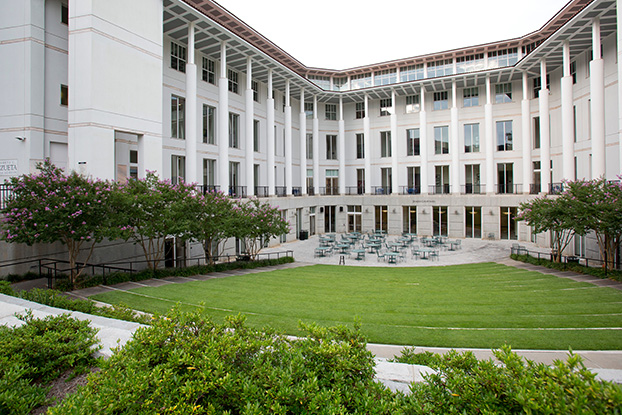 The new 9- to 12-month executive program helps healthcare leaders strike a balance between achieving business efficiencies and the more human aspects of healthcare to enable their organizations to thrive in a complex healthcare ecosystem.
ATLANTA, GA. — Emory Executive Education, part of Emory University's top-ranked Goizueta Business School, has created the Executive Program for Healthcare Leaders to empower clinical and nonclinical leaders with the capabilities to reimagine business models and transform healthcare challenges into opportunities. The program is being delivered in partnership with Emeritus, the global leader in making world-class professional education accessible and affordable, and enrollment is now open for a December 2023 start.
The challenges of healthcare executives go beyond just the clinical aspect of healthcare. Issues such as staffing, quality challenges, financial limitations, and the after-effects of the pandemic also demand attention and strategic intervention. In addressing these challenges, healthcare leaders must incorporate operational excellence to drive change and accelerate their careers. Business acumen, along with influential communication skills and the right leadership approach, are crucial for success.
The program's self-paced, flexible curriculum explores healthcare leadership strategies through in-depth core sessions, topical electives, and experiential activities. Participants will join a diverse cohort, providing the chance to engage with a broad mix of peers from across healthcare functions, including pharmaceutical and medical technology organizations. In addition, participants will apply the knowledge they have learned to a capstone project that serves as a business plan for solving a real-world healthcare challenge they are facing. The program culminates with a networking and recognition event on Emory University's Goizueta Business School campus in Atlanta, Georgia. Upon completing the program, participants will be awarded a verified digital certificate from Emory Executive Education.
"Today's healthcare leaders are expected to effectively juggle the dynamics of a rapidly evolving healthcare landscape and balance economic imperatives with the more human aspects of healthcare. It is necessary for them to think holistically about the challenges they face and situationally lead in ways that resonate with the demands in front of them," said Michael Sacks, faculty director. "We have designed a comprehensive program that positions participants to excel as healthcare leaders and grow in their leadership capacity to manage the many complex demands that require their attention."
"Healthcare is fascinating and complex. We continually compete within financial constraints to create innovative cultures that attract the most talented people. Change is the only constant in the equation; leading that change is the most important role within the system for an executive leader," added Marilyn Margolis, CEO of Emory Johns Creek Hospital. "We take pride in recruiting the greatest minds, encouraging innovation, and cultivating mutual respect in the workplace. In the Executive Program for Healthcare Leaders, we present the art and science of how to succeed in today's exciting and ever-changing healthcare environment."
The program is designed and taught by distinguished thought leaders who have a deep understanding of business in healthcare. The program features leaders from Goizueta Business School, Emory School of Medicine, and Emory Healthcare as faculty and guest speakers who share their knowledge of best practices in healthcare management.
"The Executive Program for Healthcare Leaders equips participants with the strategic thinking, financial planning, and leadership capabilities to confidently steer through the complexities of today's healthcare landscape," said Ranil Herath, president of Emeritus Healthcare. "We're honored to partner with Emory Executive Education to offer this immersive learning journey for clinical and nonclinical healthcare executives."
The program is currently enrolling qualified healthcare executives, hospital administrators, and C-suite and executive committee members. For more information and to apply, please visit the Executive Program for Healthcare Leaders website.
About Emory University's Goizueta Business School
Business education has been an integral part of Emory University's identity since 1919. That kind of longevity and significance does not come without a culture built on success and service. Emory University's Goizueta Business School offers a unique, community-oriented environment paired with the academic prestige and rigor of a major research institution. Goizueta develops business leaders of today and tomorrow with an undergraduate degree program, full-time MBA (two-year MBA and one-year MBA), evening MBA, executive MBA, full-time and part-time MS in Business Analytics, Master of Analytical Finance, doctoral degree, and a portfolio of non-degree Emory Executive Education programs. Together, the Goizueta community strives to solve the world's most pressing business problems. The school is named for the late Roberto C. Goizueta, former chairman and CEO of The Coca-Cola Company. For more information, visit goizueta.emory.edu.
About Emeritus
Emeritus is committed to teaching the skills of the future by making high-quality education accessible and affordable to individuals, companies, and governments worldwide. It does this by collaborating with more than 60 top-tier universities across the United States, Europe, Latin America, Southeast Asia, India, and China. Emeritus' short courses, degree programs, professional certificates, and senior executive programs help individuals learn new skills and transform their lives, companies, and organizations. Its unique model of state-of-the-art technology, curriculum innovation, and hands-on instruction from senior faculty, mentors, and coaches has educated more than 250,000 individuals across more than 80 countries. Founded in 2015, Emeritus, part of Eruditus Group, has more than 2,000 employees globally and offices in Mumbai, New Delhi, Shanghai, Singapore, Palo Alto, Mexico City, New York, Boston, London, and Dubai. For more information, please visit https://emeritus.org.