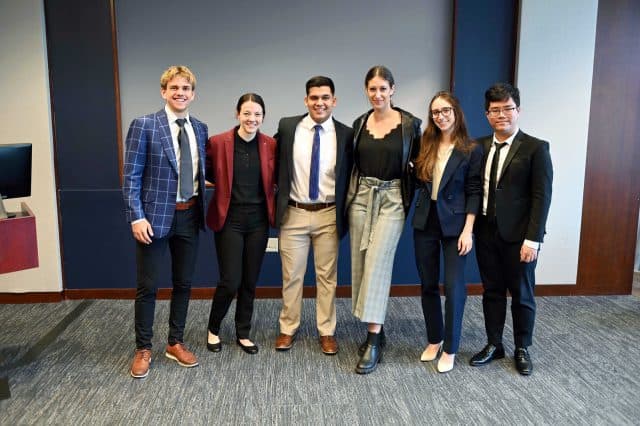 After an academic year of brainstorming real-world client business challenges, group problem solving, and refining ideas and strategies, teams of Goizueta Bachelor of Business Administration students compete and present to clients. For the Spring 2023 Business Communication Strategy Case Competition, students had the opportunity to step into the role of a PwC consultant.
With guidance from Goizueta Alumni Board member and Woodruff Scholar Willi Freire 19BBA, manager of Workforce Transformation Consulting Practice based out of Washington, D.C., teams developed their own strategies to create a culture of belonging to help PwC clients Mountain Top Technologies (MTT) and ATL Bank to retain and build loyalty among their Generation Z employees.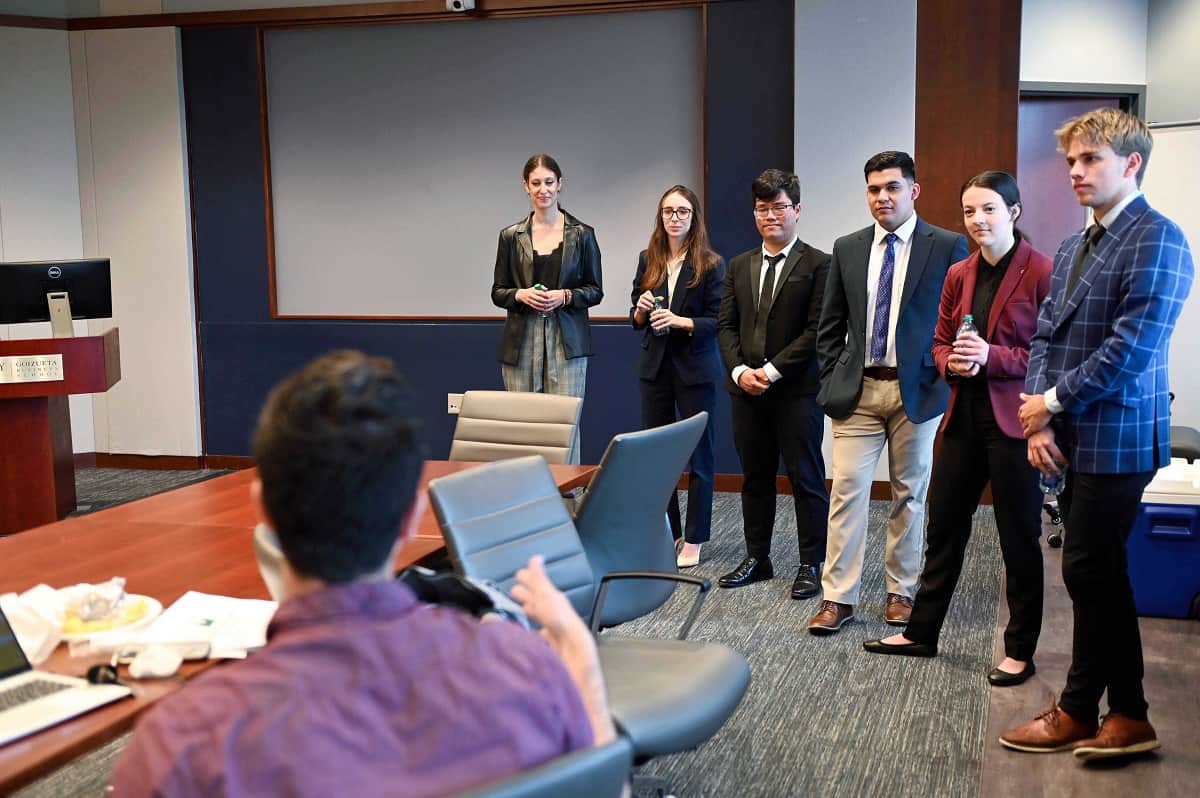 Defined in the case note as "the 100% technological generation, Gen Z has infinite confidence in their ability to reimagine the workplace. Savvy and skeptical, Gen Z prefers flexibility to choose hybrid or fully remote work."
"Students were asked to deeply analyze the behaviors and wants of the next generation of talent in light of relatively new workplace phenomenon like the Great Resignation and quiet quitting. They would present to business leaders their ideas on what can truly yield workplace loyalty for Gen Z workers," Freire says.
The teams really took this intentionally ambiguous case and dug into some powerful research to formulate their ideas and come up with some intriguing recommendations that were creative, but also fit for implementation in real business scenarios.

Willi Freire 19BBA, manager, PwC Workforce Transformation Consulting Practice
Fourteen Semesters of BBA Students Solving Client Challenges
The PwC challenge continues the legacy of previous interactive competitions for BBA students. For each new competition client, Molly Epstein, professor in the practice of organization and management, and Nikki Graves, associate professor in the practice of organization and management, guide students on a transformative semester-long journey of brainstorming real-world business challenges, group problem solving, idea and strategy refinement, and presentation to client executives in a competitive setting. "In today's competitive internship landscape, real-world cases give students an edge," Epstein says.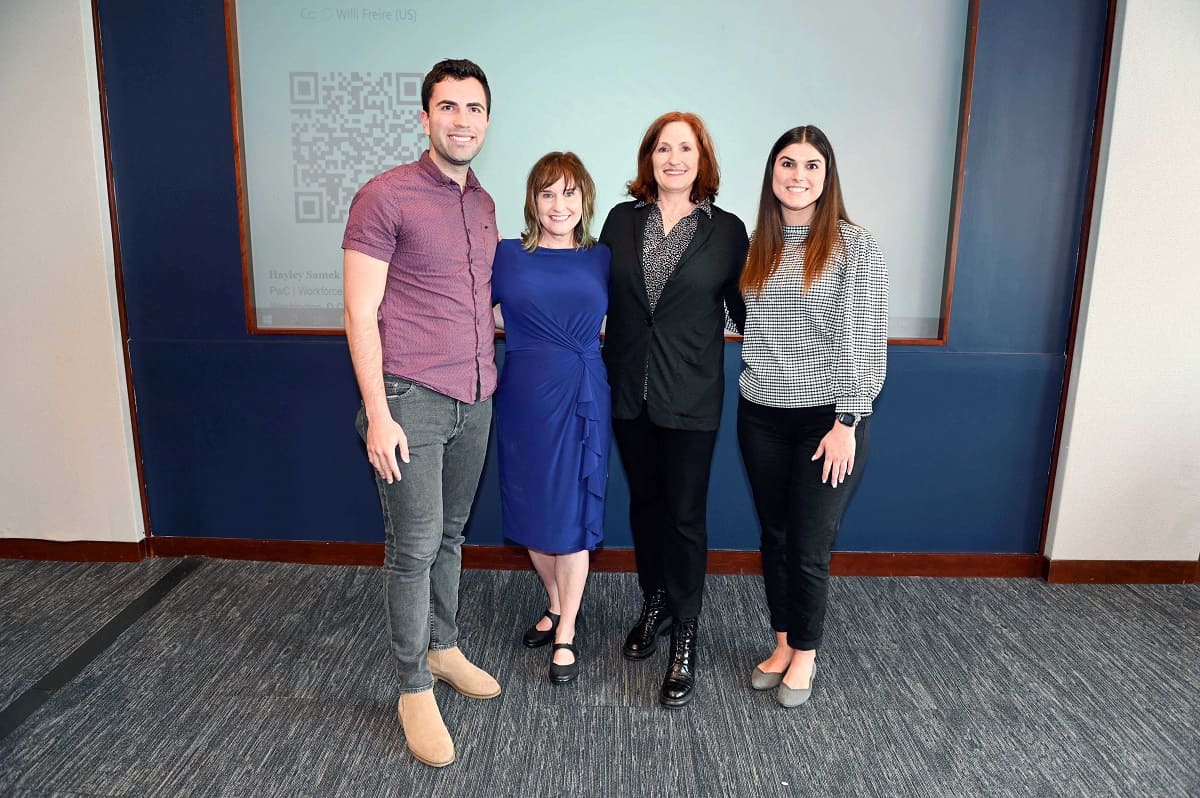 Recent client companies have included Gold Rush Vinyl, Urban Tree Cidery, Mercedes-Benz, Cricket Wireless, Accenture, Florida's Natural Orange Juice, SurveyMonkey, and Coca-Cola Global Procurement. Teams address problems with immediacy. "As a result, our clients have 60+ teams' recommendations within 60 days of asking the question," Epstein says. "For example, in the last several years, our clients asked BBA students to explore issues of work-from-home, mentorship, on-boarding, and affinity groups."
For 14 semesters, Bcomm faculty have collaborated with clients to create a challenge that pushes BBA students to become experts in a specialized communication-related topic.

Molly Epstein, professor in the practice of organization and management
"Initially, clients suggested the topics to Goizueta; now Goizueta and client companies co-create the topics so that we maximize learning outcomes for both the students and the client organization. We focus on timely topics and current challenges. Since we write the cases, we're able to customize each challenge to an industry, age group, or cultural trend," explains Epstein.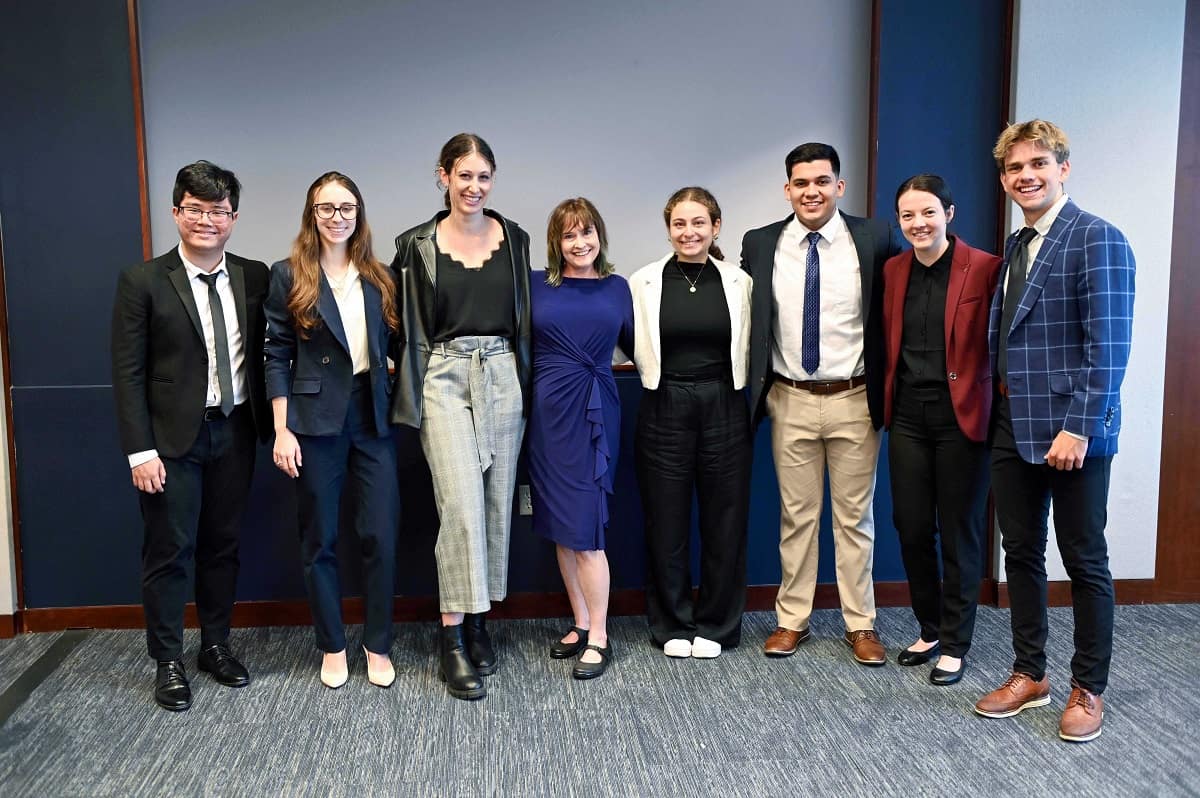 "Belonging is key to success for many organizations; similarly, our students assess an organization's culture of belonging before they commit to working there," Epstein shares. "In response to the case, our students learned about every aspect of the diversity, equity, inclusion, and belonging industry, including industry leaders, best practices, ROI, and how to create a customized culture of belonging. Exploring PwC's belonging culture challenge informs our students' ability to work with an employer who creates a positive culture in which they, as employees, can thrive and grow."
All of the teams who presented in the final stage of the case competition impressed the PwC clients with their critical thinking and problem-solving skills, as well as their presentation skills.

Nikki Graves, associate professor in the practice of organization and management
"The winning team provided a two-pronged, innovative solution to the challenge of creating a culture of diversity, equity, inclusion, and belonging. Their key ideas were to create a digital transformation through the development of a personalized app and the implementation of an onboarding summit. I was delighted to see the dedication that my students sustained throughout the semester culminate in the team's victory," says Graves.
"The winning team's strategy offered a robust, exhaustive solution that created both an at-my-fingertips solution as well as an opportunity for creating face-to-face connection, an invaluable requisite for Gen Z employees in today's world," says Freire.
Solving the Talent Retention Puzzle: Strategies for Engaging Gen Z
Challenged with unpacking strategies for overcoming phenomena like The Great Resignation and quiet quitting, student teams focused on solutions to enhance a culture of belonging for PwC's client companies MTT and ATL Bank.
MTT asked students to address root problems in attrition with solutions for retaining and building loyalty among Gen Z employees. ATL Bank sought innovative strategies to combat high turnover rates for talent in the college-educated demographic of those between the ages of 20-27, despite existing early career programs that include rotational development programs.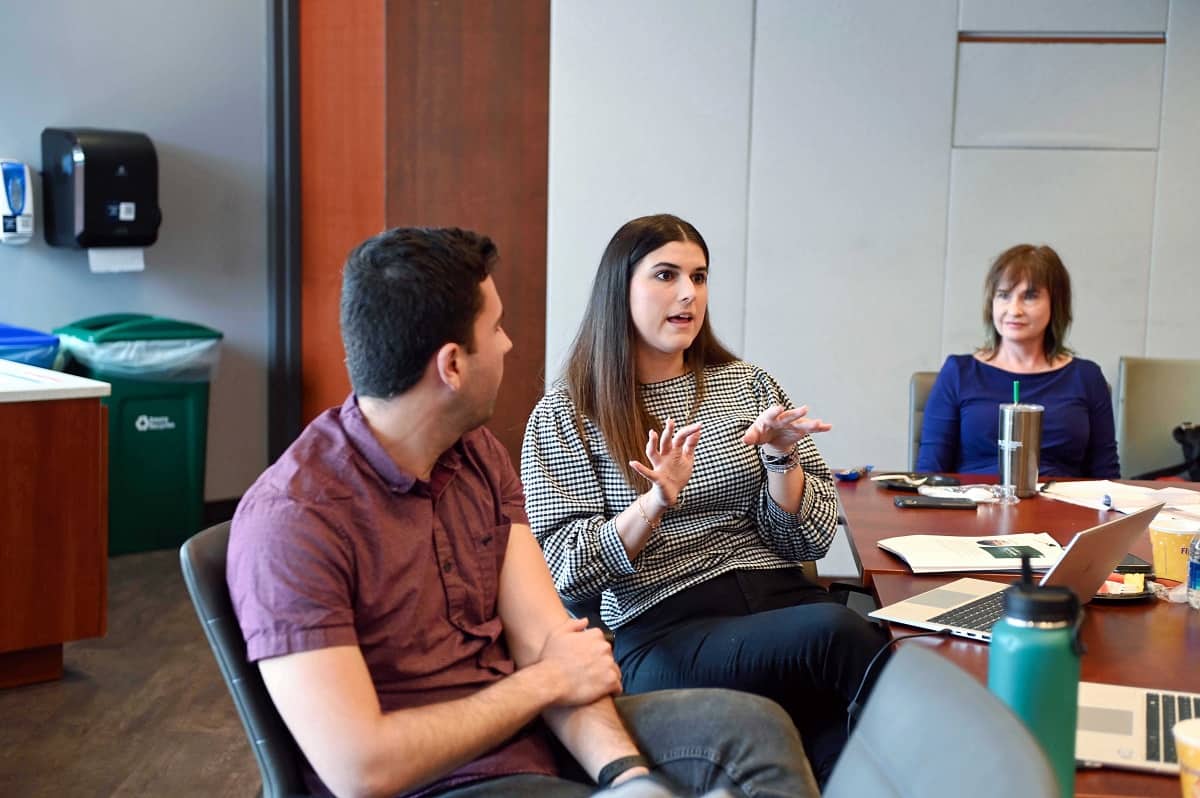 The case notes share, "Generation Z, born 1997-2015, redefines expectations of work culture, place, and commitment. Socioeconomic factors shaped Gen Z's desire to connect with organizations that share their values. Organizations that are most successful at engaging Gen Z know how to navigate the 8-second authenticity filter and attention span, align with mission, purpose, and values, and speak with digital fluency."
With attention to budget requirements and rollout, teams presented detailed strategies and implementable solutions ranging from no-cost, easy quick-win solutions to longer-term implementation considerations keeping the return on inclusion top of mind.
"The opportunity to participate in Emory's BBA Case Competition course has been one of my favorite things I have done during my time at PwC," says Hayley Samek, a University of Florida alumna and senior associate in PwC's Workforce Transformation Consulting Practice based out of Washington, D.C.
Goizueta Business School students continue to teach, impress, and inspire me semester after semester. The unique circumstance of hearing case-studies and findings on Gen Z workers from Gen Z students was truly special and I feel lucky to have been a part of this experience.

Hayley Samek, senior associate, PwC Workforce Transformation Consulting Practice
Ellie Long 25BBA worked with teammate Gabi Zaffari 25BBA to develop and present what became the winning suggestion for MTT. To strengthen employee retention and transform its digital culture, the team suggested MTT partner with Culture Amp, a software program that PwC uses.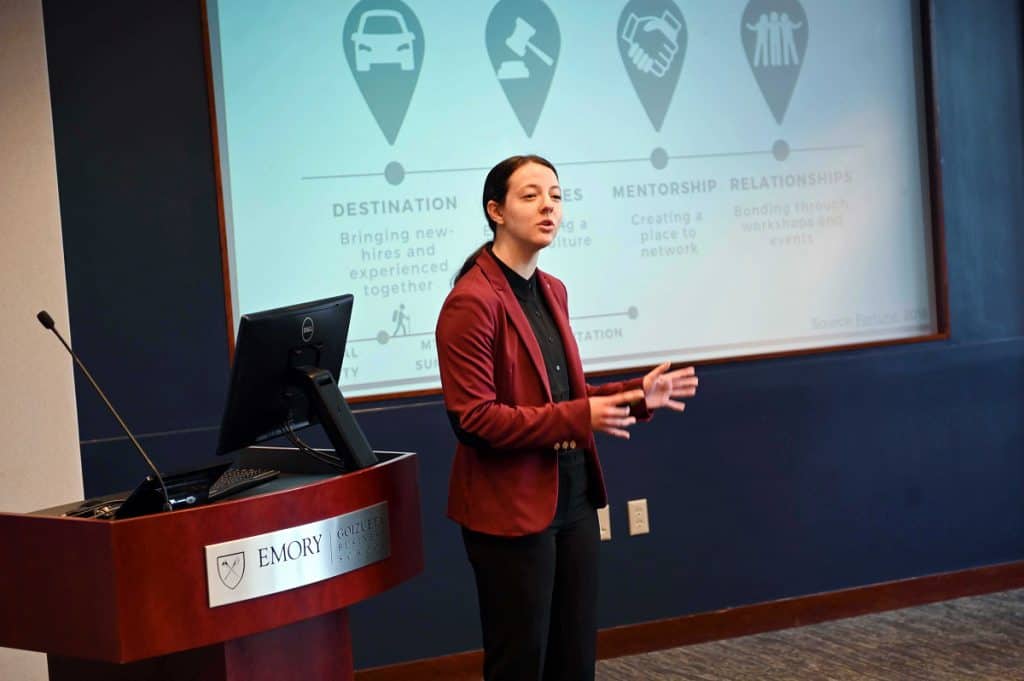 "The app allows a company to receive employee feedback, provide a clear promotional track and educational program, and facilitate a mentorship program designed to result in higher engagement and lower attrition rates," Long explains. "For our digital transformation to be truly effective, we also proposed an MTT Summit." The Summit would allow new and experienced employees to network, facilitating the start of the mentorship relationships and career exploration for the app to continue. While MTT considers how best to implement, "PwC was able to provide incredible feedback for our presentation, which we can take with us in our careers."
Zaffari notes that "We suggested incorporating engagement surveys, a mentorship program, and an educational initiative within this platform. Although our solution was hypothetical for the case study, it showcased the potential effectiveness of such an approach in reshaping onboarding processes and fostering a cohesive work environment."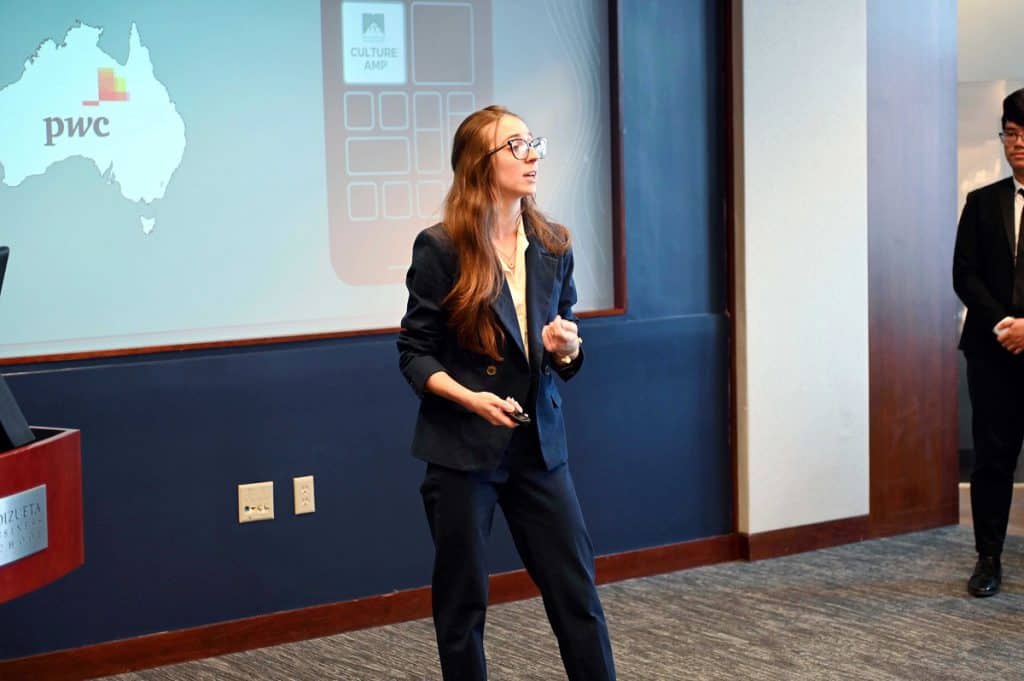 As a future consultant, Zaffari adds, "Winning the case study competition meant a great deal to me personally and academically, considering the tremendous dedication my group and I poured into the project. The victory not only bolstered my confidence in public speaking but also solidified my aspirations for a consulting career. It served as a catalyst for me to strive even harder in pursuing my passion and sharpen my skills in problem-solving and effective communication."
What did Long learn from the competition? "For me, the win was validation as to how much I had truly learned in BComm. From public speaking skills and presentation frameworks to teamwork and delegation–I improved upon both personal and professional skills that will undoubtedly prove invaluable in the next steps of my career," she says. "Perhaps more importantly, it was also a great moment for my team and TA, as we had all spent countless hours perfecting our pitch–and through this process, bettering ourselves for the future."
Goizueta's BBA students bring structured problem-solving and communication skills to address real-world challenges. What problems can we help your organization solve? Email Darius.Woody@emory.edu to learn more.