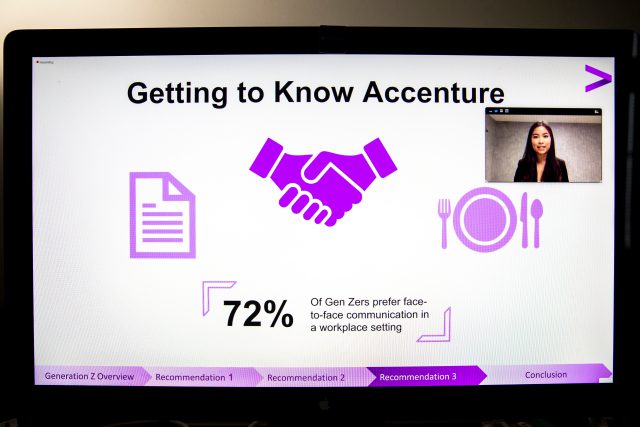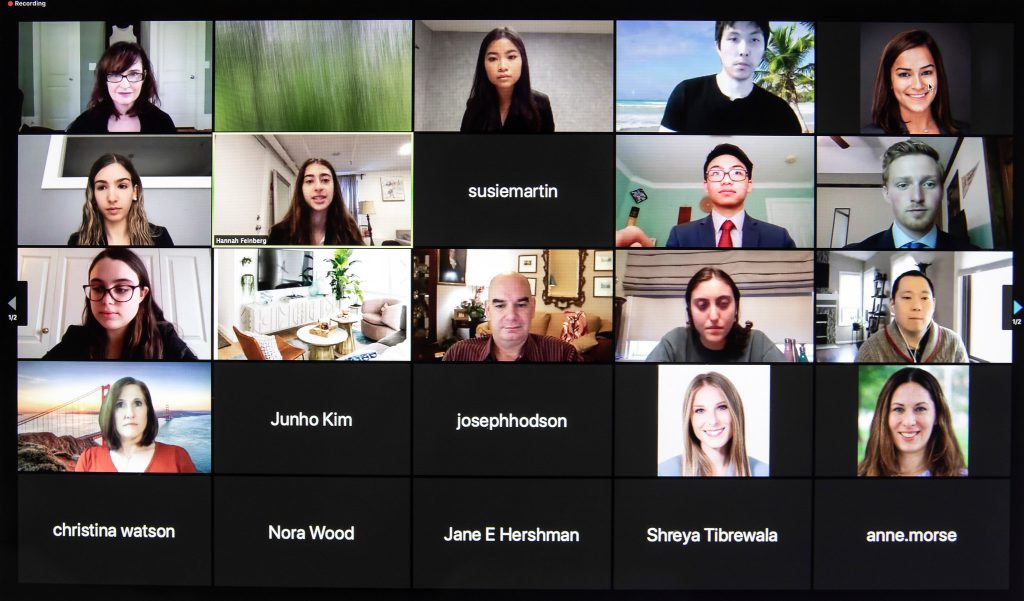 For the first time in its 10-year history, the Professional Communication Strategy Case Competition (BComm) was held entirely online. Due to the coronavirus pandemic, students in the BComm case competition, which is the capstone of the Business Communication Strategy (BUS 365) course, presented from their homes.
"Our students adapted to the changed circumstances and new learning environment with grace and agility," said Nikki Graves, associate professor in the practice of Organization & Management. According to Graves, the goal of the Business Communication Strategy course is to help students develop the written, verbal and communications skills employers most need in new hires. The course philosophy is that students "learn by doing."
This year, the competition enlisted teams of BBA students to act as "communications strategy consultants" for Accenture, a $4.78 billion professional services firm that provides strategy, consulting, digital, technology and operations solutions for its clients. The teams were given four weeks to create a "disruptive recruiting communications strategy" aimed at Generation Z talent—those born between 1995 and 2010—a group estimated to comprise more than a third of the workforce by the end of this year. Accenture employs more than 500,000 associates worldwide, so exploring ways to advance the consultancy's recruitment efforts is an ongoing issue.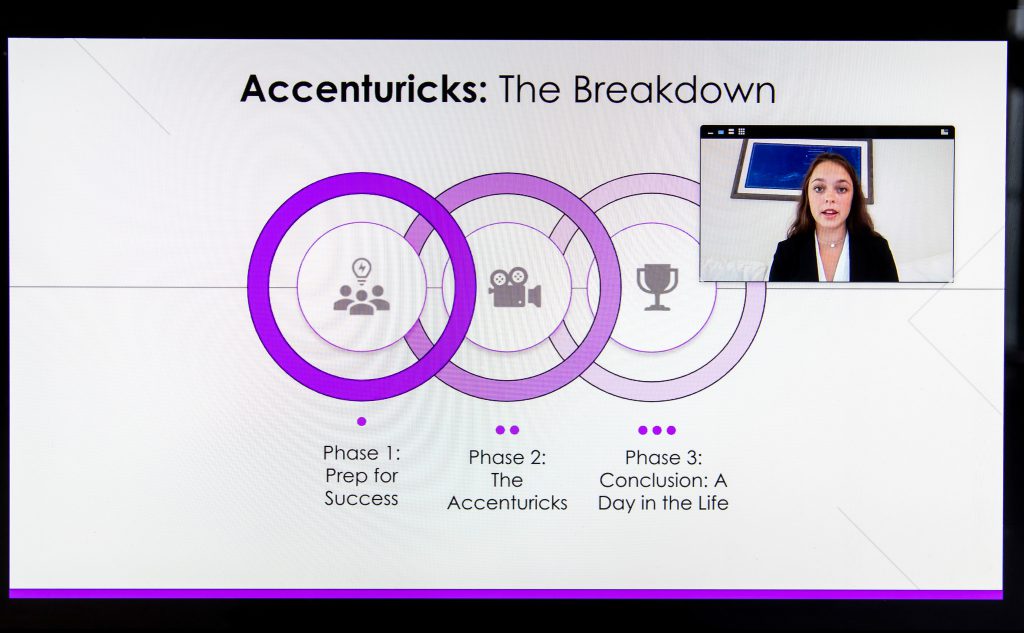 The student presenters were all second semester sophomores and, by definition, members of Gen Z, so the Accenture representatives—Raymond Han, Managing Director, Accenture; John Murray, Managing Director, Marketing and Communications, Southeast, Accenture; and Annie Morse, North America Recruiting Strategic Lead, Accenture—asked the students to tap into their own experience and create atypical recruiting efforts that would impress students such as themselves. The teams were instructed to focus their recruiting strategies "specifically on positions for entry-level consulting and technology analysts," and asked to keep four questions in mind as they created their case:
What are Gen Z's work preferences?
What do Gen Z's graduates seek in organizations?
What communication platforms do Gen Z graduates use to learn about other organizations?
What practices do Accenture's competitors use to evoke interest in Gen Z job candidates?
At the time, most of the students had never presented via Zoom, so prior to the case competition presentations, Han conducted an interactive Zoom workshop for the students where he covered online storytelling and presenting.
For the case competition itself, each of the five teams was allotted 15 minutes to present, followed by 10 minutes of Q&A. When Team One began its presentation, an inconsistent Internet connection forced the team to switch screen-sharing abilities on the fly so that the team could present its deck. Han told the students not to worry about it. "It happens in the real world," he said, smiling.
The teams presented a wide variety of disruptive recruiting ideas, including creative networking opportunities, virtual reality tours of Accenture's offices, an Accenture documentary (complete with an "opening night"), a TEDx-style "Accenture Academy," and a "Shark Tank meets HBO's Silicon Valley" reality TV show that would stream on YouTube and star real life students competing for Accenture internships. Some teams focused on making face-to-face interactions and connections easier for students and recruiters, while one team concentrated on building a recruiting pipeline to reach high potential, diverse, high school students who may not currently be on Accenture's radar.
"The students really understood the mission put in front of them and embraced the challenge and produced innovative and creative solutions. More than that, they adapted to the interesting current remote-working situation and really rose above that," noted Han.
"I was really impressed with all the teams," said Murray. "Every team had creative and usable ideas."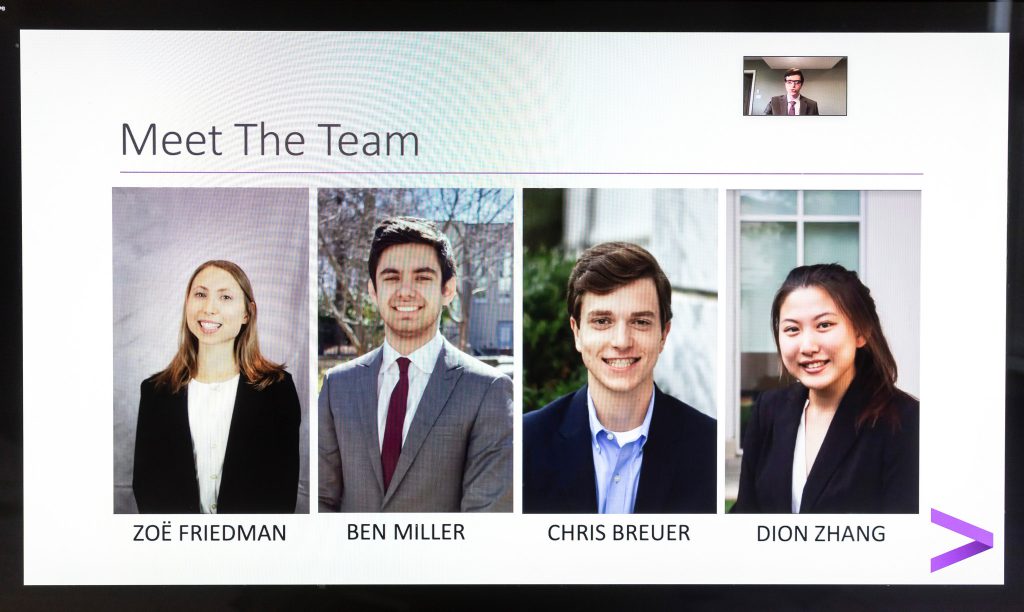 After careful deliberation by the Accenture representatives, a winner emerged: Team Three—Zoe Friedman 22BBA, Chris Breuer 22BBA22, Ben Miller 22BBA and Dion Zhang 22BBA. Team Three's strategy, as Friedman explained during the team's presentation, was to "personalize professionalism," and to do so in an "informal and authentic way" by forming a TEDx-style "Accenture Academy." During Miller's portion of the presentation, he added that platforms such as Facebook, Instagram and TikTok could be used for outreach.
The Accenture reps found Team Three's ideas would be easy to implement, low cost, and scalable. "I love that we let it be so open-ended and the teams did shoot for the moon," said Morse. In the end, however, it came down to "what's feasible and what we can actually do," she added.
According to Friedman, it was important that Team Three did "think outside the box" but remained practical. "One important goal of our deliverable was to incorporate a cost effective and easy-to-implement approach which used existing resources via a pilot program," she said. "Details matter in consulting, and in future projects, I will continue to focus on creating detailed solutions with minimal impact on existing company resources."
The teamwork aspects of the competition impressed Zhang–not only working with teammates Breuer, Friedman and Miller, but also with the team's teaching assistant, Hope Morgan 20BBA, and with Professor Graves. "This experience taught me the importance of learning from and working with people with different strengths and perspectives," Zhang said.
Completing the project while dealing with a global pandemic helped Miller "stay positive and determined," he said. "Despite all the challenges that are presented to you, it is best to stay focused and not let outside circumstances inhibit your ability to do your best work."
Morgan, who was proud to have helped Team Three deliver a winning solution, saw first hand how the case competition tested the winning teams' abilities "to combine their critical thinking, problem solving and effective communication skills to deliver convincing solutions in a virtual way," she said. "BUS 365 equips students with the cornerstone competencies required for future success no matter the route of one's professional or personal journey."
Breuer was able to see how the competition allowed him to draw upon a whole semester's worth of learning in one project. "The entire process of brainstorming an idea, determining how it could be practically implemented, then crafting an effective and convincing presentation was a great way to apply the different skills and techniques we had learned in BUS 365 – Business Communication Strategy," he said. Breuer also pointed to the silver lining of doing the presentation over Zoom. "Only having to look into the camera of my laptop relieved some of the stress that typically would come with presenting to a full room!" he said.
The pandemic may have forced the student teams to create their cases and present them from their individual homes hundreds of miles apart, but they "rose to the challenge," Graves said. "The professionalism of our team's final presentations illustrates our students' commitment to uphold Goizueta's high standards, even amidst adverse circumstances."