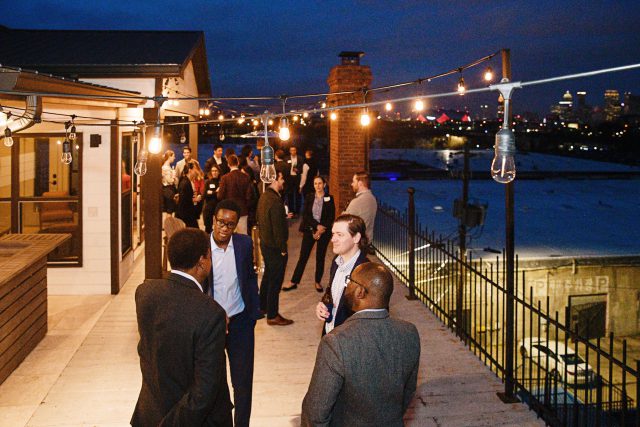 "Even though real estate is considered 'non-traditional,' I felt that the real estate program and the club were underrated and underappreciated. I wanted to show that we were—and could be—a force to be reckoned with," said Tierra Evans 20MBA, president of MBA Goizueta Real Estate Group (GREG), the Full-Time MBA's real estate club, in response to MBA GREG being named Club of the Year—Academic/Professional for the 2019/20 school year.
In addition, Evans was recognized as Outstanding Club Leader, an award that recognizes the student who, as an officer of his or her organization, has led the club to new standards of service.
"Tierra was the most active MBA president ever," said Roy Black, professor in the practice of finance and director of Goizueta's real estate program.
"I just wanted the club to be a place where anyone who had the slightest curiosity about real estate could join and feel included," Evans explained. "The fact that we received that recognition under my presidency showed me that I exceeded that goal, and I am extremely proud."
Evans also took home this year's Real Estate Faculty Award, which is presented by the faculty to the most outstanding MBA and BBA students in real estate in their respective classes. (Evans wasn't done earning awards. In late May, Poets & Quants named her one of its "2020 MBAs to Watch.")
MBA GREG's rise to "Club of the Year" began at the beginning of the 2018-2019 school year, when Evans was a first year MBA student. When it was time to select an experiential experience within concentration areas, she was disappointed to discover there was no trek for real estate—a concentration she was very interested in exploring.
"So I created it myself," she said. Evans reached out to the MBA Career Management Center (CMC) at Goizueta to let the staff know she was willing to take the lead and organize a real estate trek. Using the CMC's connections, Evans "cold-emailed" alumni who work in real estate, put a plan together and created a trek. In December 2019, Evans and eight other students visited the offices of three commercial real estate (CRE) companies in Atlanta.
"Tierra masterfully organized and facilitated a career week for her constituents, a task usually managed by the CMC at most business schools," said Irving Williams, associate director, Student Life & Engagement, Full-Time MBA Program.
Among her many achievements as President of MBA GREG, Evans revamped the club's career guide, "A Guide to Pursuing a Career in Real Estate," an 18-page overview of everything from the different types of real estate careers to potential interview questions specific to various tracks in the industry. She created a workflow to track club files, finances and events, prioritized the need for the club to manage its alumni list, and spent time brainstorming possible MBA GREG events.
Reaching out
Collaboration among her team and within the school was a key differentiator for Evans. She reached out to Julia Song 21BBA, the 2019-2020 president of the BBA Goizueta Real Estate Group (BBA GREG), "to make sure that GREG members across Goizueta could benefit from both our efforts," said Evans.
For Song, working to make BBA GREG more effective and sustainable was a primary focus. "We were trying to improve the continuity of the club so that everything we created would live on," she said. In order to streamline the board members' responsibilities, Song and the board changed the leadership structure from four officers to six. The club added events and increased its outreach to help more students discover the ways real estate is "unique and cool."
"Julia did an unbelievable job with the BBA club," noted Black, who has spearheaded the real estate program at Goizueta since 2007.
Throughout the school year there were various, often co-sponsored MBA and BBA GREG, events: panel discussions anchored by industry experts—including several alums, "hard hat" tours at new developments, real estate treks, ARGUS asset and portfolio management software training sessions, an Excel-based modeling boot camp, and a home buying seminar that was open to the entire Goizueta community.
The annual Spring Real Estate Alumni Mixer, the GREG clubs' flagship gathering, is open to all MBA and BBA GREG student members, alumni, and various invitees. This year, the mixer saw record attendance—more than 100 students and alums took part. "It was exciting to plan a huge off-campus event for students and alumni to come together to just mix and mingle," said Evans, who worked with Carter, an Atlanta-based national real estate investment, development, and advisory firm (and one of the three companies visited as part of the 2018 real estate trek), to book one of its event spaces for free. "Not only were we able to host the event at The MET, one of the coolest spaces in Atlanta, but we had an amazing turnout that I couldn't have been more proud of. I look forward to attending as an alumna next year."
Women in real estate
Evans and Song point out the diversity of careers one can pursue in commercial real estate (CRE)—such as brokerage, management, marketing, investments, private equity, asset management, and finance. They want students to know there is room for everyone in real estate, even though CRE has a reputation for having a less diverse talent base than other industries. "I am extremely proud of the fact that we had such a successful year under minority female leadership, especially in an industry where there are not a lot of people who look like us," Evans said.
Black, who worked in real estate law early in his career, recalled being surprised the first time he encountered a female real estate attorney during a transaction. It was the early 1980s. "It really was a boy's club fraternity type atmosphere," he explained.
There's been progress, but it's been slow. According to "Beyond 'Best Efforts:' Why Commercial Real Estate Needs to Catch up on Diversity," an article published by the Urban Land Institute (ULI) in 2019, white men held more than 75 percent of CRE industry senior leadership roles. "We've had women as presidents of both real estate clubs but never two women of color at the same time," said Black. "It's only two data points but I hope it's a trend."
In its "Beyond 'Best Efforts'" article, the ULI suggested several ways to combat the industry's slowness to diversify—one of which is to "change young minds." Evans and Song took up that challenge and through their respective clubs, focused on exposing as many MBA and BBA students to as much of the real estate industry as possible.
"Both Tierra and Julia are shining examples of what can happen and it's opened up a lot of possibilities," Black said. "They've both done a bang up job this year."