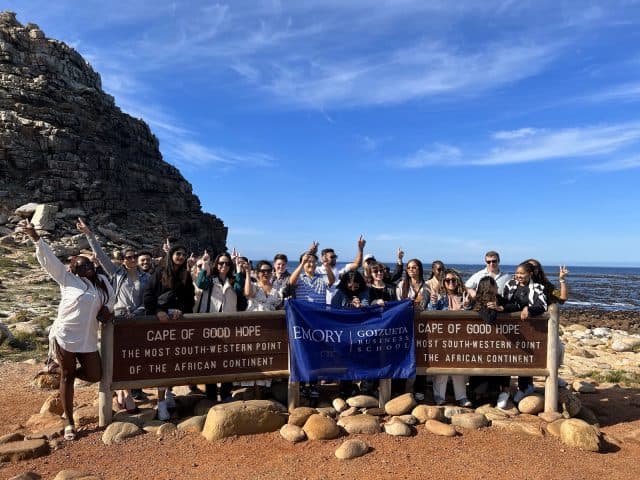 This May, three groups of Goizueta Business School students traveled to Germany and Austria, South Africa, and South Korea to experience revolutionary business practices, innovations, and technology on a global scale.
These three Global Experiential Modules (GEMs)—part of Global Strategy and Initiatives—delivered both Full-Time MBA and Evening MBA students a diverse range of experiences that included in-depth discussions with global business leaders, facility tours, and immersive cultural experiences. Previous GEMs trip have included expeditions in Brazil, Colombia, India, Israel, Japan, United Arab Emirates, The Netherlands, and Norway.
This year's GEMs trips were specifically designed to equip students with the critical thinking skills and background they need to meet the challenges of an increasingly globally-minded and interconnected world. Faculty leaders who attended were also empowered to lead and influence global scholarship, as well as research and connect with peers and alumni throughout the world, while participating.
This year, we met and collaborated with business leaders and institutional partners in four countries, and our students walked away with practical business knowledge and memorable experiences that they'll be able to apply to their own careers after graduation.

Megha Madan
"Each of our engagements is strategically planned to give students an impactful and educational global experience," said Megha Madan, senior associate director of Goizueta Global Strategy and Initiatives.
Students Learn from South African Entrepreneurs Who Inspire, Innovate, and Empower
Goizueta students on the GEMs trip to South Africa immersed themselves in the country's culture and beauty while engaging in a multitude of experiential learning opportunities. When asked what she would take away from the journey, Franzene Minott 24EvMBA said, "I hoped to gain deeper insight into South Africa's history, specifically how the residual impacts of the apartheid affect today's business landscape, especially for Black entrepreneurs. I want to better understand the work being done to support and empower innovation across communities."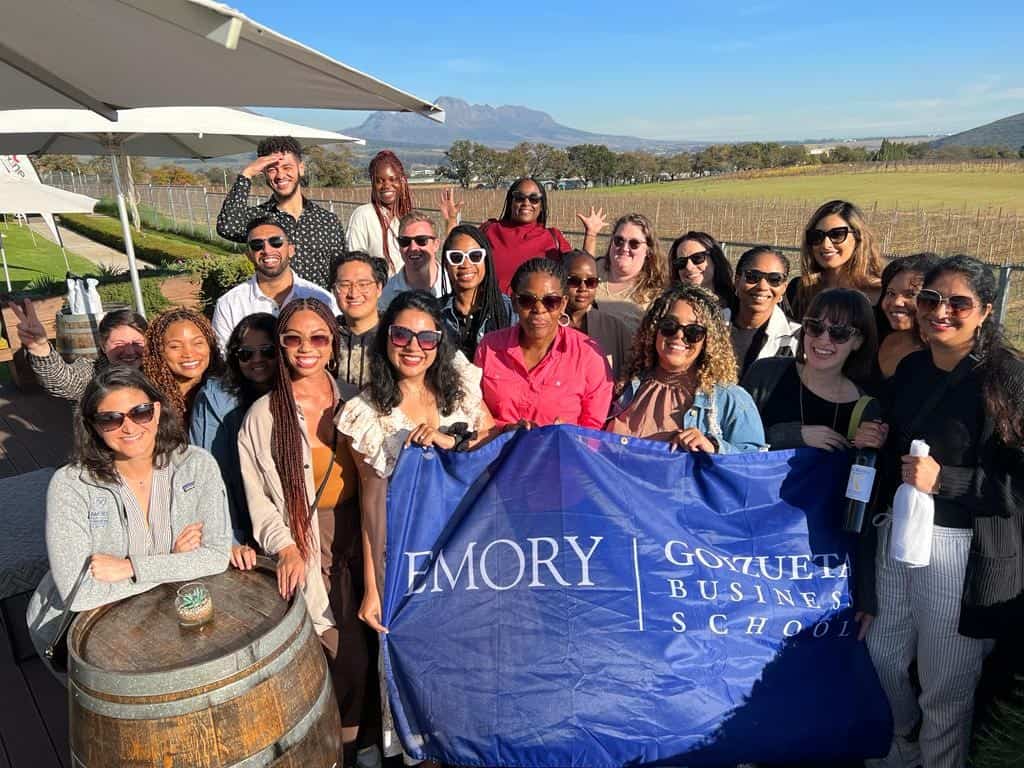 The excursion began in Cape Town, a continental leader for Africa and South Africa's most-visited city. The culturally rich, laid-back atmosphere provided the ideal landscape for students to absorb helpful insight and business acumen from entrepreneurs who are already achieving success in the region.
Over the next several days, students participated in a trip to Robben Island, considered a beacon for freedom and hope made famous by Nelson Mandela's imprisonment. Several days later, the group moved on to Johannesburg, a center of industry with a reputation for producing cutting-edge ideas, where they dove into lessons on the local economy.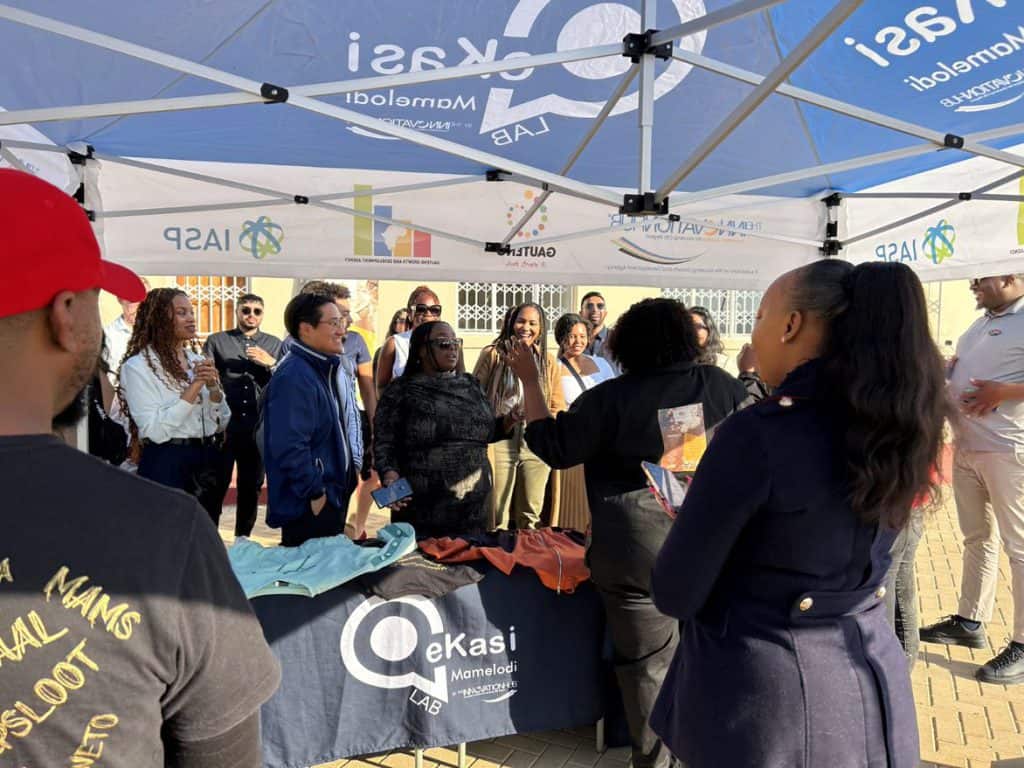 The highlight of the trip for many was meeting with global business leaders at The Innovation Hub, a government agency that fosters local entrepreneurship, economic advancement, and continued learning in the Gauteng Province. Emory faculty have collaborated with the organization for years, but this was the first-time students had the opportunity to engage directly with entrepreneurs, further strengthening Emory's relationship with the groundbreaking agency.
There, students met with a group of local entrepreneurs to learn about their business ownership journeys. When asked how the experience impacted her, Minott said, "Hearing [the entrepreneurs'] stories and learning more about their existing support structures helped me rethink what equitable partnerships and support from outside institutions might look like."
In Johannesburg, students also explored Soweto, the largest black residential area in South Africa, visited the Apartheid Museum, and experienced the Nelson Mandela House & Family Museum. Each excursion added layers of context to the country's political environment.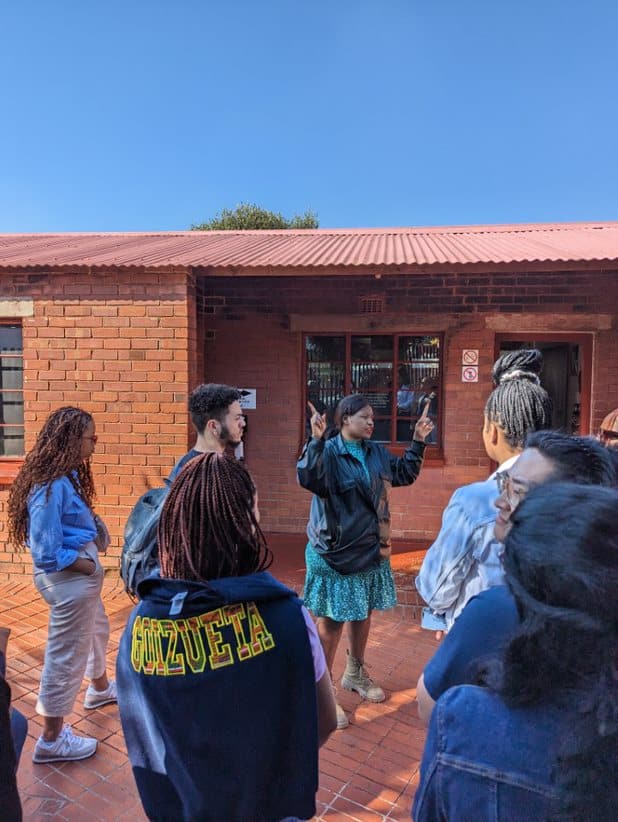 "Visiting South Africa provided me with a new set of cultural competencies to better conduct business in a globalized world. Having a more nuanced understanding of some of the norms and customs will help me throughout my career, but also now in my current role within Emory's Office of Global Strategy and Initiatives when I engage partners in South Africa," said Minott.
Diving into History, Culture, and Innovation in South Korea's Lush Landscape
In Seoul, South Korea, students quickly acclimated to the region's dichotomous seaside culture and the hustle-and-bustle of the city. Important historical context was prevalent even during sightseeing adventures, as Seoul's position as the country's capital city–and mere 313-kilometer distance from North Korea–is impossible to forget while exploring its stunning terrain.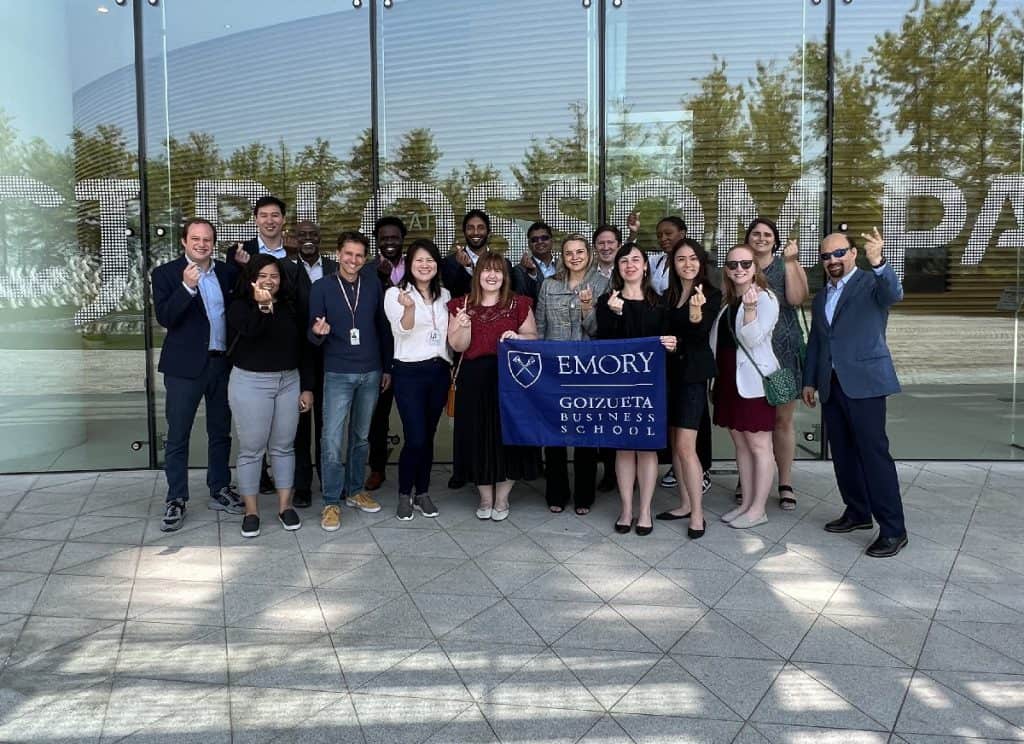 Among other activities, trip participants were able to catch a baseball game at Jamsil Stadium, which highlighted some of the parallels between South Korea and the United States. Baseball, in particular, is an important pastime in both countries, as students observed firsthand while rooting for their favorite team. Similarly, a company visit in Seoul with alumni and Sheth Distinguished International Alumni Award recipient Woo Taek Kim 90MBA allowed students a peek into the inner workings of a local business. Kim is the founder and CEO of Next Entertainment World (NEW) and has executively produced over 63 films and 13 dramas, many of which have reached global audiences.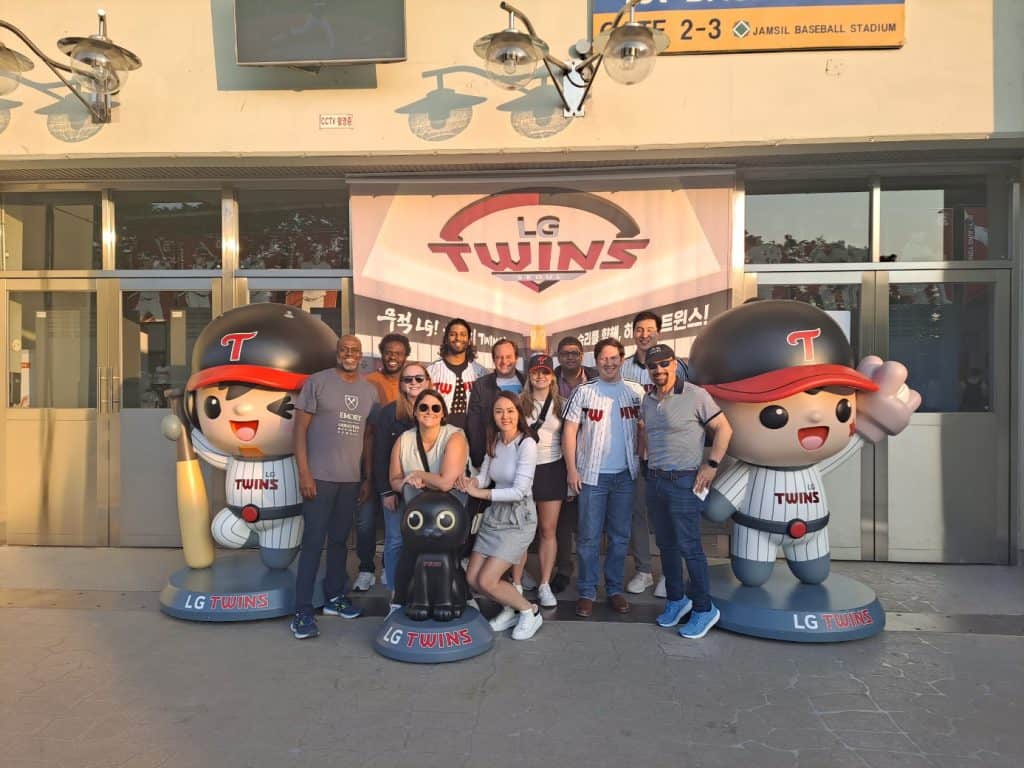 The trip was capped off with a brief stint in Busan, where the MBA students learned to cook the local cuisine and toured sites like the Haedong Yonggungsa Temple, an important cultural center originally built in 1376 and reworked in the 1930s. Due to the trip's proximity to Buddha's birthday, the temple was decked out in paper lanterns to celebrate the occasion.
Thanks to varied cultural and business-focused experiences, students boarded their plane at the end of the trip understanding that business doesn't exist in a bubble. Cultural context always plays a part in the successes and failures of entrepreneurial pursuits.
Goizueta Students Learn About Business Strategy, Manufacturing, and Technology in Austria and Germany
As soon as the students visiting Germany and Austria arrived in Vienna, they hit the ground running. Their first day involved an early-morning visit to Asamer, a local company helmed by alumni Manfred Asamer 86MBA, who discussed business strategy in the manufacturing space with the students.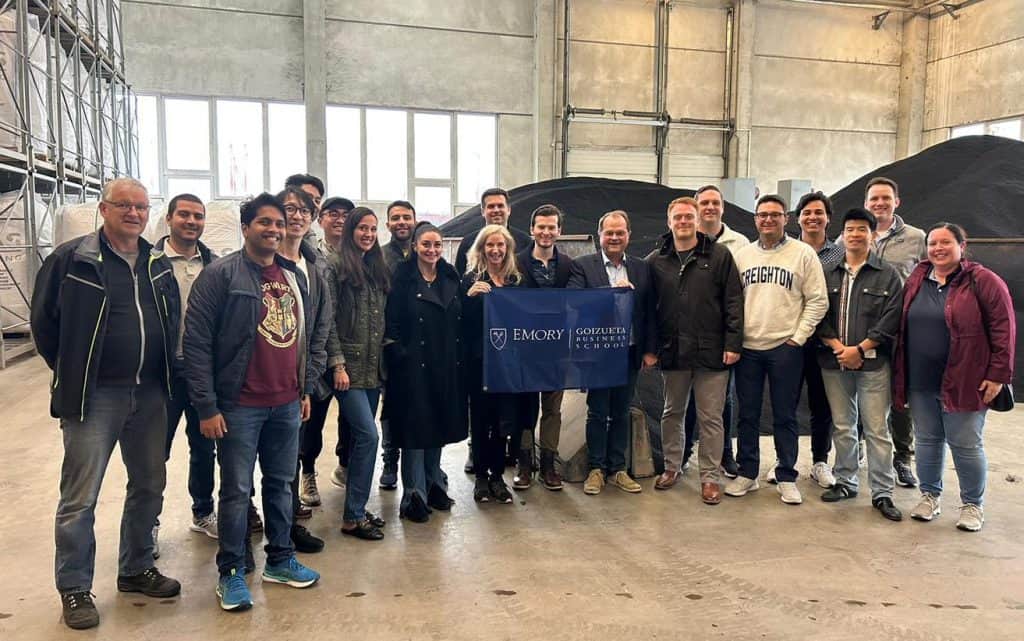 Amogh Guru 24MBA shared, "Amidst visits to iconic companies in Germany, discovering cultural ties to business under the guidance of Professor Renée Dye in a tighter and more engaged group was a bonus. I expect this experience will help me appreciate our similarities and differences across cultural divides."
Trip participants later toured the Mauthausen Concentration Camp, which operated from 1938 to 1945. This particular camp was at the center of a system of over 40 subcamps and acted as the main site of political, social, and racial persecution by the National Socialist Program on Austrian territory. Although this portion of the trip was emotionally challenging, students walked away with a clear understanding of how political movements have indelible real-world consequences.
Guru noted, "The most unforgettable part of my trip was our time at Mauthausen Camp in Austria. Our tour guide asked us to set aside the emotion associated with a concentration camp and instead get into the minds of the perpetrators and silent spectators, who committed or allowed crimes to be committed in their vicinity." Guru continued, "He made me wonder how much of that mindset can be seen in today's corporate world and what I could do to make it better."
Interested in learning more about Goizueta's global programs? Learn more here or reach out to Goizueta.Global@emory.edu.