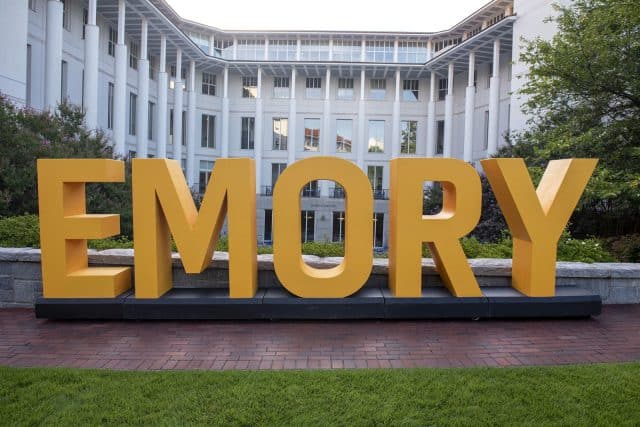 Every August ushers in a new group of Goizueta Business School students entering the One-Year MBA program. These students fill campus with new faces, new friends, and new experiences.
While the program is accelerated, students take part in a full MBA experience, including a week-long Global Experiential Module, Career Management Center support for career acceleration or a career pivot, and robust leadership development.
With just five students to one faculty member in the One-Year MBA program, graduate students also benefit from deep relationships with world-renowned faculty in a program that is ranked #17 in the United States, according to both U.S. News & World Report and Businessweek.
The diverse backgrounds and expertise that make up a cohort proves one of the most enriching aspects of a graduate degree—and the 2024 class of One-Year MBA students is no exception. These graduate students bring with them an average of six years of work experience and represent 40 companies across a wide range of industries.
"The incoming One-Year MBA class is always dynamic, and we have so much fun getting to know them. This year is no exception. The students are already building a legacy at Goizueta with their involvement and classroom participation," says Melissa Rapp, associate dean of graduate admissions.
It is a great program for those who know what they want and are ready to get after it.

Melissa Rapp
Just a few of this year's impressive students include:
The president of the Association of Native American Medical Students, who created an academic concentration within the School of Medicine to focus on Native healthcare.
A former public diplomacy officer for the Australian Department of Foreign Affairs.
A robotics manager who helped secure $25 million in funding.
A semi-professional singer and Indian military officer.
A social impact entrepreneur who helped the City of Atlanta lead a pro-voter engagement initiative and break city voter turnout records in 2022.
A U.S. Army Infantry captain, who has received numerous awards, including three achievement medals and a bronze star.
The demographic breakdown of the program further enhances perspectives: 37 percent women; 42 percent African American, Hispanic, or Native American; and 44 percent international, with 11 countries represented.
In addition to diverse perspectives, the program provides world-class experiences and opportunities so that graduates are ready to excel in their careers on day one. In fact, Class of 2022 graduates realized some of the highest salaries and employment rates in school history with 94 percent receiving and accepting an offer within three months of graduating, and graduates securing a median salary of $162,500. "Since attending Emory, I have felt such a strong sense of support, and I find it motivating because although getting an MBA is an individual journey, it's nice to feel like there is a whole team of people behind you helping you get to where you want to go," shares Kait Capone 21MBA and senior brand marketing manager for SiriusXM. "I saw the true power of the Goizueta community; faculty were willing to meet with me and provide me on-demand academic support, fellow peers across Goizueta provided motivation and much-needed perspective, and program office staff provided constant empathy."
With Goizueta's One-Year MBA program, students expand their business acumen through experiential learning and accelerate their careers in just one year. Read more about the One-Year Accelerated MBA program.