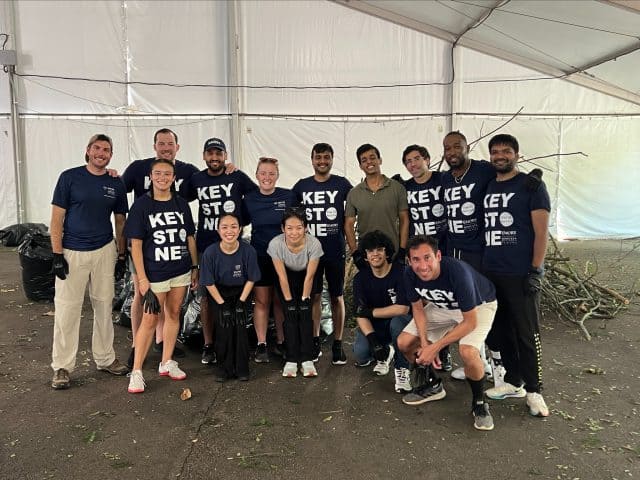 For many students, the beginning of a new school year is associated with cues learned from childhood—the smell of glue and paper in an office supply store, the rumble of the school bus engine, misty mornings growing cooler and crisper.
Goizueta Business School, however, has its own unique traditions to mark the beginning of a new school year. More than mere pomp and circumstance, these sacred rituals serve so many roles; they surround new students and help them feel supported, connect them to the community and their own sense of purpose, and foster lifelong memories.
BBA Students Retreat to Center Themselves for the Year Ahead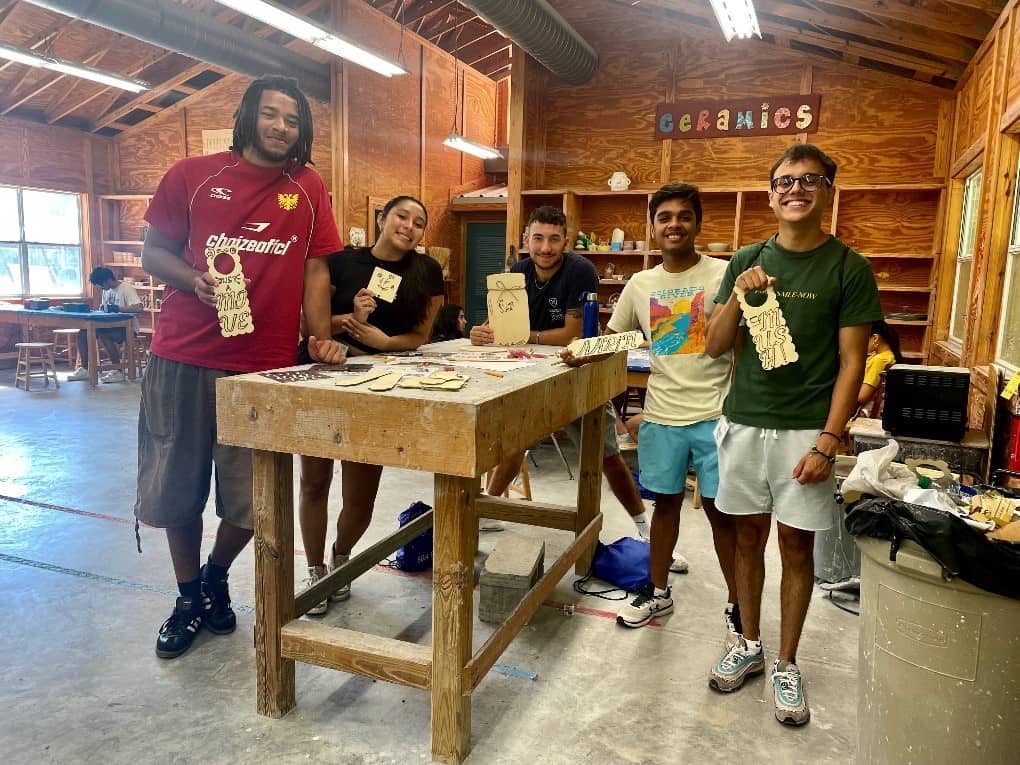 Of the many opportunities BBA students have to bond and build relationships, the BBA Orientation Retreat stands out as a hallmark event. Each year, the entire BBA Program Office team, the BBA Council and student leaders design the retreat to welcome the newest BBA students into everything that makes their community special—and what better place to do that than the great outdoors? The new students are challenged to unplug from technology and to step away from campus so they can get to know each other through adventure, learning, service, and—of course—roasting marshmallows around the bonfire. While circumstances over the past several years have required some adaptations, the spirit of the retreat has remained a constant.
Since Fall of 2022, the BBA students have been hosted by Camp Twin Lakes, a camp that serves children of all abilities through their fully-adaptive facilities. The BBAs have been able to connect to this mission of service to others in their camp experience through painting inspirational signs to adorn the camp and building picnic benches to enhance the campsite and provide pockets for future campers to connect.
They also lean into teambuilding and adventure with ropes course challenges and a boat building quest followed by a regatta. Students have the opportunity to set their intentions via wood-burning, when they are encouraged to find the words that will carry them through their academic journey ahead and seal them with fire into a wooden placard.
"Orientation for our BBA students signals a transition into our interdependent, vibrant community," says Senior Associate Dean of Undergraduate Education Andrea Hershatter. "Orientation activities replicate the Goizueta experience where team-based problem solving, learning in action, and stepping outside your comfort zone are everyday experiences. "
For Anna Gibbons, director of Pre-BBA Advising and Admissions, the goal is for students to reflect on who they want to become and the legacy they want to leave at Goizueta—while having a lot of fun and making memories.
"Every BBA student leaves with a memory and we hope a new network of peers with whom they will navigate the program," says Gibbons. "That memory might be as simple as surviving their first overnight cabin adventure, or as grand as stepping on stage filling the night with their voice at our evening karaoke, but either way, they will be waxing nostalgi about their BBA Orientation come graduation."
Hershatter notes that while each year and each class is wonderfully unique, there is one small tradition baked into her practice that remains the same year after year.
"My message to the incoming class changes every semester and I am not sure what resonates most, but I think the most important thing I share is how to properly pronounce 'goy-SWET-ah!'"
BBA Class Graduations Year Photos
It wouldn't be a new school year without Libby Egnor, Associate Dean of BBA, issuing directions with a megaphone from the 5th floor balcony of the Goizueta school building while a photographer steps nimbly around her to capture the best angles of the frenzy below. The freshman BBA class mills around on the lush Patterson Green; it is August in Atlanta, and invariably, it's hot and humid. The excitable undergrads shuffle among one another, doing their best to fit neatly into the staked flags which outline the shape of their graduation year as Egnor uses her commanding view to shepherd them from above.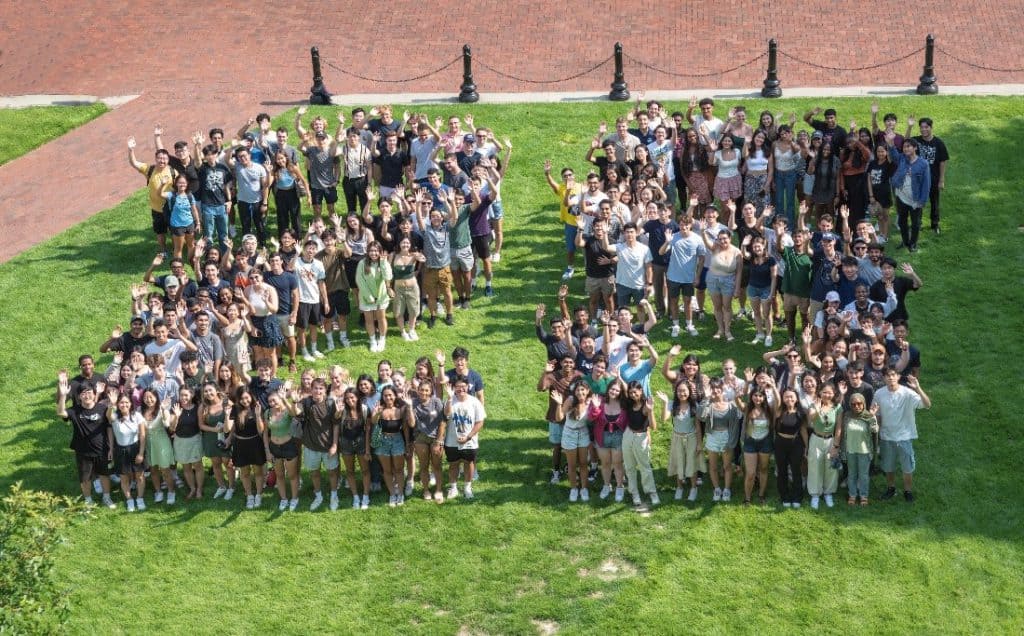 What's palpable even from five stories up is the excitement-bordering-on-jitters and the newfound camaraderie of each class as they anticipate the years ahead. The photograph reminds each class that while many students have trodden this lawn before them and many more still will set feet on this soil later, there will never be another Goizueta graduating class just like their own. And for that reminder, this beloved tradition is worth sweating in the sun for.
MBA First Year Clap-In and Goizueta Coke Toast
Unique to Full-Time MBA students is the "clap-in," followed by Goizueta's own Coke Toast, celebrating the long history and connection between Emory and Coca-Cola. First-year MBA students file out onto Goizueta's Jenkins Courtyard; perched above them in the balconies waiting to greet them are second-year MBA students, eagerly awaiting with balloons, pent-up enthusiasm and cold drinks in hand.
Though this tradition has been around since 1997, the first year MBA students are often not aware of it and are taken by (pleasant) surprise.
"As we begin to walk out of the classroom, we were told to come out a specific door, grab a Coke, and walk outside. A couple of us could tell something was up and for a brief second, we thought 'Um, are we going to get coke poured on us?'" says Kevin Mamaril 25MBA. "Fortunately, that wasn't the case. Instead, we walked out to a sweep of applause. I thought it was really awesome of the second years to embrace us like that. It reminded me of a ceremony in high school called 'Changing of the Chairs' where the graduating seniors were seated in chairs and they got up to let the junior class 'fill their seats' as a way to pass the torch. This 'clap in' tradition was a 'pass the torch' moment. Hopefully, we make them proud!"
"It becomes a ceremony that feels almost electric," says Full-Time MBA Program Associate Dean Brian Mitchell. "It is applauding, and whistling, and shouting, and it is just a really fun celebration. Our community of second-year students, staff and faculty are literally applauding you for your decision to come to Goizueta and welcoming you into our family."
While first-year MBA students take heart from this warm welcome to the Goizueta network, the moment is also poignant for the second-year students who take the opportunity to reflect on their own academic careers. While the distance between the balcony and the lawn may be short, the tough work and personal transformation between them is expansive.
Full-Time MBA Five Year Letters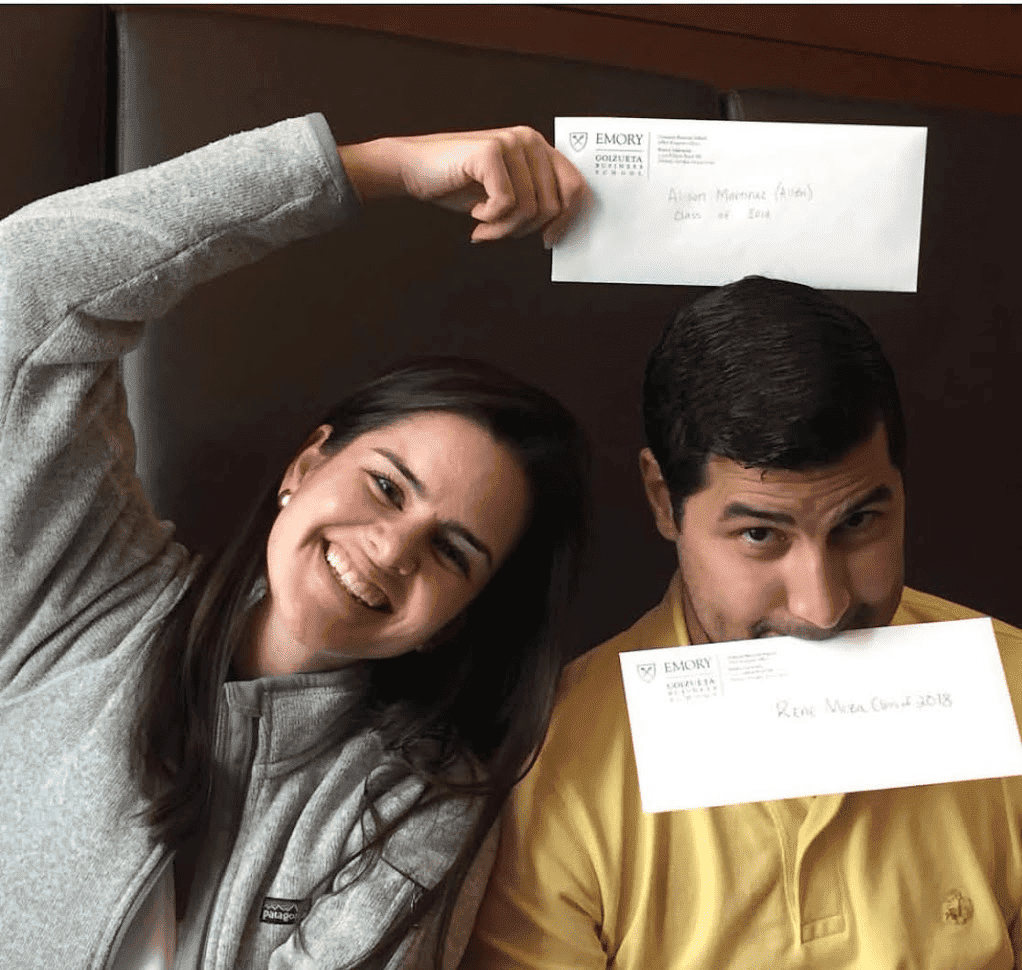 Year after year, Goizueta alumni report back on the rush of emotions that flood them when they open the time capsule that is their five-year letter. Students are asked to reflect on what they want for their future selves. These letters are often hand delivered by Brian Mitchell himself when alumni circle back to campus for the five-year reunion or another Goizueta affiliated event. Or in the case of some folks, like Marina Cooley, assistant professor in the practice of marketing, it might just be when you return to your alma mater on the other side of the lectern.  
"When I read the letter, I remembered everything," says Cooley. "It was a time of uncertainty…what I'm most surprised about is that my 30-year-old self had more wisdom than I realized. There's a line in my letter that says, 'I don't want my job to own me.' And that's exactly the sentiment I have about work now."
For Brian Mitchell, returning the letters is one of his favorite traditions.
"We carve out the time required for reflection and intentional goal setting with this exercise. We provide a framework for the letters, but the students are empowered to describe their goals and aspirations however they see fit," says Mitchell. "As I have personally delivered these letters to our alumni, I have seen the full range of positive emotions, from giddy amusement to tears of joy, inspired by reflecting on what the Goizueta experience has meant to their lives."
Even before they are opened, the students find the process of writing the letter itself to be transformative.
"The classes at Goizueta always reiterate the importance of reflection and being intentional with your time. The five-year letter is the perfect example of these values in action," says Lucy Mitchell 24MBA. "Writing a letter to myself—which will remain sealed until my five-year GBS reunion—forced me to take a deep, introspective look at what I want my life to look like in five years. What is important to me? Where do I want to be spending my time? What are my career goals? And even more importantly, what are my life goals? What do I truly want to accomplish in these next 5 years post-business school?"
I love how reflective this process was. And I can't wait to see everyone's faces at our 5-year reunion to see what wishes have come true and what goals have changed!

Lucy Mitchell
MBA Keystone Day of Service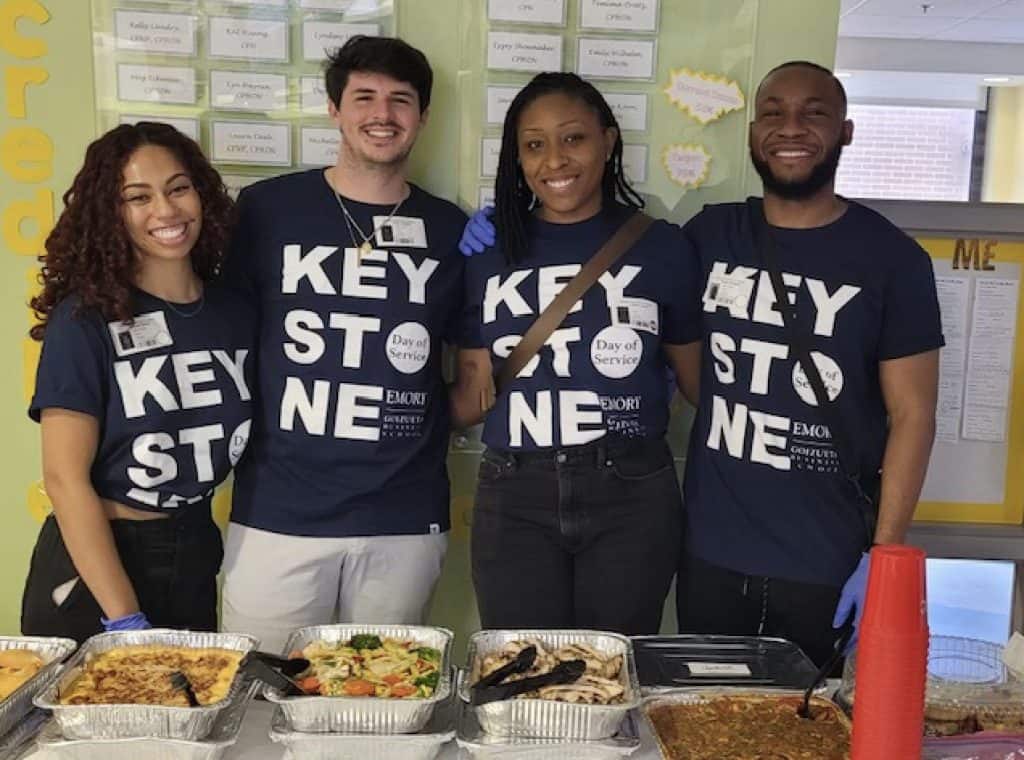 The Keystone Day of Service may well be considered the most noteworthy initiation of a new year in the MBA program. Uniting members of the OneYear MBA program, Two-Year MBA program, and exchange program, this year included 83 students fanning out into the Greater Atlanta area to provide a total of 182 service hours to 9 project sites.
Between serving lunch to patients, parents, and children at CURE Childhood Cancer, working with Piedmont Park Conservatory and Trees Atlanta to restore habitats, packing sweet potatoes at the Atlanta Community Food Bank (students packed more than 10,000 pounds of food, providing more than 8,000 meals), and several other sites, the students touched on a variety of causes in critical need.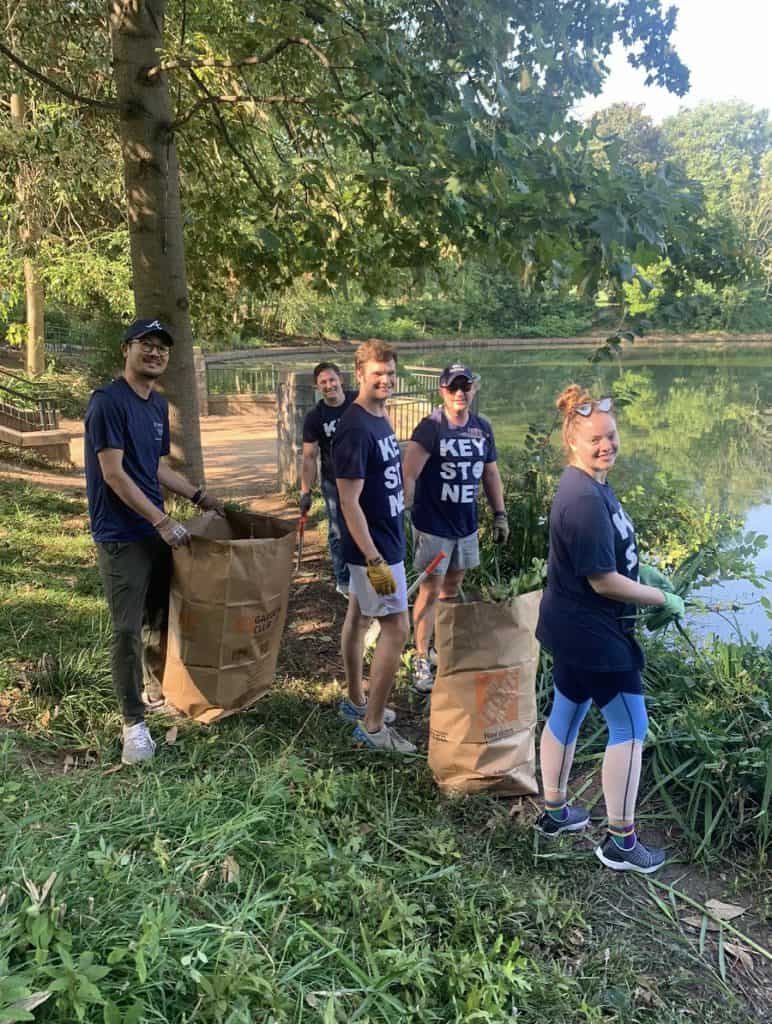 While 182 hours is an impressive number, the program understands the limitations of one day of service, and intentionally selects organizations with which Emory already has standing relationships to ensure this surge of volunteer work is part of a larger and sustained effort.
"The keystone traditions within the Full-time MBA program at Goizueta encapsulate the spirit of unity and progression," says Vernon Smith, senior associate director of Student Life & Engagement. "As we extend a warm embrace to the returning Class of 2024 and extend a hand of welcome to our new peers, the keystone rituals stand as a testament to our dedication to growth and cohesion."
Beyond our campus borders, we extend this dedication to our local community through impactful service initiatives. At Goizueta, the keystone represents more than a mere symbol–it's a reflective moment that reminds us of how every facet of our MBA experience seamlessly constructs the road ahead.

Vernon Smith
Yaritsa Brea 24MBA, vice president of community outreach for Goizueta's Business Association, enjoys her role of planning the annual Keystone Day of Service as well as other small community service events during the semester. 
"I've grown up around nonprofits my entire life and was able to benefit from services like homework help, after school programming, et cetera," says Brea. "Volunteering became really important to me as a way to give back to places that were able to impact me and my personal development. Planning Keystone over the summer was a reminder of all the amazing ways we can give back to the Atlanta community."
Brea's peer, Megan Trudo 24MBA, agrees: "Keystone was an incredible experience. I really enjoyed giving back to the local Atlanta community and sharing that experience with my classmates. Keystone was a great way to come back from the summer and kick off the school year by volunteering our time together as a class and to help build a greater Atlanta."
Interested in learning more? Find out how Goizueta takes students beyond business as usual.