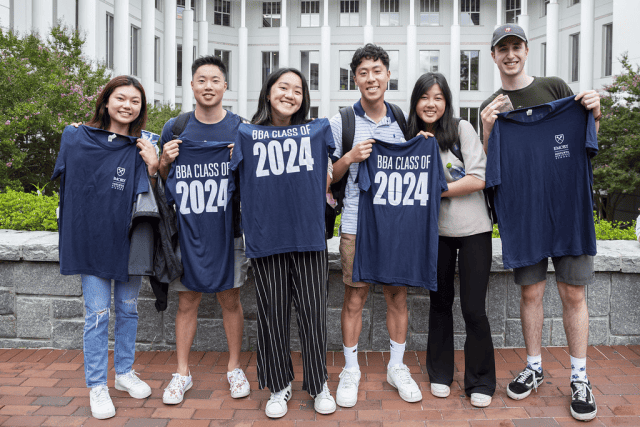 This October, the Goizueta Bachelor of Business Administration (BBA) degree was approved for STEM designation. One of the few leading undergraduate business programs with full STEM designation, this shift underscores the analytic focus of the program and expands opportunities for current and future students.
While analytical problem-solving abilities have always been a key focus at Goizueta, the school has recently doubled down on the depth and breadth of technological aptitude and data analytics embedded into course content. After a five-year process of extensive review, the BBA program rolled out a revamped curriculum last spring.
"Our new curriculum equips BBA students for an increasingly data-driven world in which the outcomes of business decisions are multifaceted and far-reaching," shares Andrea Hershatter, senior associate dean of undergraduate education at Goizueta. "It simultaneously helps us build student competencies and addresses their desire to create individualized and customized academic experiences."
Providing students with a strong foundation in data analytics, the new curriculum also features mini bootcamps to gain specific technology skills.
"At Goizueta, one of our key strategic priorities is fostering innovation for a data-and technology-driven world," shares Dean Gareth James, John H. Harland Dean. "We are continuously innovating in our classrooms and research with an eye to the global economy and the skills leaders need now and in the future. Our faculty has always delivered a quantitatively rigorous curriculum, so a degree that qualifies for STEM designation has been a natural progression."
Starting with the Class of 2024, all students who receive the BBA degree will receive the STEM designation.
Goizueta BBA students are prepared, motivated, and empowered to make meaningful contributions to the organizations they serve—and to society. Learn more about our top-ranked BBA program.