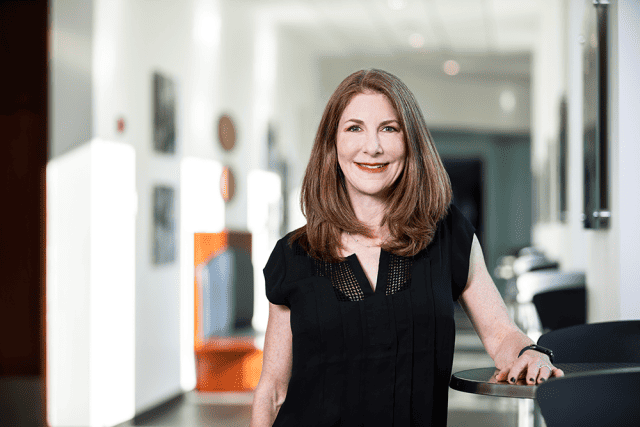 She's an Atlanta native, Goizueta grad twice over, has spent nearly 20 years volunteering for the school and is married to another equally successful and devoted Goizueta graduate. You'd be hard-pressed to find someone more loyal to the Goizueta community than Laura Balser 94BBA 01MBA, who began her term as Goizueta Advisory Board Chair on September 1, 2023.
Although she's since established roots in Texas, Balser remains a steadfast face in the Goizueta community given the many supporting roles she's had over the years. "My involvement began in 2004 after I attended the inaugural Executive Women of Goizueta (EWG) Conference featuring Sara Blakely and Gail Evans," says Balser. "I was so energized that I volunteered to serve on the EWG board. Over the seven years on that board, I served in many capacities including president. As my service to EWG was ending, I was asked to serve on the alumni board, and did so for the next seven years. In the summer of 2020, I was asked to chair the 2O36 Campaign for the school, and the following summer, I was asked to join the Goizueta Advisory Board."
Empowering Education and Community
The Goizueta Advisory Board's primary role is to advise the school on matters related to education. This may include curriculum, faculty, student body, admissions, placement, executive education, and the broader competitive landscape. Additionally, the board serves as a bridge between the school and the business community, facilitating the establishment of stronger working connections. The board is also charged with driving revenue and generating philanthropy to ensure Goizueta's excellence and long-term stability.
"Laura's volunteer leadership at Goizueta is unparalleled. We are profoundly grateful for the dedication she's shown to our school over the years in a multitude of ways," says Managing Senior Director of Alumni Engagement Lindsay Topping. "We are excited for Laura to take the helm of the Goizueta Advisory Board to add to her transformative impact at Goizueta."
Artistry in Generosity
If you haven't had the pleasure of meeting Balser at any of Goizueta's social and professional functions, including this year's launch of the Master in Business for Veterans program, you may have observed the prodigious art collection her family generously donated that makes walking around the school a special and unforgettable experience. The pieces are in turns stunning and striking; they spark lively conversation between the many people who work and learn in the building. "My family has always had great appreciation for art," Balser says. "My mother, Barbara, was on the Goizueta Advisory Board at the time and, in 2006, was approached to donate money for two paintings that were going to be the beginning of a collection established by the school. The original idea was to collect local art. My mother did not think this was the best direction because we are an international business school. My parents wanted the school to have an art collection that reflected well-known established artists from around the globe. So, my parents offered to curate 180 pieces of art from auctions and dealers from all over the world that line the halls of the school today." Click here to see a highlight reel of some of the many masterpieces from the Balser art collection.
Read on to learn more about how Laura juggles her many obligations and the wisdom she has learned along the way.
Tell us about your day job. What is your role at Korn Ferry? What do you enjoy most about your work?
I'm a Senior Client Partner in Korn Ferry's Executive Pay & Governance practice. It's my primary responsibility to ensure organizations have the best independent information to make informed decisions on how to pay their executives. Many of my clients are compensation committees of publicly traded companies but I also work with privately-held and not-for-profit organizations. What I enjoy the most is the variety of each client situation and knowing that ultimately I'm helping clients make sound decisions.
What motivates you to get up in the morning?
Exercise. The morning is really my best opportunity to work out. If I don't exercise before work, the likelihood of my getting it done later in the day is slim.
As both a BBA and MBA graduate of Goizueta Business School, what inspired you to complete both degrees at Emory?
I'm a native to Atlanta. While I don't currently live there, my ties to "home" have always been very strong. While I entertained going to school elsewhere, the size and specialty Goizueta offered aligned with my priorities.
How has Goizueta prepared you for what you do every day?
The biggest thing that Goizueta prepared me for is working with diverse teams. During the five years between earning my BBA and MBA, I was primarily in sales roles which were very individually focused. Forming and working with teams is something I have done every day in my 20+ year career in consulting since I earned the MBA. We can't always pick every person we want for a team so it's important for me be inclusive and helpful while motivating our teams to deliver quality work on time for our clients.
Do you have any fond memories of your time at school?
My memories of BBA and MBA years are strangely similar. Both were an art of balancing academics with social life. In undergrad, sorority and fraternity events were frequent. Some places we went to during undergrad aren't there anymore like PJ's, while Maggie's and many Virginia Highland places have remained over the years, including Moe's & Joe's and Dark Horse. Buckhead was the place we ventured out to for something different. As an MBA, KEGS in the Courtyard was a welcome event each Thursday.
If you could go back in time, what advice would you give your younger self?
It is okay to say no.
What motivated you and your husband to establish a scholarship endowment?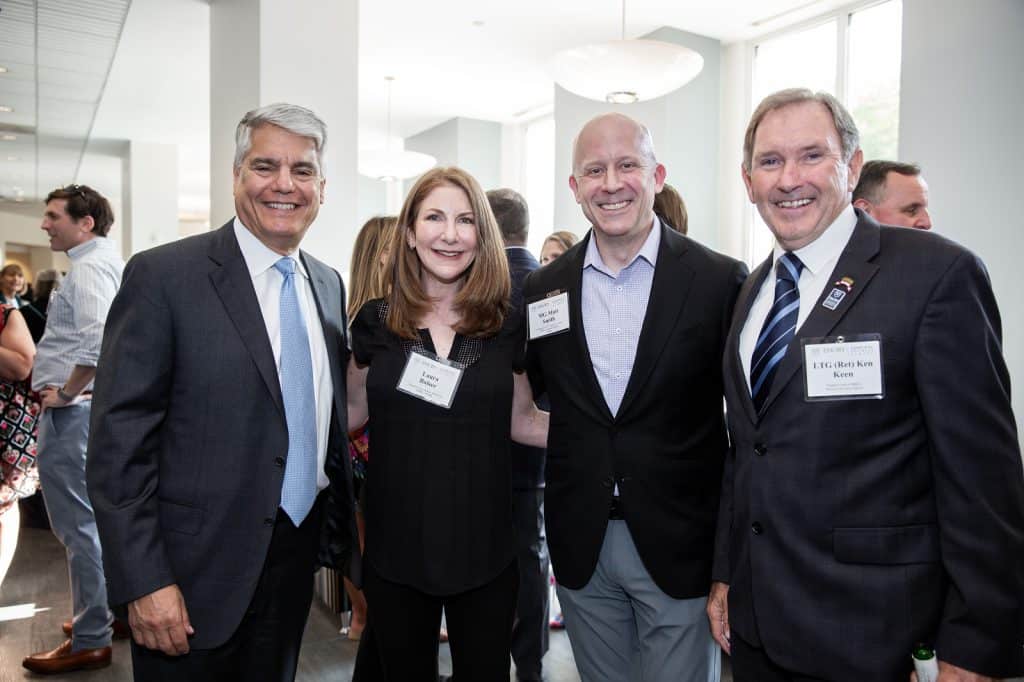 My husband, Maj. Gen. Matthew Smith 01MBA, and I met at Goizueta when we were earning our MBAs. When we were at Goizueta, tuition was not as expensive as it is today. We both had the benefit of being able to pay for our education. We know that is an unusual circumstance and think it's critical to provide support for others to earn a degree that can change their trajectory. Our endowment is specifically for students enrolled in the Goizueta Leadership Program with a focus on members of the National Guard, Reserves, or military veterans. My husband was in the National Guard while we were at Goizueta. We graduated the spring before September 11th. Matt was called up to serve in Iraq soon after and is still on active duty, now a 2-star General and Commander of Joint Task Force-North.
How do you think the priorities of business schools (in general, or Goizueta in particular) have changed since you graduated?
From my perspective, the biggest change is the emphasis on leadership. Principled leadership was always a pillar that Roberto C. Goizueta emphasized. With that, the school has continued to grow its focus on leadership development through the Goizueta Advanced Leadership Academy (GALA) program which is more experiential than anything that existed while I attended.
What does it mean to you to be the next chair of the Advisory Board? What goals do you have for the board this year, and how do you plan to achieve them?
It's a great honor to represent Goizueta in this way. Rebecca Ginzburg 94BBA, our outgoing chair, has left some big shoes to fill. The board's mission is to advise and support the dean. Now that he has a year under his belt, it's our job to provide guidance and input as he begins to execute his strategic plan. I plan to achieve our mutual mission by keeping our board engaged.
To learn more about the many ways in which you can volunteer your talents for Goizueta and to discover opportunities for engagement with your 25,000-strong network of Goizueta alumni living and working around the world, click here!