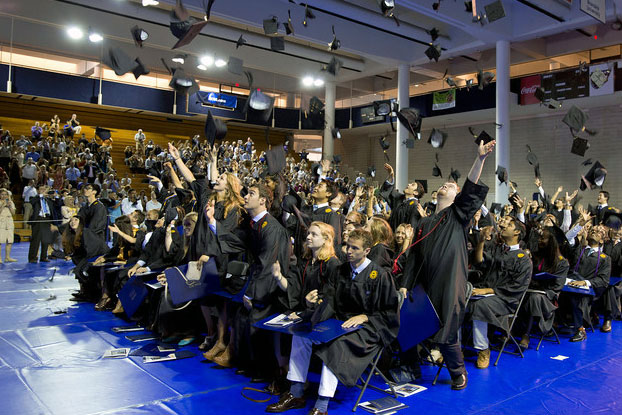 "Even as you do well, I challenge you to do good."
Emory President James Wagner addressed the Class of 2014 in no uncertain terms. Students who pass through Emory University and Goizueta Business School face challenges but are encouraged to make a lasting, ethical impact.
On Monday, 4,425 men and women received degrees during the university's 169th Commencement exercise and graduation ceremonies. More than 1,300 graduate degrees were awarded, including those MBAs from Goizueta's Full-Time, Evening and Executive programs. More than 700 became PhDs across the university.
Thousands of faculty, staff, students, family and friends were on hand (or watching on-line) in support.
U.S. Rep. John Lewis (D-Ga.) gave the keynote address (video), encouraging students to be bold:
"As young people, you must understand that there are forces that want to take us back to another period. But you must say that we're not going back … we've made too much progress. There may be some setbacks, some delays, some disappointment … but you must never, ever give up or give in. You must keep the faith and keep your eyes on the prize. That is your calling, that is your mission, that is your moral obligation, that is your mandate."
Goizueta Business School would like to congratulate the Class of 2014 and looks forward to the Fall, when the education of tomorrow's business leaders continues.
Emory News' Kimber Williams contributed to this report.
 RELATED LINKS: