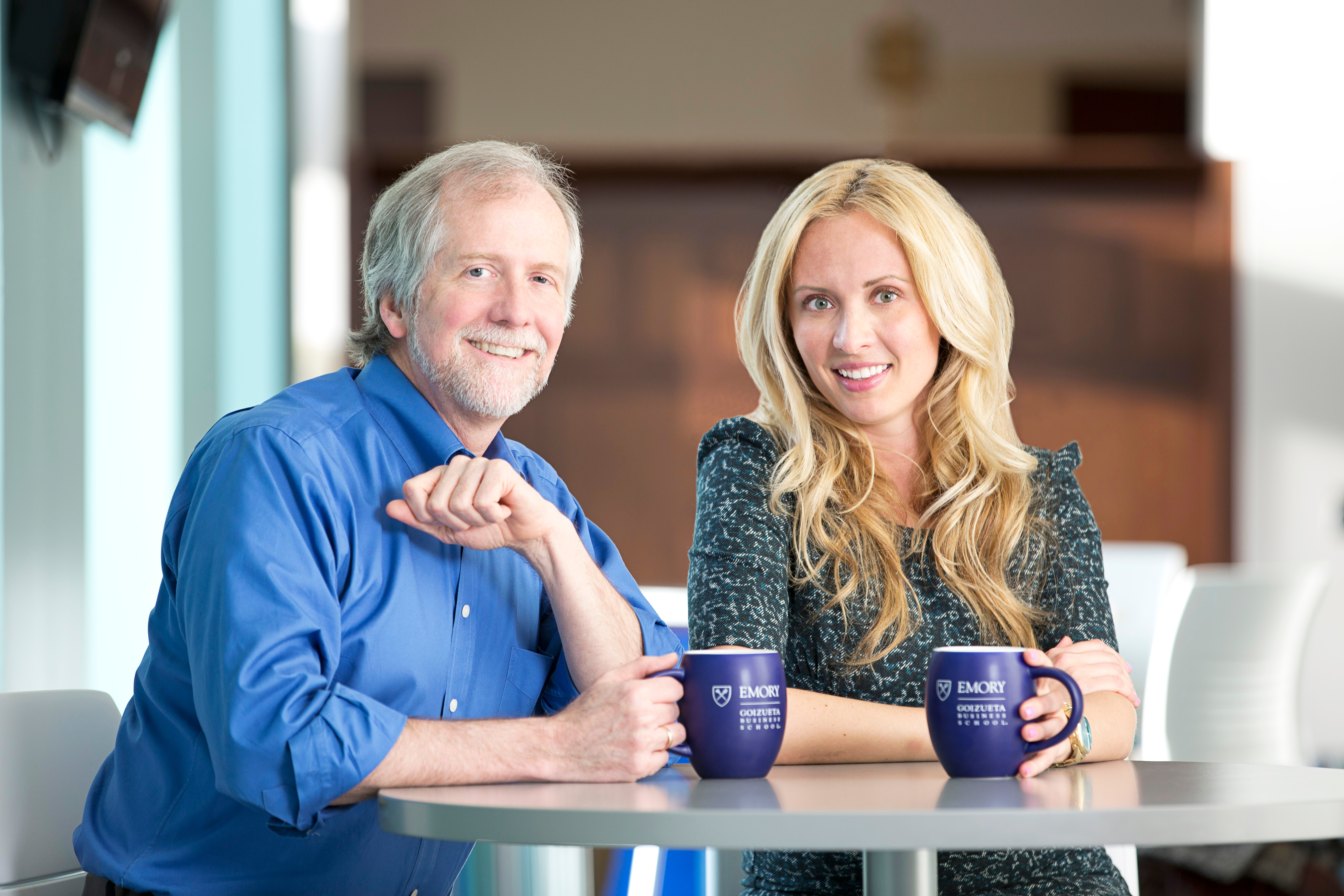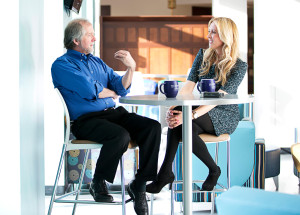 Russian-born Daria Makhoukova 06MBA had lived in the United States for just two years before enrolling in Goizueta. After tackling the tough world of investment banking in New York, she welcomed the school's nourishing spirit and the chance to start shaping a career in consulting under the guidance of faculty like Patrick Noonan, professor in the practice of decision and information analysis and associate dean for management practice initiatives. Now a strategy expert and manager of global forces at McKinsey & Co, Makhoukova recently stopped by Goizueta to catch up with Noonan and to discuss the impact of digital technologies on consulting.
Noonan: First off, congratulations; I understand you just became a US citizen.
Makhoukova: Yes, and I am so excited! This is year twelve for me in the US, and I just got my passport!
Noonan: Your journey has been remarkable.
Makhoukova: Yes, it has been interesting, that's for sure. I arrived in 2002 after getting my law degree in Russia, which turns out to be unusable in the US. The only places willing to hire me were investment banks.
Noonan: What did you enjoy most as an international student at Goizueta?
Makhoukova: Investment banking can be a harsh environment, especially considering my transition to a new country and career. After that experience, Emory was very comforting. I liked the size of the school. You could easily approach not only your peers but also your professors. It was quite a switch from Russia, where authority matters. My time at Goizueta was transformative because it allowed me to go beyond what my upbringing might have imposed and to choose the type of person I wanted to be and the path I wanted to undertake.
Noonan: If I remember correctly, you're from Sochi?
Makhoukova: From the south of Russia. I spent several years in Sochi growing up, and all my family is still in Russia. I was very excited with the results of the winter Olympics—I know how hard they worked on pushing this younger generation to get the results—but I was also torn, because of my U.S. affiliation.
Noonan: Let's talk about what you are doing professionally. You're at McKinsey?
Makhoukova: Yes, it's been almost two years now. I moved from BCG, where my career in consulting began. Never in a million years would I have thought I would spend eight years in consulting. How long were you at McKinsey?
Noonan: Four or five years.
Makhoukova: One of the memories that has stayed with me from the consulting talks you gave—
Noonan: The brown bag talks about on my years in consulting? I still do those.
Makhoukova: You told us about feedback. We thought you'd say the worst part of consulting was the long hours, the ambiguity, or the travel, but no, you said it was giving and receiving feedback. You said you had to mentally prepare for it every time. I do, too. I sometimes smile to myself, "If it was hard for Noonan, of course it's hard for me" [laughs].
Noonan: You have to be proactive and courageous about getting feedback and acting on it.
Makhoukova:You think you are doing fine and then you have one of those conversations where they say it's very good, but here are seventeen things for you to improve upon.
Noonan: You may remember my story of being a summer associate and feeling great because I was nailing every item on my work plan. Then about midway through the summer my manager sat me down and said, "Patrick, everything you've done so far has been just fine—
Makhoukova: But…
Noonan: Instead of saying, "Things look good for that permanent offer," he said, "If we were to decide right now, I'm not sure you'd get an offer." I was stunned, because I knew I had worked hard and delivered good stuff. He said, "You need to go above and beyond gathering the data and doing the simple analysis; checking the boxes isn't enough." He explained the importance of asking "So what—what are the implications for my team, our other work, the client?"
Makhoukova: Exactly.
Noonan: In our new Management Practice courses, we teach the pyramid principle and talk about logical structures and how to craft and use evidence. What company isn't interested in people who are good at problem solving, project management, and persuasive communication? At Goizueta we prepare students for "day-one readiness." That means being able to handle any problem handed to you: to define the problem, structure it, and figure out what to do—then persuade someone to implement your solution.
Makhoukova: Finding the right talent is a key challenge for companies. Yes, we have technology to help us with things like productivity; we can get more done with fewer people, but some jobs require people who are skilled at complex human interactions.
Noonan: Yes, the ability to read people, situations, and organizations is essential, as is picking up on what is not being said and grasping the real meaning of things—and then responding creatively. On another note, what changes in consulting do you see ahead because of technological advances?
Makhoukova: Technology changes the way we live, work, and interact, and consulting firms are no exception. The Internet economy is now a larger sector of the economy than energy. Machines are becoming smarter than people. The speed and scale of this change is remarkable. It's a lot for companies to understand and adapt to. As advisors, consulting firms have to recognize change early on so we can help our clients think about challenges and opportunities.
Noonan: How do you even do that?
Makhoukova: A crystal ball? [laughs]. Seriously, uncertainty is inevitable—some of it manageable, some of it not, but we still have to make our decisions based on what we think is happening next.
Noonan: Our students and alumni also need to make plans based on what happens next. How can our graduates future-proof their business? Themselves?
Makhoukova: Multitasking is becoming more critical, as is staying on top of multiple news stories and what your neighbors, customers, and competitors are doing. You need to know what's going on in the world. We are seeing businesses, interactions, and social structures we have never seen before. It's no longer just you, in one industry, working on one project.
Noonan: So people need to do a lot of environmental scanning?
Makhoukova: Yes, and because information is so abundant, you have to not only scan but also filter and extract what you need, which I find increasingly relevant in my industry. This includes seeing facts in what others consider irrelevant news.
Noonan: The "so what?" approach?
Makhoukova: Yes. For example, apps are now sending more messages to other apps than people are sending to other people. Machine to machine interaction is becoming very real; how is that going to affect your business? Reading for fun is not sufficient. Look for patterns. Ask, "What does this mean?"
Noonan: Yes—what does the information mean and what actions should you take? And how are you going to get it done? That piece is still very important. This is relevant for our graduates, even those 20 years out. They cannot assume that things will stay the same; they need to be scanning the environment and connecting the dots to make sense of what they are observing and to figure out what lies ahead.
Makhoukova: Speaking of the future, I hear you are planning to retire?
Noonan: Yes, this is my final semester as a full-time member of the faculty and administration. In the fall I will dial back to half-time at Emory. I've got a backlog of writing projects, and I plan to expand my visits to business schools in developing countries, to help them build stronger institutions. And I'll be getting much more music back into my life!