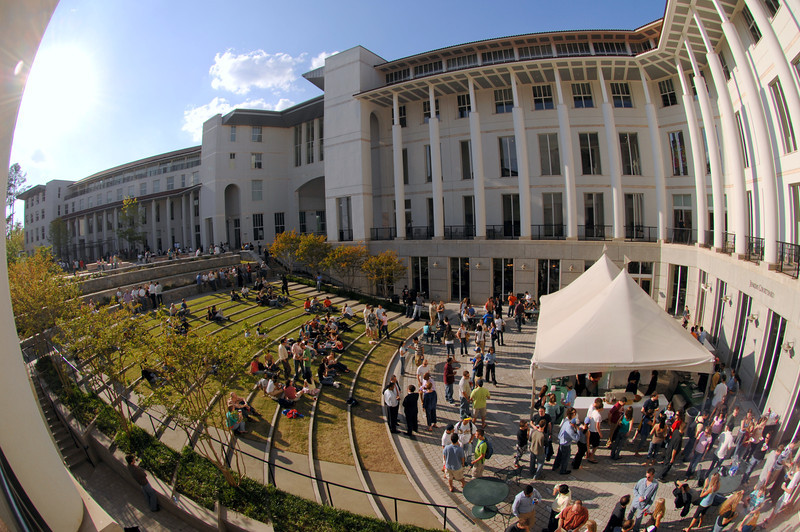 Goizueta Business School's undergraduate BBA program has a history of ranking among the best schools in the country. The program has ranked in the top 10 of Bloomberg Businessweek's list since its inception. In his newest site — Poets & Quants for Undergrads — John Byrne and his team published a composite ranking.
Goizueta's BBA program ranks No. 7 in the country.
"We've come up with a new way to look at the best programs, combining the results of the two most closely watched rankings of the undergraduate experience and a new and important wrinkle in the analysis: a university's overall national rank in the annual U.S. News list. After all, a student who majors in business at any of these schools will be taking far more courses outside the business school during the four years he or she is enrolled in an undergraduate program. So the school's overall reputation should be as important as the quality of the business program," writes Byrne.
The Rankings (via P&Q)
| P&Q Rank & School | Index | BW Rank | U.S. News Rank | U.S. News University Rank |
| --- | --- | --- | --- | --- |
|   1. University of Pennsylvania (Wharton) | 100.0 | 7 | 1 | 7 |
|   2. Cornell University (Dyson) | 97.6 | 3 | 10 | 16 |
|   2. Notre Dame University (Mendoza) | 97.6 | 1 | 10 | 18 |
|   4. University of Virginia (McIntire) | 97.4 | 2 | 5 | 23 |
|   5. Washington University (Olin) | 97.1 | 5 | 13 | 14 |
|   6. UC-Berkeley (Haas) | 96.3 | 15 | 2 | 20 |
|   7. University of Michigan (Ross) | 95.4 | 12 | 2 | 28 |
|   7. Emory University (Goizueta) | 95.4 | 9 | 13 | 20 |
|   9. University of North Carolina (Kenan-Flagler) | 94.6 | 10 | 7 | 30 |
| 10. Carnegie Mellon University (Tepper) | 94.4 | 17 | 8 | 23 |
| 11. New York University (Stern) | 93.9 | 14 | 5 | 32 |
| 11. Georgetown University (McDonough) | 93.9 | 18 | 13 | 20 |
| 13. Boston College (Carroll) | 92.9 | 4 | 22 | 31 |
| 14. University of Southern California (Marshall) | 91.7 | 28 | 13 | 23 |
| 15. University of Texas-Austin (McCombs) | 91.3 | 6 | 8 | 52 |
| 16. Wake Forest University | 91.0 | 11 | 34 | 23 |
| 17. Penn State University (Smeal) | 87.4 | 30 | 22 | 37 |
| 18. College of William & Mary (Mason) | 86.9 | 22 | 38 | 32 |
| 18. University of Wisconsin | 86.9 | 33 | 18 | 41 |
| 20. Indiana University (Kelley) | 86.7 | 8 | 10 | 75 |
| 20. University of Illinois-Urbana-Champaign | 86.7 | 34 | 18 | 41 |
| 22. Georgia Institute of Technology | 85.5 | 37 | 27 | 36 |
| 23. Ohio State University (Fisher) | 85.2 | 32 | 18 | 52 |
| 23. Brigham Young University (Marriott) | 85.2 | 13 | 27 | 62 |
| 25. Boston University | 83.7 | 25 | 43 | 41 |
Source: P&Q analysis of Bloomberg BusinessWeek & U.S. News & World Report rankings 
See more at: http://poetsandquantsforundergrads.com/2014/07/01/2014-pq-ranking-of-the-best-undergraduate-business-programs/