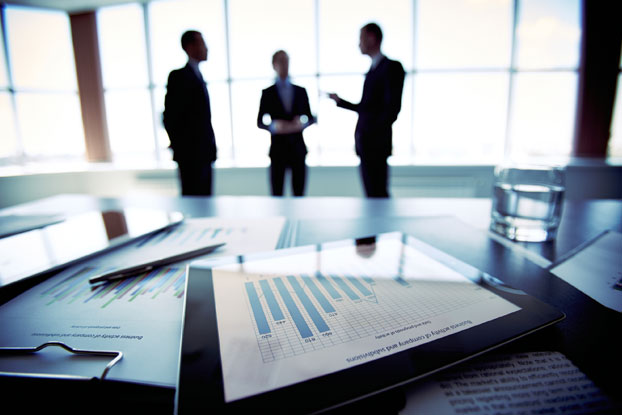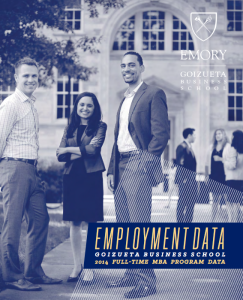 For the third-straight year, at least 98 percent of Goizueta graduates received job offers within 90 days of graduation. This according to the recently-released employment report created by the school's Career Management Center.
Goizueta's CMC partners with students early in the course of their MBA experience, starting even before they arrive on campus. This, combined with a program that allows students to complete core classes in the first semester, allows for maximum opportunity to tailor progress toward post-graduation goals.
"In an ever-changing marketplace, Goizueta graduates continue to thrive," writes Wendy Tsung, associate dean & executive director of Goizueta's CMC. "We are proud to consistently provide outstanding talent for our corporate partners and great career opportunities for our students."
The majority of 2014 graduates chose careers in consulting (38 percent). Goizueta students also find jobs in Marketing, Finance, General Management, Operations and Real Estate.
For the fourth-straight year, employees in the Southeast led in Goizueta hires.[accordion]
[acc title="Businessweek to announce MBA rankings Tuesday"]
Goizueta ranks among the best in the nation for careers in multiple publications. Bloomberg Businessweek announced its bi-annual ranking of top business schools will be released Tuesday. To show your support of Emory and Goizueta, tweet @BW and @bwbschools with the hashtag [highlight]#whymba[/highlight] and explain why @EmoryGoizueta makes a difference.
[/acc]
[/accordion]
"Small by design, Goizueta's experiential learning approach ensures graduates are comfortable with ambiguity and armed with a global business perspective," added Tsung. "They embrace leadership roles both as equal partners and as ones who know when and how to take charge."
2014 Top Hiring Companies
[list type="arrow"]
[li]3M[/li]
[li]Abbott Laboratories Accenture[/li]
[li]AT&T[/li]
[li]Bank of America[/li]
[li]Capgemini[/li]
[li]Citi[/li]
[li]Deloitte.[/li]
[li]Delta Air Lines[/li]
[li]EY[/li]
[li]Georgia-Pacific[/li]
[li]Google[/li]
[li]InterContinental Hotels Group Johnson & Johnson[/li]
[li]J.P. Morgan[/li]
[li]Kimberly-Clark Professional[/li]
[li]NCR Corporation[/li]
[li]PwC[/li]
[li]SunTrust Robinson Humphrey[/li]
[li]Wells Fargo[/li]
[/list]
Previous Employment Reports
[list type="arrow"]
[li]2014 Employment Report[/li]
[li]2013 Employment Report [/li]
[li]2012 Employment Report [/li]
[li]2011 Employment Report [/li]
[/list]