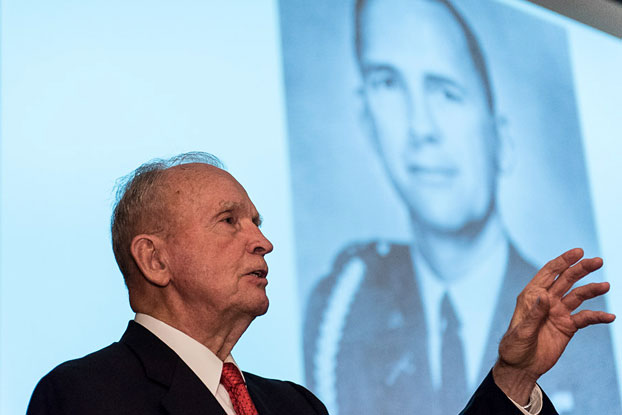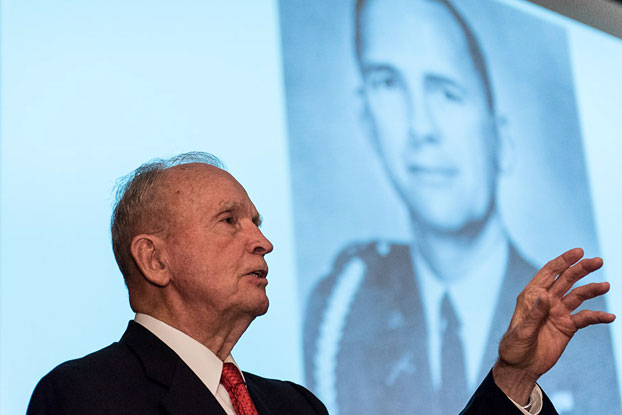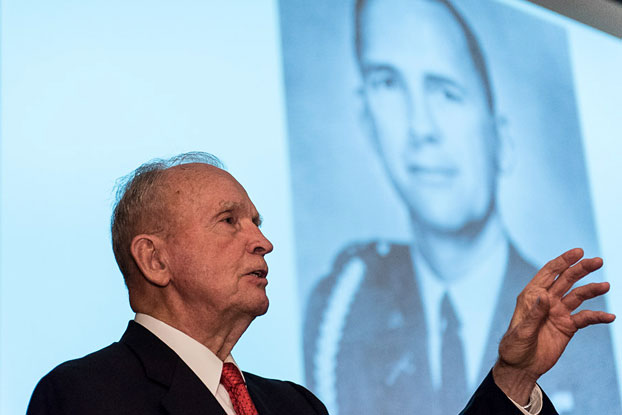 Army Colonel Ralph Puckett has not commanded troops on a battlefield for more than 20 years. But, as he commanded the attention of students, military veterans and company representatives, time seemed to disappear.
Puckett, a veteran of the Korean and Vietnam Wars,  spoke to Goizueta students and alumni — themselves veterans — Oct. 28 on the shared qualities between leading men into battle and running a successful business. Students joined alumni and other representatives from industry to network and share memories of their common past. Approximately 80 veterans attended representing more than 35 national and local businesses.
With efficiency and a soft-spoken grace, Puckett outlined three keys to success. He tied each to his experience in Korea leading a group of Army Rangers tasked with overcoming youth to help turn the tides of war. Puckett was fresh out of West Point when he took over a unit with two other officers, three sergeants and a few dozen enlisted men.
The oldest was 26. The youngest was 16.
"Your vision is your map," he said, raising his hand slightly and tracing the air. "… This is where I want to end up and this is how I'm going to get there."
Puckett outlined three themes used to train his soldiers:
Physical Fitness
Individual Skills
Teamwork
"Everything we did focused on building stamina and strength," he said.
Additionally, Puckett's team trained men to operate as individuals and part of a larger team. In training, every solider had the opportunity to lead and have his performance critiqued.
The training paid off.
Puckett's unit survived multiple attacks one night on "Hill 205" in present day North Korea. Puckett was injured (earning one of five career Purple Hearts) and saved by two enlisted men. As their ranks diminished in the face of attack, individual training made each solider self-sufficient.
Leadership training built pride in the group.
"They knew their team processes [and] were able to operate as a team," Puckett said. "They were strong physically and emotionally. They had great pride in themselves and their unit."
Puckett encouraged present and future business leaders to apply the same principles at the office.
For starters, according to Puckett, a healthy staff saves money on insurance premiums (among other advantages). After that, leaders should train individuals and teams with multiple chances to lead and learn.
"You'll have a bunch of individuals, each one has responsibilities," he said. "Each has to be all they can be in that task and not satisfied with the way they are, but what they can be."