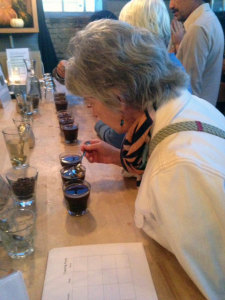 "How do you produce a cup of coffee with more social justice?"
That is the question posed by Nicaraguan coffee farmer Byron Corrales which is so central to his philosophy.
Corrales, whose coffee has been honored by independent groups as some of the best in the world, visited Atlanta last week. He frequently meets with Emory professors and students thanks to Farmers to 40, a business whose mission is to return 40 percent of the retail price of each bag of coffee to Nicaraguan partner farmers.
Social Enterprise @ Goizueta helped launch the project with guidance from Peter Roberts (Professor of Organization & Management) and SE@G Nicaragua Programs Director, Jon Thompson. Roberts is also academic director of SE@G.
LEARN MORE ABOUT FARMERS TO 40
Of the many topics upon which Corrales touches in his discussions – sustainability, social responsibility and the pros and cons of globalization – most can be summarized with that single question. In a way, Corrales represents something of the philosopher farmer, maybe the Nicaraguan version of what Thomas Jefferson envisioned for the United States.
"Coffee is not isolated from a system of life, it's part of it," Corrales said through an interpreter last Thursday at Grant Park's Octane Coffee, which serves his farm's coffee. The event was one of many scheduled for Corrales last week during his visit to Emory.
"I live in this community but this community produces water for a city of 200,000 people and this water from this coffee product also produces electrical energy and all of the kids go to school… so we're a building a good social system."
Corrales said he is proud that immigration from his community is almost nonexistent and that the local coffee industry employs 20,000 people.
In addition to his trip to Emory, Corrales speaks to university groups in his native country. He said 850 people visited his region last year to observe his farming model, which advocates sustainability. For example, he uses minerals from local rocks for fertilizer, which saves between $60 and $80 per bag.
Corrales said he likes to speak to students about sustainable practices because "universities are the first that need to own the responsibility, because they're forming future generations."
Some aspects of the future are already at play.
Corrales witnesses the effects of global warming on his industry first-hand. He said a prolonged drought in Nicaragua has affected 30,000 hectares used by coffee farmers. With a "no man is an island" philosophy, he takes no joy in that fact but said it has raised his prices, owing to scarcity.
Prior to the globalization of markets, Corrales sold coffee to large buyers. However, in the 1990s he helped form a "direct market cooperative," which was able to take advantage of the quality of coffee his region produces. Now, the consumer can know the identity of the farmer – like Corrales himself – who produces his coffee.
He revels in this concept.
"So coffee, just like oil, moves the world," he said. "It's important that we all are informed. When I negotiate (the price of) a bag of coffee, I sit at the negotiation table with the owner of the company, we taste the coffee of the crop and I think, 'Yeah, let's negotiate coffee.'
"So I'm negotiating over the quality of my cup. I'm not thinking about the New York Stock Exchange. I'm thinking of my community and the owner of the company is thinking of his consumers.
"So that's a real connection."