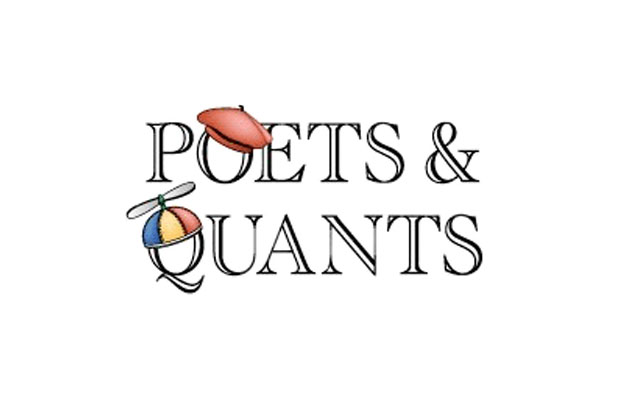 Business school news site Poets & Quants released its annual composite ranking of top U.S. MBA programs Tuesday and Goizueta's full-time program remains ranked among the best in the country. The program moved to No. 20 in the ranking, up one spot from 2013.
Poets & Quants considers all key business school rankings in creating the list, thus striving for a more stable ranking…
Unlike other rankings, the Poets&Quants composite list combines the latest five most influential business school rankings in the world: U.S. News & World Report, Forbes, Bloomberg Businessweek, The Financial Times,  and The Economist. Instead of merely averaging the five, each ranking is separately weighted to account for our view of their authority and credibility. (U.S. News is given a weight of 35%, Forbes, 25%, while both the FT and Businessweek is given a 15% weight, and The Economist, 10% weight.)

Combining the five most influential rankings doesn't eliminate the flaws in each system, but it does significantly diminish them. When an anomaly pops on one list due to either faulty survey technique or biased methodology, bringing all the data together tends to suppress it. So the composite index tones down the noise in each of these five surveys to get more directly at the real signal that is being sent. The upshot: The list is far more stable–and reliable–than most rankings published elsewhere, taking into account a massive wealth of quantitative and qualitative data captured in these major lists, from surveys of corporate recruiters, MBA graduates, deans and faculty publication records to median GPA and GMAT scores of entering students as well as the latest salary and employment statistics of alumni.

This year, 25 of the top 30 schools had either an identical position as they had last year and experienced a change of only one place up or down. The stability in the list is reflective of the fact that from year to year, MBA programs rarely change dramatically. More consequential change may occur over a number of years as a program improves and that improvement becomes more generally recognized by stakeholders.
Yale made the biggest move in the top 25 this year, rising five spots to No. 12. Duke, which recently took the top spot in Businessweek rankings, is No. 9.
2014
Rank
School
2013
Rank
Index
US
News
Forbes
Business
Week
Financial
Times
The Economist
#1
Stanford GSB
2
100.0
1
1
4
2
7
#2
Harvard Business School
1
99.3
1
3
8
1
4
#3
UPenn (Wharton)
4
99.2
1
4
2
3
9
#4
Chicago (Booth)
3
98.8
4
2
3
6
1
#5
Columbia Business School
7
95.4
8
7
5
4
8
#6
Northwestern (Kellogg)
5
95.2
6
5
7
9
12
#7
MIT (Sloan)
6
93.5
5
12
14
5
10
#8
Dartmouth (Tuck)
8
93.2
9
6
15
12
2
#9
Duke (Fuqua)
9
91.8
14
8
1
10
18
#10
UC-Berkeley (Haas)
10
91.6
7
14
19
8
5
#11
Michigan (Ross)
11
91.0
11
10
9
13
15
#12
Yale School of Management
17
89.7
13
18
6
7
14
#13
Virginia (Darden)
13
88.8
11
15
20
16
3
#14
UCLA (Anderson)
14
88.4
16
13
11
14
11
#15
Cornell (Johnson)
11
88.0
17
9
13
15
17
#16
New York (Stern)
15
87.2
10
23
22
11
6
#17
Carnegie Mellon (Tepper)
16
85.9
18
16
10
18
16
#18
North Carolina (Kenan-Flagler)
18
85.8
19
11
12
17
25
#19
Texas-Austin (McCombs)
19
82.6
15
21
23
21
23
#20
Emory (Goizueta)
21
81.7
20
24
18
22
13
#20
Indiana (Kelley)
20
81.7
21
19
16
24
22
#22
Georgetown (McDonough)
22
76.4
23
33
24
20
26
#23
Washington (Foster)
24
74.1
25
27
37
31
21
#24
Washington (Olin)
23
73.9
22
34
26
34
28
#25
Vanderbilt (Owen)
25
72.1
25
39
30
32
20
COMPLETE RANKING | Via Poets & Quants
About Emory University's Goizueta Business School
Emory University's Goizueta Business School is one of the nation's only schools with four, top-20 ranked degree programs. The school offers a unique, community-oriented environment paired with an academic prestige and rigor shared with the international acclaim of Emory University. Goizueta trains business leaders of today and tomorrow with an Undergraduate degree program, a Two-Year Full-Time MBA, a One-Year MBA, an Evening MBA, an Executive MBA (Weekend and Modular formats), a Doctoral degree and a portfolio of non-degree Emory Executive Education courses. The school is named for the late Roberto C. Goizueta, former Chairman and CEO of The Coca-Cola Company. For more information, visit goizueta.emory.edu and follow us on Twitter at @emorygoizueta