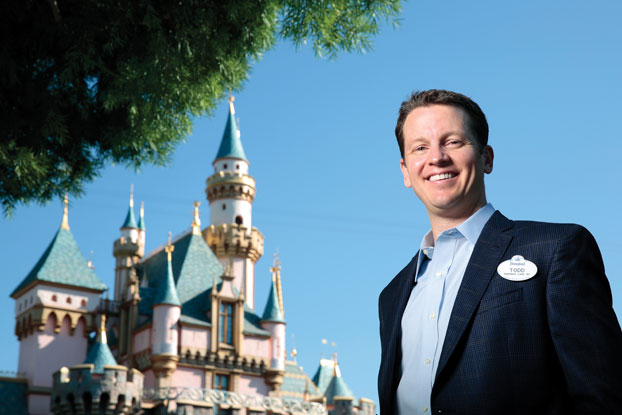 Todd Bennett 04MBA is never without a smile. Given his role as a general manager with Downtown Disney at the Disneyland Resort in California, this is possibly understandable. Bennett's sunny disposition, however, goes beyond working at the "happiest place
on earth."
As leader of Disney's retail, dining, and entertainment venue, Bennett is tasked with ensuring that guests have a great experience "from the moment they set foot on our property." A daunting endeavor, perhaps, but Bennett views it with excitement. "Delivering great guest experiences is in the Disney DNA," he says. "Our teams know that providing excellent guest service is at the heart of all we do. It challenges us to continue to innovate and provide experiences like only Disney can."
For Bennett, this charge has manifested itself in a number of innovative projects and enhancement opportunities, two areas that highlight his expertise. "I enjoy bringing a unique understanding of how to develop and execute good ideas, and how to bring operations, creative concepts, and technology together in new ways," he says.
His career at Disney is a testament to his talents. After graduating from Goizueta at the top of his class, Bennett landed a job as a business planner at the Disneyland Resort. He quickly rose through the ranks, leading areas such as revenue management and business development before becoming director of experience in 2010 and a general manager in 2014. One of the major projects he collaborates on, MyMagic+, allows guests to customize their experiences through a mobile app and a device worn on the wrist, simplifying everything from park rides and concessions to hotel room access. "The projects I work on tie back to my interest in innovation and product enhancement," Bennett explains. "For example, revenue management was about refinement for today, while the MyMagic+ project in Walt Disney World is all about the future of theme parks."
A natural leader who looks for every opportunity to improve, Bennett believes any project can benefit from addressing things from a new angle. "The Fun Wheel Challenge, for example, was born out of work on My Magic+," he says. "We were looking to answer a simple question: How can we entertain guests while they wait for the World of Color show?" The answer was an interactive, competitive game that allows guests to play a Simon Says-style contest while waiting. The resulting product was the work of many groups coming together, from art directors to operations to technology, with Bennett connecting the dots to make it all come to life.
"I enjoy working in the unknown space, the undefined areas. It's exciting to me when the outcome isn't always clear and there is no set way to get to the final destination," says Bennett, whose newest challenge is raising his newborn son, Oliver, with wife Amanda. "Goizueta taught me how to thrive in those environments so I can distinguish myself as someone who resolves to find a solution that works."
– Angela Bostick