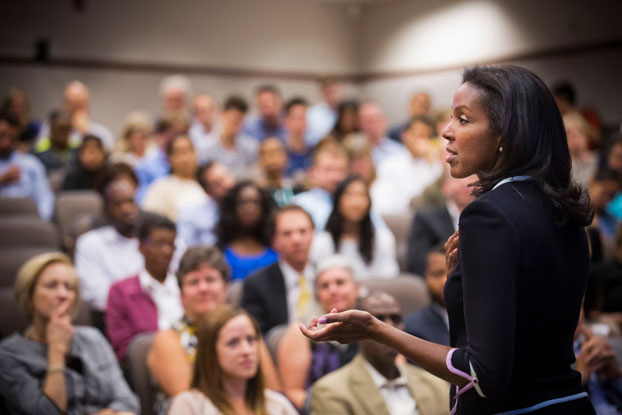 Goizueta Business School Dean Erika James has been selected to join the Leadership Atlanta Class of 2016. James, who was named the school's first female dean nearly one year ago, joins more than 80 local leaders on the list.
According to a report in the Atlanta Business Chronicle, Dean James and other participants will "learn more about metro Atlanta by participating in retreats, full-day seminars, service projects, discussion groups and community tours, and other impactful experiential activities.
"They also will critically examine themselves as leaders, challenge themselves to find ways to be more effective in their leadership roles and build relationships of trust and mutual understanding with each other."
According to its website, Leadership Atlanta is entering it's 44th year. It is "the oldest sustained community leadership program in the nation" that focuses on "connecting and inspiring leaders to strengthen metro Atlanta's communities."
Leadership Atlanta Class of 2016
Qaadirah Abdur-Rahim, Chief Executive Officer, Future Foundation
Leonard Adams, President and Chief Executive Officer,Quest Community Development Organization, Inc.
Michael Alexander Research and Analytics Division Manager, Atlanta Regional Commission
Justin Anand, United States Magistrate Judge
Adam Bloomston, Co-Chief Executive Officer and Chief Operating Officer, Payscape Advisors
Don Bolia, Principal, Peachtree Government Relations
Joan Buchanan, Chief Diversity Officer, Federal Reserve Bank of Atlanta
Ayanna Buckner, Principal, Community Health Cooperative
Margaret Campbell, Partner, Troutman Sanders
Julio Carrillo, Vice President & Chief Operations Officer, Big Brothers Big Sisters of Metro Atlanta
Ashley Carson, Senior Vice President, Relationship Manager, Atlantic Capital Bank
F. John Case, Chief Financial Officer, Morehouse School of Medicine
Lindsay Caulfield, Senior Vice President, Grady Health System
Kitty Chaney Reed, Senior Finance Director, Global Leader of Order to Cash, NCR Corporation
Pedro Cherry, Vice President, Community and Economic Development, Georgia Power
Jennifer Christensen, Managing Editor/Producer, CNN
Eshe' Collins, Senior Program Director; Member, Jumpstart at Georgia State University; Atlanta Board of Education
Sonji Jacobs Dade, Director, Leadership Communications
Cox Enterprises Inc., Timothy Davies, Vice President and General Manager, Radio One, Inc.
Audra Dial, Atlanta Office Managing Partner, Kilpatrick Townsend & Stockton
Joy DiBenedetto, President and Chief Executive Officer, Friendship Force International
Andre Dickens, Councilman, Post 3 at-Large, Atlanta
Derin Dickerson, Partner, Alston & Bird
Austin Dickson Executive Director, Literacy Action, Inc.
Amy Dosik, Chief Executive Officer, Girl Scouts of Greater Atlanta
Dagmar Epsten, President and Chief Executive Officer, Epsten Group, Inc.
Joseph Folz, Vice President, General Counsel and Secretary, Porsche Cars North America, Inc.
J. DeLano Ford, Executive Director, Teach For America Metro Atlanta
James Franklin, Chief Executive Officer, TechBridge
Gerard Gibbons, President U.S. Sales, United Parcel Service Inc.
Shani Godwin, President and Chief Executive Officer, Communiqué USA, Inc.
Matt Gove, Chief Marketing Officer, Piedmont Healthcare
Louis Gump, President, Digital Current, LLC
Heather Hamby, Associate Vice President, Health Center Integration, Executive Associate Dean, and Chief Operating Officer, School of Medicine, Emory University
Eric Harrison, Vice President Sales, South Region of PepsiCo
Kim Hartsock, Partner, Warren Averett, LLC
Monique Honaman, Chief Execuitve Officer and Partner, ISHR Group
Brian Hooker, Executive Director, McPherson Implementing Local Redevelopment Authority
Bob Hope, President and Co-Owner, Hope-Beckham
Vaughn Irons, Chief Executive Officer, APD Solutions
Ehab Jaleel, Executive Director, Amana Academy Charter School
Erika James, Dean, Goizueta Business School, Emory University
Simms Jenkins, Founder & Chief Executive Officer, BrightWave
Jewelle Johnson, Senior Counsel, Chief Employment Counsel, Graphic Packaging International, Inc.
Ronald Johnson, Professor of the Practice, Georgia Tech
Tharon Johnson, Managing Director, McKenna Long & Aldridge
Jeremy Jones, Partner, Frazier & Deeter, LLC
Cassandra Kirk, Chief Judge, Fulton County Magistrate Court
Grace Kolvereid, Vice President, Tax, AGL Resources Inc.
Jeetendra Kumar, IT Director, Coca-Cola Enterprises Inc.
Joshua Lesser, Rabbi, Congregation Bet Haverim
Yolanda Lewis, District Court Administrator and Chief Administrative Officer, Superior Court of Fulton County
Willie Lovett, Judge, Fulton County Juvenile Court, Atlanta Judicial Circuit
Dana Lupton, Executive Director, Moving in the Spirit
Jason Martin, Executive Director, Community Guilds Inc
Courtney McBurney, Chief Compliance Officer, Energy Management, General Electric
Paedia Mixon, Chief Executive Officer, New American Pathways
Richard Moultrie, Deputy Assistant United States Attorney, U.S. Attorney's Office for the Northern District of Georgia
Melissa Mullinax, Senior Advisor to Atlanta Mayor Kasim Reed
Carol Naughton, Senior Vice President, Purpose Built Communities
Reginald O'Shields, Senior Vice President and General Counsel, Federal Home Loan Bank of Atlanta
Zachary Parker, President and Chief Executive Officer, DLH Holdings Corporation
Randy Patterson, Chief Human Resources Officer, BlueLinx
Michael Paulhus, Partner, King & Spalding LLP
Chris Peck, Corporate Vice President, Human Resources, UPS
Jannquell Peters, Mayor of East Point
Hunter Pierson, Vice President, Goldman, Sachs, & Co.
Condace Pressley, Manager, Programming Operations and Community Affairs, Cox Media Group Atlanta
Steve Reis, Principal, McKinsey & Company
Lauventria Robinson, Vice President, Multicultural Marketing, The Coca-Cola Co.
Shana Rooks, Commissioner, Clayton County Board of Commissioners
JaKathryn Ross, Director, Community Affairs & Executive Director, YEGeorgia, Georgia-Pacific LLC
Rodney Sanders, Senior Vice President and Market Credit Executive, PNC Bank
Steve Sear, Senior Vice President Global Sales, Delta Air Lines Inc.
Salaam Semaan, Deputy Associate Director for Science, Centers for Disease Control and Prevention
Puneet Seth, Managing Partner, New York Life Insurance Co.
Tina Shah, Assistant General Counsel, Turner Broadcasting System, Inc.
Margaret Stagmeier, President, TI Asset Management/TriStar Investment
Tara Stoinski, President and Chief Executive Officer and Chief Scientific Officer, The Dian Fossey Gorilla Fund
Alan Stukalsky, Chief Information Officer, Randstad US
Katerina Taylor, President and Chief Executive Officer, DeKalb Chamber of Commerce
Timothy Wilkerson, Vice President, Store Operations, The Home Depot Inc.
Catheren Woolard, Owner and Chief Executive Officer, Catheren Ml. Woolard, Inc.