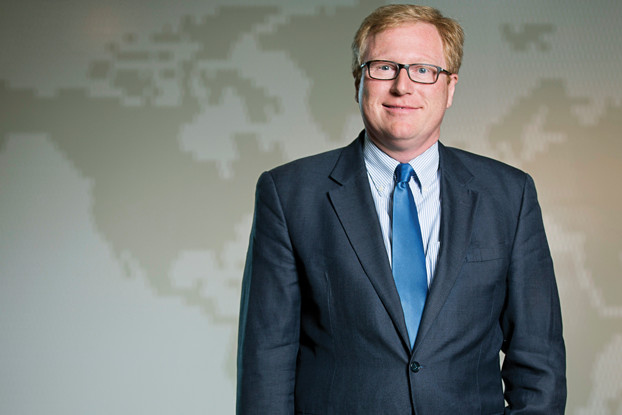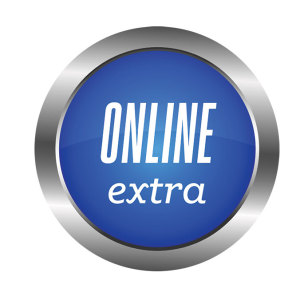 British-born and American-raised, Philip Wainwright 85C 85G has traveled to five continents and boasts more than 20 years of international education experience. He's practically tailor-made for his current job as vice provost for global strategy and initiatives and director of the Claus M. Halle Institute for Global Learning. In this role, Wainwright led a task force of administrators and orchestrated a cross-campus faculty survey, culminating in the 2015 "Global Vision for Emory." This five-year vision details extensive plans to expand Emory's reputation worldwide as a leader in international scholarship and service. Recently, Emory Business (EB) sat down with Wainwright to learn more about the plan.
EB: Through this cross-campus survey, what did you find Emory is doing well on the global stage?
Philip Wainwright: One of the really notable discoveries is just how much Emory does internationally. We have increased the number of international students and scholars, and the amount of publications with international collaborators also has increased dramatically. I've worked at Emory a long time, and I know all the university does globally, but to see it institution-wide made me proud of the school.
Also, maybe not surprisingly, Goizueta is really on the forefront of thinking through how it can connect with institutions overseas in creative and new ways. It's been exciting for
me to work with Goizueta and see those projects forming. L.G. Thomas, professor of organization & management, was a member of the global strategy development task force. I'm very impressed with the overall commitment of the faculty to international work.
EB: In what areas does Emory have room for improvement?
PW: First, there was a real sense that Emory's international engagement has grown rapidly but that some of its administrative processes did not support this expansion very well. We've started a global services function within this office to systematically assess our administrative support for international activity across the university; to help address any significant obstacles, such as hiring overseas and paying foreign nationals; and to help faculty navigate it all.
Second, we got the sense that there's not as much awareness abroad of Emory as we think there should be. Since it's hard to know how to address awareness globally, we're focusing on five target countries—Brazil, India, South Korea, China, and Ethiopia.
EB: What was the decision-making process in choosing those five countries?
PW: There were two strategic needs. One is the desire to go to places where there's a lot of activity already—countries with growing economies and populations and a growing role on the world stage. Two is the pull of places where Emory has a unique opportunity, where Emory's strengths match specific opportunities and enable us to do significant good and have a big impact. Targeting those five countries is a way to balance these goals.
EB: How can alumni get involved and be a resource in expanding Emory's global reach?
PW: If alums live in places where there are chapters, chapter leaders and officers are a great resource. There are over 20 alumni chapters overseas, and the Alumni Association now has a dedicated staff to support them. In March, President James Wagner took a trip to Korea and China, and events with the chapters were held in Beijing, Shanghai, and Seoul. So there is actually quite a lot going on with the alumni chapters. A list of the international chapters and leaders can be found on Emory's Alumni Association website under the "Connect" and "Chapters" links. Ultimately, the goal is for our international alumni to be ambassadors for Emory.
---
A glimpse at Emory's global presence
Emory is everywhere. With nearly 50 alumni chapters in the United States and 24 internationally; dozens of international study, service, and intern opportunities; and faculty working in more than 140 countries around the world, Emory's reach is universal. Here are just a few of the projects and partnerships that Emory is leading.
---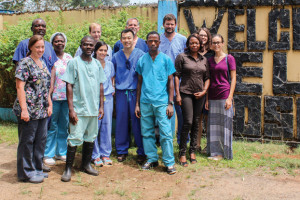 Emory Global Health Institute partners with Gates Foundation
The Bill & Melinda Gates Foundation has chosen the Emory Global Health Institute to be the lead partner in its latest public health initiative: the creation of the Child Health and Mortality Prevention Surveillance (CHAMPS) network to collect data in areas of high childhood mortality, particularly sub-Saharan Africa and South Asia. With an initial pledge of $75 million, CHAMPS will help develop interventions and influence global health policies to reduce many of these often-preventable deaths. Emory Global Health Institute will lead this 20-year project alongside the Centers for Disease Control and Prevention, the International Association of National Public Health Institutes, Deloitte Consulting LLP, and the Public Health Informatics Institute.
Law school strengthens ties with China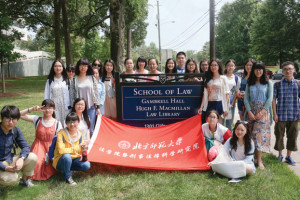 In recent years, Emory Law has built broad and deep ties to the People's Republic of China. Through its joint Master of Comparative Law degree with Shanghai Jiao Tong University, training of the nation's influential financial crimes prosecutors, and study program for Chinese judges, Emory has played an active role in Chinese professional education. Emory Law faculty have taught and lectured throughout China. And in Atlanta, more than 100 Chinese students are earning degrees at the school across its JD, LLM, JM, and SJD programs. In the summer, students from Beijing Normal University come to campus to study law and business.
Training moral leaders in South Korea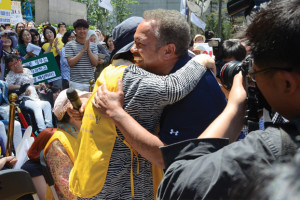 In 1893, Emory University graduated its first international student: Korean diplomat and Methodist missionary Yun Chi-ho 1893C 1908G. Since then, Emory's South Korean student population has grown to more than 450, and now students from Emory's Candler School of Theology are following Yun's footsteps in reverse. This summer Robert Franklin (pictured here), James T. and Berta R. Laney Professor in Moral Leadership, led students to Seoul to meet with community leaders and discuss moral issues facing Korean society, such as the Sewol ferry disaster and normalization of relations with North Korea. Candler alumnus Won Chul Shin 13MDiv, now a PhD student in Emory's ethics program, served as translator for the trip.
Working with coffee growers in Nicaragua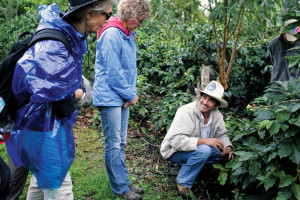 As part of Emory's Social Enterprise @ Goizueta (SE@G), Peter Roberts, professor of organization & management, has been working to address challenges in Nicaragua's coffee-growing communities since 2010. SE@G's Farmers to 40 initiative supports coffee growers by returning to them
40 percent of the money paid by consumers for high-quality, organic coffee. Student trips to
coffee country inspired the establishment of the Nicaragua Community Health Connection (NCHC), which is providing health services to 2,000 residents of Los Robles. NCHC is funded in part through the Los Robles Coffee Project, which returns proceeds from bulk sales of coffee grown in and around Los Robles to the local clinic and the community's coffee farmers.
Migration and public health in Brazil
In a cross-departmental team-up, Jeffrey Lesser, Samuel Candler Dobbs Professor of History, and Uriel Kitron, Goodrich C. White Professor of Environmental Sciences, have received the new Interdisciplinary Faculty Fellowship to study the relationship between migration and public health in São Paulo, Brazil. Lesser is on academic leave this year in São Paulo to begin the project, where he's "doing everything from archival research to ethnographic work in a government-run health center," he says. Lesser and Kitron plan to teach a course influenced by this research and then lead a group of students to Brazil to continue the work alongside Lesser's and Kitron's Brazilian colleagues.
Emory Vaccine Center in India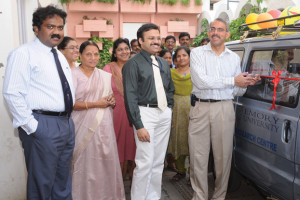 The Emory Vaccine Center has several long-term research programs in India and has been collaborating with the International Centre for Genetic Engineering and Biotechnology in New Delhi, India, since 2008. Led by director Rafi Ahmed, the EVC is the largest and most comprehensive academic vaccine research center in the world, with more than 250 faculty and staff conducting research on infectious and chronic diseases. The Emory labs in India focus on diseases that most affect India and other parts of the developing world. In May, they received a five-year, $3.4 million grant from the National Institutes of Health to fund research on the dengue virus. According to the CDC, dengue fever is caused by one of four related viruses transmitted by mosquitoes and is the leading cause of illness and death in the tropics and subtropics.