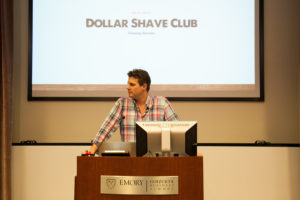 Emory alumnus and Dollar Shave Club co-founder and CEO Mike Dubin built his company on laughs. The company's viral videos use humor to drive consumers from drugstore aisles to the Internet for razor blades and other grooming products.
Dubin's first video has nearly 23 million views on YouTube.
On Tuesday, consumer products giant Unilever announced its purchase of Dollar Shave Club for $1 billion.
"It was a flight we didn't want to miss," Dubin told the Los Angeles Times.
According to the report, the company will maintain its autonomy and gain resources to expand beyond its current markets of the United States, Canada, and Austraila.
"Dollar Shave Club is an innovative and disruptive male grooming brand with incredibly deep connections to its diverse and highly engaged consumers," said Kees Kruythoff, president of Unilever North America, in a press statement.
Dubin was the keynote speaker at the first Emory Entrepreneurship Summit, organized and hosted by Goizueta Business School. He outlined the company vision, which goes beyond affordable mail order razors.
"You might think of us as the company that ships affordable razors on the Internet, but that is not what we do," Dubin said at the summit. "We actually help the world be better for guys by solving their problems.
"Most people think shaving kind of sucks. It's not very fun. Our thing is 'let's make that as fun as possible, as painless as possible.' In the same way that Starbucks took a ritual and built a culture around it, we want to build a culture around shaving."
Embracing that larger picture started early. While at Emory, Dubin took an early version of a course taught by Joey Reiman, who is considered the father of ideation, in the business school. The undergraduate program has subsequently produced countless students who have developed a keen understanding of the connection between business purpose and world needs by taking a version of the same class.
[ted id=2371]
Goizueta plans to host the third-annual Emory Entrepreneurship Summit in Spring 2017 featuring keynote speaker Josh Luber 06JD/MBA 99BBA. Luber is CEO and Co-Founder of StockX, a marketplace for "limited edition, high demand sneakers."
StockX was formed from Luber's original venture — Campless — after a deal with Dan Gilbert, owner of the Cleveland Cavaliers. Musician Eminem has also partnered with the company.