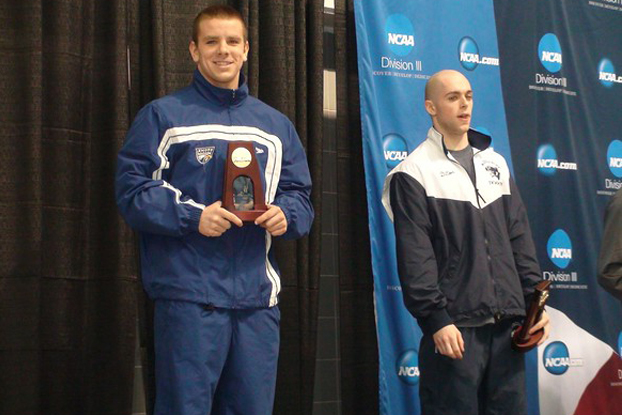 The Olympic Games is the pinnacle of sporting events, and getting there requires determination, perseverance, teamwork and thousands of hours of practice. Not every athlete makes it to the games or even the Olympic Trials, but their thirst for sport, competition and the time spent aiming toward that finish line is never lost. In fact, it enhances other areas of their lives. In this new series, Goizueta alumni and students share their athletic passion, favorite Olympian, and what they've learned along the way.
Patrick Augustyn 12BBA always dreamed of swimming in the Olympics. "For me, I always wanted to reach the highest level," he said. During his senior year at Goizueta and the subsequent summer, Augustyn trained for the Olympic Trials. Now an assistant manager for Deloitte in the UK, Augustyn spoke with EmoryBusiness about his Olympic aspirations, training and the lessons he learned that continue to impact his life.
EB: Have you always want to participate in the Olympics?
I dreamed about swimming in the Olympics as far back as I can remember.
EB: What is your most memorable moment/highlight of your swimming career?
Definitely my last NCAA Championships in my home state of Indiana. The pool has a lot of history for me and it was great to finish up my collegiate career in a pool I knew so well. I was able to win the 100 and 200 butterfly at the meet, and Emory finished 1-2 in the 200 fly, which was very exciting for us as a team.
EB: What was the experience like to train for the Olympic Trials?
Training for Olympic Trials was a great experience. I completed my coursework, so I could focus all of my attention on training. It was a great way to end my swimming career knowing I left it all in the pool. Ultimately, I decided not to swim in the trials, but the lead up was a great experience.
EB: Who is your favorite Olympian – past or present? Why?
Michael Phelps─he has dominated the sport for so long. He is just so exciting to watch every time he hits the water. I'll never forget where I was when he won eight gold medals at the 2008 Beijing Olympics.
EB: What elements of sports and business have you found to be the most useful? Why?
Swimming and business have a lot in common. Swimming instilled a work ethic in me that's benefitted my professional career. Every day I collaborate with my colleagues on projects similar to teaming up for a relay. Jon Howell, Emory's head swim coach, would say something to the effect of trying to improve every day. I take the same mentality into the workplace and strive to improve my skill set constantly. Additionally, networking is probably the most important skill I learned. I can't name the number of people working in accounting-related fields who swam with me. We are all tied together because it first started with Emory swimming.
EB: You've recently started a new job at Deloitte and continue to pursue your dream of accounting. How are you enjoying London? What's the draw with accounting?
The initial draw came from a professor who told me, "Accounting is the building block of business. You can do marketing, management and finance with accounting, but not vice versa." Accounting has given me the opportunity to live in Atlanta, Chicago, and now the UK. London is a whirlwind…. I enjoy my job because of the relationships I am able to make, and the element of uncertainty that's inherent in the job. I really enjoy that no day is like the day before, even if I expect it to be exactly the same.
EB: What's your favorite memory from your time at Goizueta and Emory?
Taking the Global Markets class with Grace Pownall, professor of accounting, and Business Law course with Allison Burdette, professor in the practice of business law. Global Markets was probably the most interesting class I took during my time in the B-school. Professor Burdette was amazing and really kept me engaged in the class.