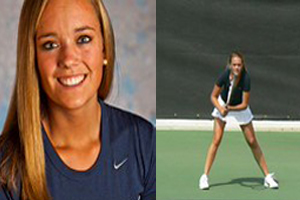 The Olympic Games is the pinnacle of sporting events, and getting there requires determination, perseverance, teamwork and thousands of hours of practice. Not every athlete makes it to the games or even the Olympic Trials, but their thirst for sport, competition and the time spent aiming toward that finish line is never lost. In fact, it enhances other areas of their lives. In this new series, Goizueta alumni and students share their athletic passion, favorite Olympian, and what they've learned along the way.
 Allie Damico 15BBA has always held a deep appreciation for the Olympics. "I think it's every athlete's dream to be the best in the world in their sport," she says. Damico made her own mark on the tennis scene as a member of the 2014 Emory Women's Tennis National Championship Team. In 2013, she was hailed as a University Athletic Association (UAA) Scholar and an Intercollegiate Tennis Association Scholar Athlete. Today she's a corporate banking associate at PNC in Atlanta. Damico recently spoke with EmoryBusiness about the skills it takes to succeed in athletics and business.
EB: When did your passion for your sport begin?
My passion for tennis began when I was 4. I would take tennis clinics with my older sister. I loved being out on the court with all of my friends. After we practiced, we would always jump in the pool and stay until closing. It was a great way to be introduced to the sport. I began training competitively in middle school, and loved watching tennis legends like Andre Agassi and the Williams sisters on TV. When I was younger, I always thought my sister and I would be the next coming of the Williams sisters.
EB: Did you ever want to participate in the Olympics?
I would have loved to participate in the Olympics. The atmosphere, the camaraderie… the Olympics are such an exciting time and it would have been amazing to be a part of that experience. As I watch the athletes at the Olympics now, a majority of them younger than me, I think about how far they have come, and how much work it took for them to make it to Rio. Any athlete who has played a collegiate sport understands the hustle and dedication it takes to qualify for the Olympics.
EB: Did you qualify for the Olympics?
Unfortunately, I did not. I admire those who have made it that far. I know several Emory swimmers who have qualified for the Olympic Trials, which is incredible. I feel like it is an honor just training in the same weight room as them. It has been exciting watching friends and fellow athletes from Emory get so close to going to Rio.
EB: Who is your favorite Olympian — past or present? Why?
My favorite Olympian is U.S. swimmer Katie Ledecky. I not only admire her work ethic, but everyone who comes across her says she is an even better person than she is an athlete. This speaks miles for an individual who is arguably one of the best athletes in the world, even at only 19 years old. She's an inspiration both in and out of the pool.
EB: Tell us a bit about your current work role?
I am currently an associate in Corporate Banking at PNC Bank's Southeast Headquarters here in Atlanta. In my role, I primarily assist the Deal Team in structuring and strategically analyzing financing for our clients, primarily in the Middle Market and Large Corporate space. We focus on debt financing for acquisitions, mergers, and working capital, but also offer other products including Capital Markets and Treasury Management.
EB: What elements of sports and business have you found to be the most useful?
I've found cooperation and teamwork to be the most useful skills, especially in business. Working in a bank, any given deal has multiple aspects that require a different team of people to service. Learning to cooperate and work with others to achieve a common goal while maintaining a positive attitude is key to keeping a great work culture and being successful with clients and upper management.