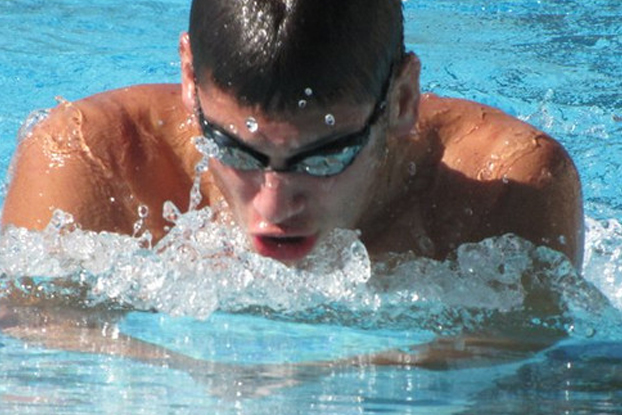 The Olympic Games is the pinnacle of sporting events, and getting there requires determination, perseverance, teamwork and thousands of hours of practice. Not every athlete makes it to the games or even the Olympic Trials, but their thirst for sport, competition and the time spent aiming toward that finish line is never lost. In fact, it enhances other areas of their lives. In this new series, Goizueta alumni and students share their athletic passion, favorite Olympian, and what they've learned along the way.
David Zander 15BBA learned to swim competitively while racing against his twin sister before joining Emory's nationally ranked swim team and competing in the NCAAs. Now an analyst in the Leveraged Finance Group at Barclays, he finds a number of parallels between his athletic and business careers, namely the importance of time management and a willingness to push beyond his comfort zone.
EB: When did your passion for swimming begin?
It started with watching my older brother compete in the pool when I was 8 years old. He swam with our local club team and my mom would bring my twin sister and me to practices where we'd watch him every day. Then my sister and I began swimming. Everything was a competition between us, and it wasn't long before we were racing each other in the pool as well. We kept pushing each other in practice every day until my sister went off to college for basketball and I went for swimming.
EB: Did you ever want to participate in the Olympics?
Absolutely, I think everyone who swims has imagined themselves on those blocks at some point in their career and considered how it would feel. While my focus shifted over time, it was an incredible experience getting to train with people who had the drive and passion to make that dream a reality.
EB: Did you qualify for the Olympics?
I never did, but I have nothing but the utmost respect for those who have. It takes an incredible amount of sacrifice to compete at that level. Many of these athletes have trained four to eight hours a day for more than a decade to get where they are, and for most, that's just the baseline to even consider participating in the Olympic Trials.
EB: Who is your favorite Olympian – past or present? Why?
My favorite to watch was Matt Grevers, who is 6'8" and a six-time Olympic medalist. I'm 6'9" myself and I'm used to being the tallest guy on any pool deck by nearly a half foot. Watching a swimmer as tall as Grevers excel gave me an awesome feeling—like I could relate a bit to someone who was competing at that level. Also, I'd be remiss if I didn't give Caeleb Dressel a shout-out for what he's accomplished this year. We shared a lane for a couple years in high school, and it's awesome to see such a talented and down-to-earth guy have all his effort pay off with two gold medals in Rio.
EB: What elements of sports and business have you found to be the most useful? Why?
In my experience so far, the greatest assets you can take from the pool to the office are determination and the ability to perform as part of team.
EB: Tell us a bit about your current work role?
I'm currently working at Barclays as an analyst in their Leveraged Finance group where I focus on helping companies raise money in debt capital markets. It's been an exciting challenge that has taken me further outside my comfort zone than I ever would have imagined, and I've developed a lot as a result. Plus, I'm fortunate enough to work with a great team, which has made the experience all the more rewarding.
EB: What's your favorite memory from your time at Goizueta?
My first reaction is to nominate Thursday Kegs, but I'll go further and say that some of my favorite experiences were competitions like HackATL and the Emory Pitch Summit. These events were a lot of fun, especially coming up with a business idea then becoming more passionate about it as you think through the logistics and potential flaws until you have something you're proud of. Emory has made great strides in encouraging students to pursue their entrepreneurial spirit through events like those and I'm excited to see how it continues to develop.