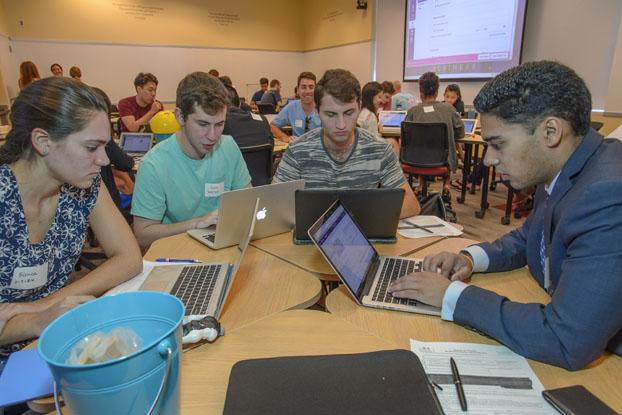 The road to employment is paved with education and internships. To ensure Goizueta BBA students are ready and can thrive in a business environment, Anne M. Kelly, former director of professional development & international degree-seeking students, developed a simulation exercise that highlights the first days of an internship experience.
"Work days aren't smooth and students are going to have a lot of distractions," Kelly said. "The challenge becomes when to participate, and when to focus on work while still being a team player."
Nearly 170 students participated in the pilot in August. Groups of students were ushered into the mock office area throughout the day. As in most work environments, students participated in meetings, tackled ambiguous problems, and were besieged with emails. To further mimic the office environment, students viewed videotaped messages from fictitious company leaders portrayed by Kyle Morich 07BBA and Amy Loegel 99MBA, along with doctoral candidate Badrinath "Bhadi" Kottimukkalur.
Students were monitored and their scores captured. Data from the pilot is being assessed and the simulation tweaked as needed. The BBA team plans to roll out the program officially in January 2017.