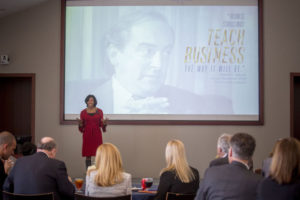 Dean Erika James recently invited many of the school's corporate partners to campus for an overview of strategic direction and networking opportunities. The second annual "State of the School" address provided transparency and touchpoints in order to, as James puts it, ensure Goizueta Business School provides valuable services to the community.
"My objective is to make sure we have the resources, support, and relationships to allow these initiatives to continue to expand," James said while outlining the school's new strategic plan.
Goizueta began the planning process by identifying several strategic themes with crucial intersections across education and industry. These themes also align with the school's proven expertise.
"I believe business schools should be in service to the business community," James says. "We are about more than excellent academics for students or a consistent vehicle for career success. We are about adding value to the world through research, problem solving, and lifelong learning."
[highlight]Goizueta's corporate engagement is built upon recruitment, executive education, experiential learning and faculty research.[/highlight]
"We are determined to operate at the highest level because Atlanta deserves to have a world-class business school," James said. "We have a unique skill set and have things that other schools can't offer. We want to make sure we have the support of the community and are supporting the community as a way to continue our success as a business school.
Goizueta Business School Strategic Themes
[accordion]
[acc title="Behavior & Decision Insights"]

VISION
Further the creation of knowledge and help businesses make better decisions by utilizing Goizueta's faculty expertise on the behavior of individuals, organizations, and economies while expanding the interaction between academic research and industry.
PROOF POINTS
With 13 top scholars in behavioral research among our faculty, Goizueta is uniquely positioned
to push human knowledge in this area
Our work across research areas—management, marketing, accounting, and finance—
includes multiple methods (field experiments, surveys, archival work, and modeling)
Current coursework includes focus on consumer behavior (all programs) and accounting
Executive Education offerings include courses on critical thinking and experimentation
The Behavioral Lab at Goizueta is a hub for our research activities
INDUSTRY RELEVANCE
Behavior & Decision Insights seeks to understand how decisions in organizations get made. Should you green-light the merger? Hire the job candidate? Delegate a task? These are the decisions that make up our everyday lives and aggregate to determine an organization's success or failure. Our scholars use insights from the basic science of psychology and neuroscience to investigate the causes of optimal decisions and actions.
GOALS
Increase community involvement in research through the
Behavioral Lab Raise awareness of efforts to grow a pool of research participants
Expand corporate involvement in research through partnerships that include benefits for scholarship as well as the companies
RELATED: Goizueta's behavior lab aids in research
[/acc]
[acc title="Business Analytics"]


VISION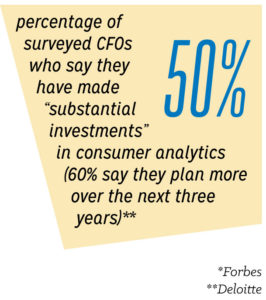 Apply data-driven scholarship to create knowledge and provide thought leadership in analytics, and prepare market-ready graduates to be business data scientists and other leaders capable of speaking the language of data to address tomorrow's business challenges.
PROOF POINTS
The Emory Marketing Analytics Conference attracts mid-to-senior-level professionals from more than 25 companies in Atlanta for discussion, networking, and continued learning
Annual events and speakers familiarize students with the world of predictive analytics
Coursework, including data capture, structure, and analysis, available across academic areas
Broad research across multiple areas of popular interest including data security, pricing, social media, consumer behavior, business-to-business relationships, and customer loyalty
Starting in 2017, a master's program in business analytics
GOALS
Package and distribute faculty research and findings to increase program recognition among media outlets, potential partners, and hiring companies
Partner with companies to gather data for research and experiential learning projects
Broaden analytics footprint across Emory to include areas of mathematics, computer science, quantitative methods, and political science
Continue to execute on the best event opportunities that raise the conversation around data analysis and position the school for increased outreach
Introduce new methods of testing and rigor to inform a business world forced to adapt to advancing technology and understand future trends
RELATED: Goizueta launches master of science in business analytics degree
[/acc]
[acc title="Entrepreneurship"]

VISION
Develop and support entrepreneurial aspirations for students at every stage of their careers and at each phase of venture creation. This includes not only supporting those who plan to start a business but also enhancing entrepreneurial and intrapreneurial thinking among all Goizueta students through educational content, intellectual engagement, and infrastructure.
PROOF POINTS
Focus on entrepreneurship with 16 electives at the undergraduate and graduate level
Maintain relationships with passionate alumni entrepreneurs anxious to partner, mentor, and
contribute insights
Leverage Atlanta's vibrant entrepreneurial culture by building university and company alliances and
partnering with entities creating entrepreneurial ecosystems
Fund and support community ventures through Social Enterprise @ Goizueta, which is also producing
significant research into social entrepreneurship, venture capital, and the impact of accelerators
Provide co-curricular efforts including Pitch the Professor, the MBA Startup Nation Israel Trip, and
the Emory Entrepreneurship Summit, which expand student experiences and enhance program visibility
INDUSTRY RELEVANCE
According to the Bureau of Labor Statistics, startups in the US account for more than 3 million new jobs each year. Fostering entrepreneurial thinking is essential, but new venture creation takes more than a good idea. It requires a deep understanding of how to build internal capacities and assess external market conditions. Entrepreneurship is about understanding customers, developing strategies, sourcing materials, finding partners, acquiring financial resources, leveraging technologies, managing people and all the countless other capacities needed to get a venture off the ground or innovate at an established organization.
GOALS
Offer intellectual frameworks, infrastructure, and physical spaces conducive to fostering innovative thinking, entrepreneurial development, and resource deployment
Provide clear and well-articulated support for student-grown ventures based on the stage of the business, and the needs of founders
Engage in lifelong, mutually beneficial relationships with alumni and key constituent entrepreneurs
Discover ways to partner with the community to spark entrepreneurial interest for the benefit of the city and region
Be a vital component of university-wide entrepreneurial activities
RELATED: Unleashing the entrepreneurial spirit at Goizueta
[/acc]
[acc title="Experiential Learning"]

VISION
Teach students the practice of business through immersive learning experiences, allowing them to develop and apply critical thinking skills to ambiguous and dynamic business challenges.
GOALS
Continue to expand experiential learning opportunities by industry through additional project partners across degree programs, classes, and focal areas
Add mutually beneficial experiential learning opportunities  to engage company partners
Prepare students for today's dynamic workplaces, which are increasingly filled with ambiguous and complicated problems to solve
PROOF POINTS
Goizueta IMPACT pairs graduate students with industry for work on real-world projects to provide actionable solutions
Goizueta IMPACT Client Day features final student presentations, allowing for detailed interactions with alumni and corporate partners
Experiential learning opportunities through international trips and programs such as The Washington Campus, Pitch the Professor, and Active Learning Immersions
Creation of BBA Capstone that gives students the opportunity to synthesize and validate evolving perspectives in academic and applied environments
Courses and activities featuring applied knowledge in investments, including the Real Estate Private Equity Fund and Emory Impact Investing Group
[/acc]

VISION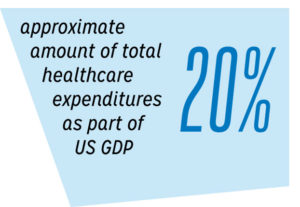 Create avenues to build scholarship and practical links between market-based approaches and the healthcare industry while providing students with skills to become leaders in this rapidly expanding field. We will do so by leveraging the knowledge, network, and prestige of Emory in the healthcare space, including our nationalLY recognized schools of medicine, nursing, and public health, as well as our ties to the Centers for Disease Control and Prevention.
PROOF POINTS
Healthcare-related faculty research in human behavior, operations, health service research, information technology, cost-effectiveness, and health policy
Multiple faculty members with appointments in business and other areas related to healthcare
Dual degrees pairing the MBA with the MD, DPT, and MPH degrees; concentrations in multiple business programs and non-degree, healthcare-focused courses in finance, strategy, innovation, analytics, and leadership
Coursework on healthcare marketing, policy and delivery systems, strategy, technology, and operations
Goizueta hosts healthcare events, including topics of future industry trends, healthcare
innovation, and technology
GOALS
Create valuable knowledge around the business of healthcare through industry-related research
Foster multidisciplinary approaches that pair the school with corporate and community partners in order to address the challenges of today and those of the future
Add to our existing class offerings in healthcare across programs
Expand career opportunities to individuals who wish to work in the industry
Target the healthcare sector for immediate growth through Executive Education, knowing the large demand of healthcare professionals desiring business acumen
INDUSTRY RELEVANCE
Improving the quality and delivery of healthcare while addressing its cost is a challenge for this and future generations. Business principles and approaches can play a role in improving the healthcare delivery system domestically and around the world.
RELATED: New healthcare emphasis aids busy executives
[/acc]

VISION
Prepare students to demonstrate effective leadership behaviors through fostering core values and emphasizing leadership as a  skill developed through lifelong study, experience, effective feedback, and reflection.
GOALS
Deepen students' self-awareness and understanding of strengths and areas of potential development
Provide experiences to work in teams, be an effective team member, and understand how to develop a high-performing team
Provide opportunities for students to practice peer leadership (clubs, fellows program, etc.)
PROOF POINTS
Comprehensive leadership coursework and co-curricular activities for undergraduate and graduate students including the Goizueta Advanced Leadership Academy
Research spanning psychology, decision-making, and behavior to better understand how and why leaders are effective
Suite of non-degree programs focused on empowering leaders at varying levels of local, national, and international organizations
Access to peer mentorship and tools for student self-assessment and awareness
Undergraduate students plan and execute the Undergraduate Business School Leadership Conference (UBSLC), the largest conference of its kind in the country, which brings more than 100 students from around the world to campus each spring
[/acc]
[acc title="Real Estate and Private Equity"]

VISION
Through coursework and experiential learning, Goizueta will empower students with the knowledge and skills necessary for successful careers in private equity and real estate, including strong professional networks and faculty and industry mentorship.
PROOF POINTS
More than a dozen undergraduate and graduate courses spanning real estate and private equity
Established summer internship opportunities for undergraduate and graduate students
Opportunities for hands-on investing experience using a portion of the Emory endowment
Case competitions and other co-curricular activities in venture capital and private equity
Engagement with outside interests, including developing real estate strategies and partnering with industry-related organizations
INDUSTRY BACKGROUND
Few cities have emerged from the Great Recession with the growth trajectory seen in Metro Atlanta. This includes an expansion of commercial real estate interests, corporate relocations to the city, and an influx of investment dollars. By fostering support for real estate and private equity programming, Goizueta places itself in a position to influence current business and prepare students to take active roles—before and after graduation—in a fertile business environment deeply connected to the global stage.
GOALS
Provide a curriculum to prepare students for careers in real estate and private equity
Utilize alumni networks to expand internship and job placements for students
Increase opportunities to manage active funds through real estate and private equity initiatives
Engage with related industry in Atlanta, New York, and around the world to bring professional connections to campus and enhance the school's reputation
Provide and expand co-curricular offerings and corporate engagement
RELATED: Real Estate, Private Equity and the art of the deal
[/acc]
[acc title="Social Enterprise"]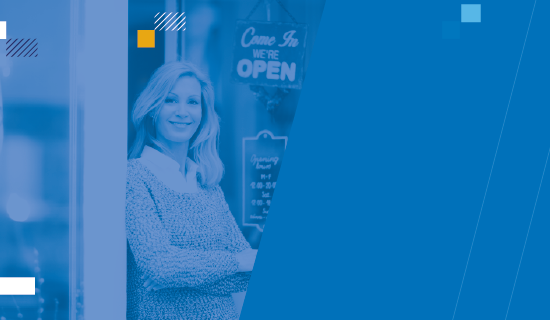 VISION
Business schools are well positioned and obligated to focus on increasing prosperity and reducing poverty in ineffective markets. This core belief led to the establishment and continued growth of Social Enterprise at Goizueta (SE@G)—a research center designed to generate positive societal impacts by making markets work for more people, in more places and in more ways.
PROOF POINTS
$1.25 million in funding for Entrepreneurship Database Program; data-driven insights help improve efficacy of entrepreneur accelerator programs
30 research papers and projects initiated by faculty and students
84 microbusinesses supported and $160,000 in loan capital invested in marginalized Metro Atlanta communities through Start: ME Accelerator Program
More than 200 undergraduate and graduate students enrolled in social enterprise electives
Student-led clubs create a robust social-sector community; two clubs make investments in social enterprises and microbusinesses around Atlanta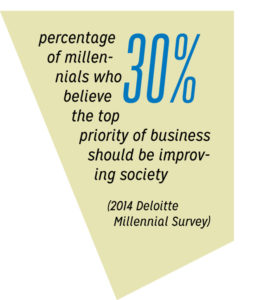 INDUSTRY RATIONALE
The social enterprise sector is receiving increased attention and investment as nonprofits, for-profit and hybrid organizations work to create positive societal impacts. These investments—estimated in the hundreds of billions of dollars globally—are made with the intention to generate social and environmental impact alongside a financial return. SE@G believes it is critical to produce academic research, pilot market-based solutions, convene stakeholders, and develop skilled business leaders to influence the sector's growth over the next decade.
GOALS
Improve the effectiveness of entrepreneurship support systems around the world through research database on entrepreneurs and accelerators.
Close microbusiness gaps in Metro Atlanta's marginalized communities by proving the feasibility of a citywide accelerator model and loan investment fund
Increase involvement in SE@G Fellows program, exposing more students to related careers and industry needs
Provide further transparency in specialty coffee markets and empower more female growers by scaling incubator models
Seed pilot programs that shape conversations on how innovative enterprises can launch, scale and spark larger societal changes
RELATED: Exploring business with a social conscience
[/acc]
[/accordion]