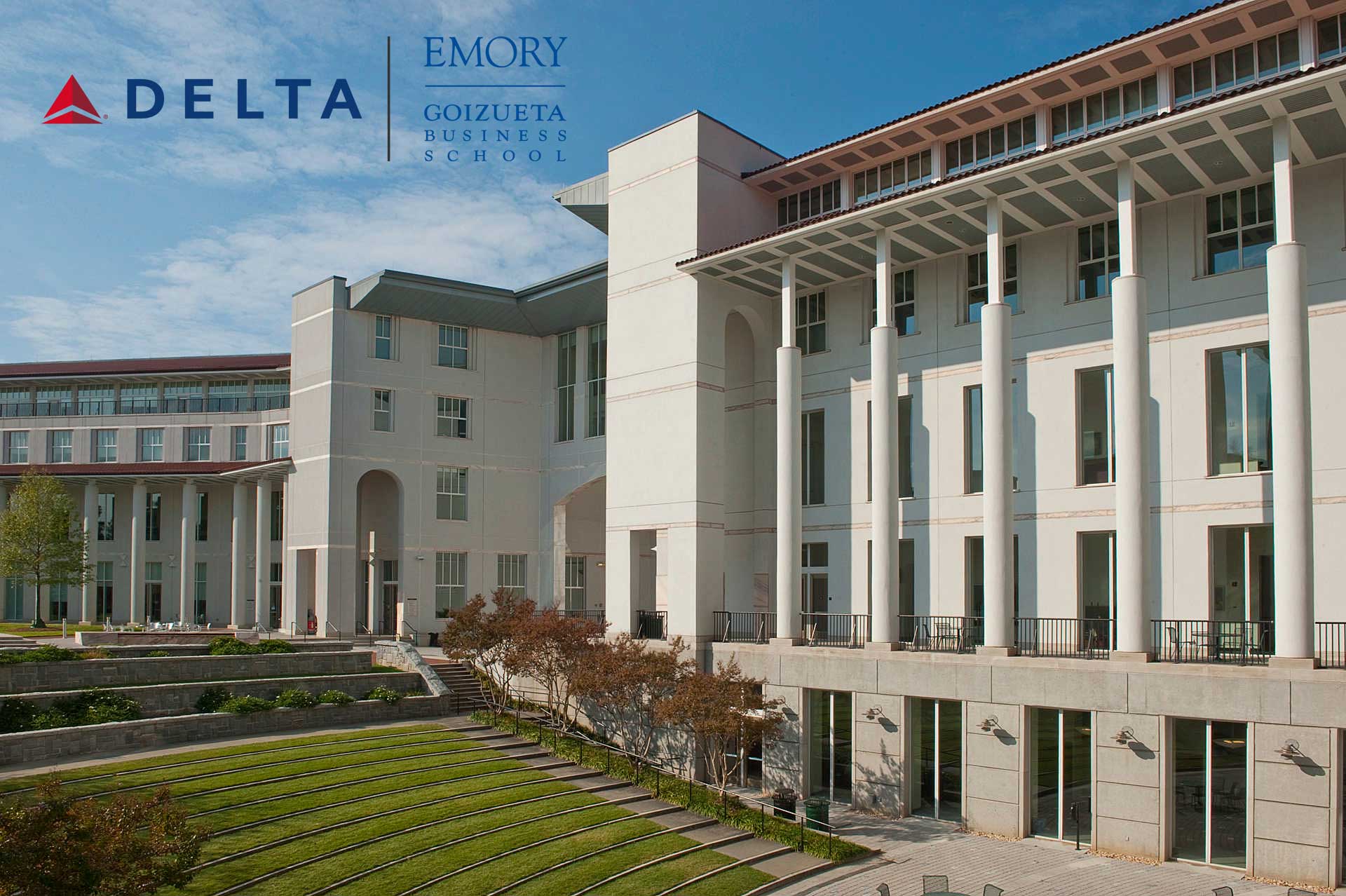 Leadership initiatives at Emory University's Goizueta Business School will get a lift thanks to a $3.5 million gift from The Delta Air Lines Foundation. The funds will endow the newly-renamed Delta Leadership Coaching Fellows Program, an experiential and peer-to-peer education opportunity. Additionally, a portion of the gift will allow for the creation of the Delta Leadership Hub, a signature teaching and reception space.
"Giving back to the communities where Delta people live, work and serve is at the core of our values," said Tad Hutcheson, Senior Vice President of The Delta Air Lines Foundation. "The Delta Air Lines Foundation has a long history of serving communities, and we are proud to help advance the mission of Emory University's Goizueta Business School through the Delta Leadership Coaching Fellows program, as well as the Delta Leadership Hub."
The Delta Air Lines Foundation is a nonprofit corporation formed in 1968 to enhance Delta's charitable giving. It is focused primarily on the areas of education, health and wellness, as well as arts and culture. Foundation contributions are unrestricted, allowing recipients to use funds where they are most needed.
According to Goizueta administrators, the gift from The Delta Air Lines Foundation will allow the school to serve more students, expand its coaching and training opportunities and increase gatherings of leaders inside and outside the university.
Goizueta places emphasis on cultivating leaders through a balance of classroom knowledge and real-world experience. Leadership activities are designed to prepare students to demonstrate effective leadership behaviors through fostering core values and emphasizing leadership as a skill developed through lifelong study, experience, effective feedback, and reflection.
While all MBA students receive leadership training at Goizueta, Full-Time and Evening MBA students can apply to become coaching fellows for additional instruction and chances to practice more interpersonal leadership skills. Such "soft skills" are gaining in importance. Seventy-seven percent of employers surveyed in 2014 by CareerBuilder said soft skills are just as important as tactical ability.
"Roberto Goizueta once said, 'Leadership is one of the things you cannot delegate. You either exercise it, or you abdicate it,'" said Ken Keen, Associate Dean of Leadership Development. "We seek to provide our students as many opportunities as possible to exercise leader skills, receive feedback, reflect on those opportunities, and grow as leaders. The fellows program is one of those unique opportunities."
Coaching fellows receive instruction in behavioral, relational, cognitive and emotional tools. The program is anchored on academic, experiential and reflection learning. Fellows complete workshops beyond the MBA curriculum, practicum experiences and have one-on-one sessions with executive coaches.
Mark Thomas, a former fellow, said the program sparks an evolution in skills for the coach and team.
"I certainly learned to be a lot less prescriptive," Thomas said. "I had a natural inclination to give a solution, and I had to really learn to be a facilitator."
He realized a need to create dialogue and ask questions of his teams, not give direct answers. He said he also gained interpersonal skills and increased abilities to assess situations within the team.
New fellows from the full-time program will be selected for the Fall 2017 semester. Their stories will be featured in Emory Business magazine. The Delta Leadership Hub is expected to open later this summer.