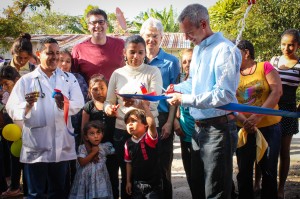 For families living in the isolated town of Los Robles in northern Nicaragua (population: 2,000), getting healthcare has long been difficult. The closest hospital is in the nearby city of Jinotega, a 40-minute drive over partially paved roads—for those with a car.
But change is on its way. After two years of planning and fundraising, Clínica Los Robles—the community's first health clinic—completed construction March 28.
The clinic is a milestone for the Nicaragua Community Health Connection (NCHC), a collaboration between local nonprofit Comunidad Connect and the Social Enterprise@Goizueta (SE@G) program. NCHC works closely with Los Robles health brigadistas to develop programs that address the proliferation of preventable diseases among residents.
Opening festivities included an all-day health fair, where Emory endocrinologist Francisco Pasquel 15PH worked alongside Nicaraguan doctors and nurses to provide free screenings and consultations.
"It was wonderful to have this group that has been working so hard, without infrastructure, and seeing their excitement about having a place to continue and develop their work," said Peter Roberts, academic director of SE@G and professor of organization and management at Goizueta.
Roberts and his team, which has included several MBA and BBA students, partner with Comunidad Connect on a number of high-impact projects in Nicaragua, developing a social capital framework for community leaders as well as providing more granular assistance on fundraising, planning, and budget development.
Goizueta faculty and students will return to Nicaragua in May when Wesley Longhofer, assistant professor of organization and management, leads a group of 17 undergraduates on a 10-day trip to discuss development challenges with nonprofit and for-profit organizations and to participate in a number of service projects.
– Erin Crews