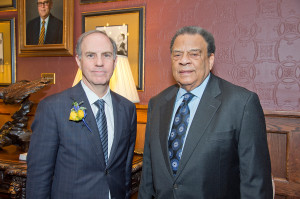 Goizueta's recent Alumni Awards celebration honored Andrew Serwer 84MBA, managing editor of FORTUNE magazine, as the 2014 Distinguished Alumni and Morgan "Mac" Schuessler 98EvMBA, president of Global Payments, Inc., with the 2014 Alumni Service Award. This year's event, held at the Miller-Ward Alumni House, was smaller and more intimate than in past years, providing the ideal venue for attendees to reconnect with old friends and meet new ones.
Special guests, invited by the award winners, made the gathering all the more memorable. Serwer's guests included Ambassador and Mrs. Andrew Young, as well as Joel Babbit, co-founder and chief executive officer of Mother Nature Network; Lynn Brindell, senior vice president of marketing for CNN; and faculty emeritus Brown Whittington and his wife.
Unable to attend, Schuessler sent in his comments by video. Bob and Dixie Kannard, Schuessler's in-laws, attended along with Carl Williams, who accepted the award on Schuessler's behalf.
"The alumni award ceremony was a fantastic evening honoring the best of the best of Goizueta alumni," says Elizabeth Halkos 01MBA, president of Goizueta's Alumni Board. "Not only were we able to honor Andy Serwer and Mac Schuessler, we also engaged Goizueta alumni leaders committed to the long-term success of the school. Given the dedication and enthusiasm demonstrated by our nominees, the event personally inspired me to be a better alumna and leader for the school."
— Carol Lindsey