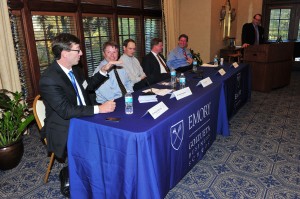 In November the Goizueta Real Estate Affinity Group, led by Scott Hawley 06EvMBA, Ryan Doyle 12EvMBA, and Bob Weston 06MBA, hosted its inaugural Real Estate Summit. With Randy Evans 79MBA moderating, the panel of alumni from across the University discussed topics designed to include personal stories, including how panel members entered the industry, why they are passionate about their careers, and what the reality of working in real estate entails. Panel members included Jim Irwin 07MBA, Jamestown Properties; Malcolm McComb 85MBA, CBRE; Tom Grimes 89OX 91C, Mid-America Apartment Communities; Reid Freeman 87L, Regent Partners; and Ridr Knowlton 92MBA, Dewberry Capital.
The program also included networking opportunities, a tour of Ponce City Market, and a keynote address by Tony Barnhart, author, journalist, and college football analyst.
Open to anyone with an interest in the industry, the group hosts a quarterly happy hour to foster interactions among members. Given the success of the November program, the summit is likely to become an annual event.
If you are interested in starting your own interest group or joining an existing affinity group, please contract Adrienne Jaroch, assistant director of Alumni Relations, at Adrienne.Jaroch@emory.edu.
— Carol Lindsey