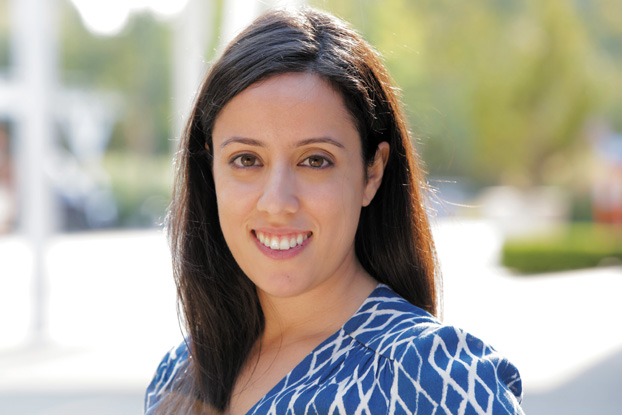 Vanessa Youshaei 13BBA is not afraid of hard work. In fact, the drive to succeed was instilled in her at an early age.
"My parents left Iran to escape religious persecution. They came to this country with nothing and made it. Their story inspires me every day," she says. "If they were able to succeed barely knowing English, having very few connections and very little understanding of how things work in the US, then I knew I could make it through any situation."
She's used this grit to manage her portfolio of work for Google, where she is a member of the central revenue team, and to overcome more than one obstacle. Her school years were hampered by the effects of a learning disability.
"I had a reading disability that actually went undiagnosed until I was a junior in high school," Youshaei says. "I always worked really hard to compensate so nobody had any idea I was having difficulties."
While her family provided the support and resources that allowed her to overcome her disability, she recognized the need for screening students without the same access to resources. In 2012, while at Goizueta, she started a nonprofit called We Are BOLD: Battling the Obstacles of Learning Disabilities.
"I recruited students from Emory and Northwestern to organize book drives and raise money. The goal of We Are BOLD is to help diagnose reading and writing disabilities at a young age in an effort to help kids get the support they need early on," Youshaei says. "Working through a learning disability is critical not only for academic success but also for building self-confidence, which kids with learning disabilities often struggle with."
The work continues, and she hopes to be more active with BOLD in the future. As for Google, Youshaei says working for the multinational technology company is as fulfilling as she imagined. "I always expected that there would be an amazing culture and amazing people, and that expectation has definitely been met," says Youshaei, who's been at the company for three years.
Now as a member of the central revenue team, she helps implement strategic initiatives for the sales teams at Google. Prior to this role, she worked in the marketing and sales department, helping small and medium-sized businesses with their Google advertising strategy through Google Search, YouTube, and other channels.
Her role requires plenty of team interaction with a variety of people, from engineers to sales reps, a skill she strengthened during her time at Goizueta and one she continues to perfect. When it's time to relax, Youshaei attacks it with the same fervor that defines her life. She makes exercise a daily priority and either bikes across the Golden Gate Bridge or attends a variety of exercise classes like Pilates, barre, and spin.
"I live in the Bay Area and love San Francisco and exploring the city," she says. "There is always so much to do!"